January 25, 2010
/
Bib auctions bringing diverse bids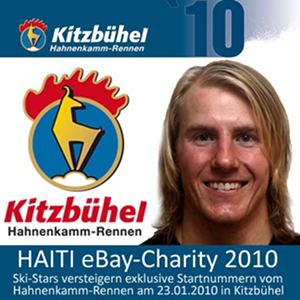 The racer's grassroots bib auctions from the World Cup downhills at Kitzbuehel, for the men, and Cortina d'Ampezzo for the women are underway and there are still plenty of good bargains for race fans. With 100percent of the money raised going for relief of the people of Haiti after their series of catastrophic earthquakes, it seems many fans are determining owning a autographed bib from these classic race sites is a fitting way to contribute.
The auctions are scheduled to continue for another five days, but already Didier Cuche's bib, as winner of the 2010 Hahnenkamm race, is up to 7,827Euros, a bit over $11,000.
There are some other athletes already bringing in healthy bids. Bode Miller's bib was at 1,350E Monday morning, Michael Walchhofer's at 1,010E. Benjamin Raich was listed 896E. Ivica Kostelic's bib was at 701E. Both Ted Ligety and Julien Lizeroux's bibs were tagged at 610E, Aksel Svindal's was at 601E and Carlo Janka's at 600E.
There were plenty of bargains though. For instance we cannot imagine Marco Sullivan's fan base letting his bib go at the 204E it's currently listed at. Scott Macartney is going at 221, Steven Nyman at 302, Andrew Weibrecht at 201 and Erik Fisher at 185. Among the Canadians, Manuel Osborne-Paradis is listed at 301 and Erik Guay at 205.
The women's bibs from Cortina are on the U.S. based Ebay website and so are listed in U.S. dollars with – no surprise – Lindsey Vonn's bib setting the pace at $801.01. Julia Mancuso is going at $355, Chemmy Alcott at $217.50 and Tina Maze at $122.50. Real bargins in terms of World Cup prowess versus investment include Anja Paerson at $41 (less than Shona Rubens, Keely Kelleher, Stacey Cook or Alice McKennis). Maria Riesch could also be considered a steal at $82.
There are also some women's bibs listed at $0.01, so there's something for every budget.
To find the men's listing go to: http://cgi.ebay.de and search on "World Cup FIS Haiti 2010 startnummer"
For the women's bibs: http://ebay.com click on the sports memorabilia section and search on Cortina.