July 12, 2011
/
AVSC names Needell Alpine Director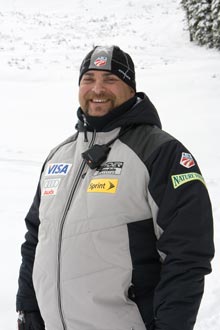 The Aspen Valley Ski and Snowboard Club (AVSC) has hired former U.S. Ski Team coach and Vermont native Greg Needell as its Alpine Director.
Needell, who after leaving the World Cup tour started his own consulting business (Alpine Race Consulting) and popular ski racing blog, will take over for former Aspen director Jeff Kai. He worked with Alpine Meadows last season.
"We had an exceptionally strong applicant pool for the alpine program director position," AVSC Executive Director Mark Cole told the Aspen Times. "Since we were named alpine club of the year, both local and national candidates expressed great interest in working at AVSC and building on our strength. Greg emerged as the ideal candidate from a very talented field."
Needle, who spent eight years (20002-2009) with the U.S. Ski Team as a men's tech coach, got his start racing at Stratton Mountain, Vermont. After graduating from SMS he skied for NCAA Division 1 St. Lawrence University in Canton, NY where he was co-captain in 1986. Needell returned to SMS to coach there for five years serving as the Head Women's Coach as well as the Head J2 Men's Coach. He then moved to Mission Ridge in Wenatchee, Washington in 1992 to become the Program Director and Head Coach of the Mission Ridge Ski Club. In 1997, Greg became the Head Coach at Mammoth Mountain, California.
AVSC was named U.S. Ski and Snowboard Association's 2011 Club of the Year and was also honored as the adaptive club of the year.
Image by Mike Schirf