April 28, 2010
/
Austrian men's team changes focus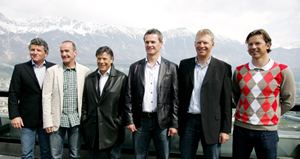 The Austrian men's team will see more than a few coaching changes for the coming season. Reports from the Austrian team indicate new men's racing director Mathias Berthold has changed a course of thinking popularized over the past few seasons and will return to an era of specialization.
In a press conference at Bergisel to introduce his freshly realigned men's coaching staff, Berthold said the Austrian program would "force the individual strengths of the skier."
Christian Hoeflehner will remain head of the technical program and Andreas Evers stays as head of the downhill group. Berthold added Andreas Puelacher to run a combined program and will oversee racers Benjamin Raich, Stephan Goergl, Romed Baumann, Hannes Reichelt and Philip Schoerghofer as well as some addition younger skiers.
Hoeflehner will focus on the slalom group with Manfred Pranger and Reinfried Herbst and also add in Marcel Hirscher.
The speed group under Evers will include Michael Walchhofer, Klaus Kroell, Mario Scheiber, Hans Grugger and Andreas Buder. "It is," said Berthold, "a pure downhill group."
Walter Hlebaynas was appointed to head up the Europa Cup program.
Berthold said the shift was not a complete move to specialization, and said it was important "that the three groups work together very strong and truly integrate thinking."
Missing from the list of athletes was Christoph Gruber. He announced his retirement after having sustained severe knee injuries from a Jan. 16 crash at Wengen. The 33 year old said he was not willing to battle back through the Europa Cup to return to form and said he was already training for a career as a pilot. – Hank McKee
Pictured, from left, race director Mathias Berthold, Combination coach Andreas Puelacher, president Peter Schroecksnadel, downhill coach Andreas Evers, Europa Cup coach Walter Hlebayna and technical coach Christian Hoeflehner. GEPA photo.