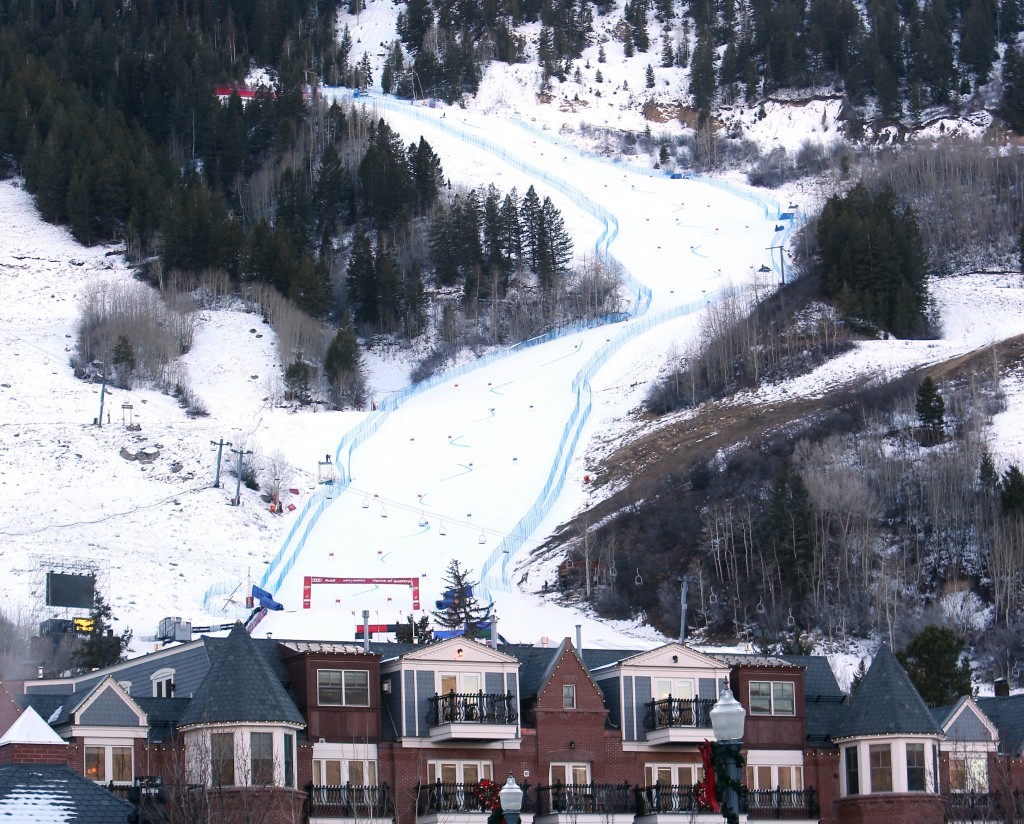 For North American race fans, there's hope for a major alpine event after 2015.
Aspen Mountain and Lenzerheide, Switzerland have each submitted bids for the World Cup Finals in 2017. If awarded, "Ajax" would be the first mountain outside Europe to host the event since Vail did so in 1997.
An announcement was actually anticipated from the FIS at its fall meeting in Zurich earlier this month, but uncertainty surrounding the PyeongChang Olympic test events forced organizers to table their decision until June. Typically, Olympic test events are held two years prior to the main event, but in this case, the FIS is considering running the South Korean races just after the World Championships in 2017. If approved, this exception would create a major logistical challenge of moving athletes, personnel and equipment to North America just a few weeks later.
"I think there were a couple messages that came out of the meeting," said Calum Clark, USSA vice president of events. "Aspen definitely put their best foot forward. It was a really good bid with a really strong commitment to alpine ski racing. There was definite interest (from the nations) to look into Aspen seriously…. While this isn't yet concluded, Aspen has put itself in the best place possible considering that these external effects on the world schedule had an impact on an immediate answer, which is unfortunate."
USSA initially broached the idea with Aspen officials last year. "We tossed it out to a couple different resorts, but Aspen was the one we had hoped would bite at the opportunity," said Clark.
John Rigney, Aspen Skiing Company's vice president of sales and events, represented the resort at the Zurich meetings.
"I had really positive conversations with everybody that I interacted with over there," said Rigney. "I think, in general, people were excited that there was a new face at the table…. We had a basic understanding that we would be racing in the same arena that we've been racing for decades on Aspen Mountain, but because of the nature of the event, you're setting two courses at once and there are logistical changes compared to running any one World Cup race."
Venues that are capable of hosting elite World Cup racing in the U.S. are somewhat limited. Logistically, Beaver Creek, which has mastered the early-season event, would not be able to accommodate the mid-March influx during one the resort's busiest tourism periods. Aspen, on the other hand, was motivated to once again host a men's event. With an on-hill operation that wouldn't place much of a burden on the public, it was the perfect setting to pitch to the FIS.
Ajax, which has not hosted a men's race since 2001 or a speed event of either gender since 2007, would require an update to the safety systems to accommodate modern downhill and super G. But for the most part, no fundamental changes would be required on the hill.
For speed events, the women would run predominantly down Ruthie's, whereas the men would take a turn onto Aztec, as they have in previous iterations.
"This gives us the opportunity to deliver one-and-a-half tracks for men and women that is on the same hill, that finishes in the same finish arena and that doesn't require a wholesale change to dirt work, snowmaking and resort operations," said Clark. "There are very few places in the world that can deliver that backbone. It's also an outstanding four-event hill."
In recent years, the site has not only served as a women's World Cup tech stop, but also immediately following as a popular men's NorAm race, which has attracted top-level talents such as Marcel Hirscher and Alexis Pinturault.
"Ski racing and the support of world-class events run in (Aspen's) DNA," said Rigney. "To be able to have this caliber of talent and this many races would be incredibly exciting for the community. It's been a long time since we've seen the men here. We've had a great time hosting the ladies. I think it could be a boost on several levels. It would be great for skiing in the U.S. and it would be great for skiing in Colorado."
The decision on the PyeongChang Olympic test events will likely have more of an impact on the outcome of the Aspen bid than the merits of bid itself, but no matter what happens, the process has been a success in jumpstarting the conversation about bringing the World Cup Finals back to American snow.
Said Clark, "By no means is this thing in the bag, but the pure fact that Aspen has put in this bid and has done such a great job is a story unto itself."
Photo: Aspen women's World Cup in Nov. 2012 (credit: GEPA/Christian Walgram)