September 1, 2013
/
Andy Phillips on football vs. ski racing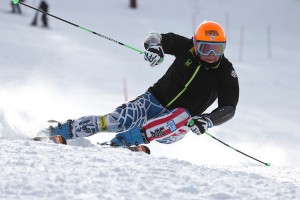 Kick a few footballs, win a game and suddenly you've got FOX Sports and ESPN reporters putting a microphone in your face asking questions, you get so many text messages your phone can't handle the load and shuts down. What's a guy like Andy Phillips to do?
"I can't wrap my head around it yet," says Phillips a former member of the U.S. Ski Team who walked onto the U of Utah practice field this season, earned himself a look from the coaches and, given the opportunity, did about as much as it is possible, for the kicker, to win a football game.
Start off with a 45 yard field goal, and follow that immediately with a successful on-side kick. Add a 38 yarder at the end of the game (for a four point victory) another field goal and all the extra points and you've got the recipe for all those post game interviews.
After the on-side kick, there wasn't much that was going to bother Phillips. "I felt so calm after that, it was just let's go kick it, why not?" Near the end of the contest the coach asked him if he wanted the team to try to get the ball to the center of the field so he wouldn't have to kick at an angle. "I said naw, let's just go do it."
Two years ago there were no thoughts in Phillips head about football, other than perhaps watching some on television. Then a Thanksgiving Day family Turkey Bowl and a kicking contest with his brother convinced Phillips he had a chance to be a high caliber kicker.
I told my friend Colby (Granstrom US Ski Team member and the best man at Phillips' wedding) my goal was to make a football team. I Kind of made it my New Years Resolution. So we sent video to several schools. The Utes responded and he walked on the practice field and never looked back. "I guess the coach liked my athletic stature and ability to kick and wanted to see what I could do."
Training he says is no more difficult for football than it was for ski racing… it's just faster.
"In skiing you could go to the Center (Center of Excellence in Park City) and you have all day to accomplish what you need to. NCAA rules say you can only train so many minutes at a time, so it's a pretty fast pace."
Phillips says he never wanted to leave skiing, it was just financially unfeasible to continue. The attention he has attracted with his first game of football is another thing he says is difficult to "get the head around. It's just overwhelming for kicking a football. It's so strange. I keep thinking about it. I mean it's college, right? In skiing a Nor-Am and for sure Europa Cup is a higher level than that, but winning at that level doesn't get much attention even in Europe."
He admits the idea of an NFL career has crossed his mind, but it's not something he is hanging his hopes on. "My focus in stopping skiing to go to school and stuff was to make sure I get my degree. The primary goal is to get the degree. If it works out kicking… well fine."
Phillips says he could definitely reach a 60 yard field goal, but adds he feels comfortable from 50 yards in. Leg strength is one thing. Standing in there while the opponents are crashing toward you yelling and doing what they can to distract is quite another. Ski racing, he says, helped in overcoming that.
"I compared it a lot to being in the start gate. You get so zoned in. You are focused on whatever, a piece of the course, a particular gate. In football I'm just looking at a spot. Ok, the ball got there. Kick it. … The mentality is actually pretty much the same thing. You get so hyped up."
And then come the interviews.