December 8, 2013
/
Americans back in top 10 at Lake Louise SG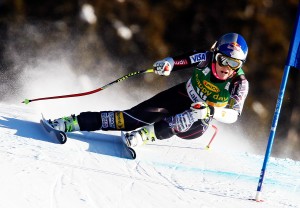 Chip White, women's speed coach for the U.S. team, will hopefully sleep a little better tonight. After what he called "one of the most disappointing performances as a group" earlier in the week, the ladies seem to be getting back on track, improving by the day.
Sunday, the third and final day of racing in Lake Louise, featured a tight-turning super G course up top, set by the Swiss, which couldn't have hurt the winner, Lara Gut, who picked up her fourth victory of the season in a third discipline.
A couple of the usual suspects joined her on the podium. Tina Weirather skied a near-perfect run, low and dynamic, only three-hundredths of a second behind the pace of Gut. Austria's Anna Fenninger held the lead on the upper part of the course, but was unable to carry it through the lower flats. She finished just 0.33 seconds back, good enough for third on the day.
Maria Hoefl-Riesch, who won both of the downhills earlier in the weekend, looked as if she might complete the hat trick, but a costly mistake five gates before to the finish on the tricky turn that gave many of the ladies trouble caused her to scrub speed on the lower gliding section. She finished 19th as a result.
Lindsey Vonn, who commented during her preparation period in November that her super G has been stronger than her downhill, appeared much more confident and aggressive compared to previous days. For the first time since her injury, she rejoined the world's elite, finishing fifth, 0.85 seconds back.
"This is exactly what I wanted to take away from this weekend — to know that I could ski for the win," said Vonn. "I'm happy with today. I scrubbed some speed in a few spots but it still showed me that I can ski for the podium. I'm going to be selective in my races this season and I'll take a few days home, talk to the coaches and determine a plan."
Leanne Smith, who has been disappointed with her results thus far this season, took more risks on Sunday, attacked the line and charged to her second-best career finish in super G — sixth, just four-hundredths behind Vonn.
"It was definitely more along the lines of what I was looking for," said Smith. "I'm totally psyched. It's been a rough couple days; yesterday was definitely better. Today, I just wanted to forget the last couple days and Beaver Creek and just move on.
"I think more than anything else on this course is just letting it all hang out and going as straight as you possibly can," added Smith. "If you over ski it, time adds up very quickly and you don't have as much speed for the flats. … That was my focus for the day and I'm happy and fortunate that it went my way."
The result bodes well for Smith in the super G at St. Moritz next weekend.
"I'm really pleased," Chip White said after the race. "I think we're starting to move in a positive direction. … It was great to see Lindsey back in there in the top five. And Leanne did a great performance running early when she did. (She) sent a message to the rest of our team that the line that we were on was correct and they knew that they could charge."
Stacey Cook, who's considered more of a downhiller, also had a great result: 18th, her best performance in super G since 2008.
"There were sections that looked a lot like the downhill," said Cook, who started bib 38. "So, I just tried to keep it simple and tell myself that it was going to feel very similar and that I needed to have the same approach — got fired up by the coached at the start and was ready to go."
Despite some nagging boot problems, Julia Mancuso had her best result of the season — she finished 17th.
"Julia had a little bit of an issue with boots not being set up and she got a little bit back in a critical spot coming into Fallaway," said White. "She wasn't able to stay ahead of the course — still did OK, considering."
Racing on home snow, Marie-Michele Gagnon skied to a best career super G result of 10th from bib 46.
"I just attacked. I was aggressive," said Gagnon. "I felt really comfortable at the start today, which is a big thing for a non-speed skier because I've been skiing tech all week. To come back and feel comfortable, I knew I was in a good mental state. … I charged and I didn't know where it was going to get me, but at the same time I know my technique is improving and my giant slalom is pretty strong now. It's good, and it's carrying over into my speed events and that's really exciting."
A solid week of racing concluded for B Teamer Julia Ford and C Teamer Jackie Wiles, who both barely missed out on World Cup points, finishing 32nd and 35th respectively.
"I know we had a few hiccups at the very beginning," said White. "I personally haven't been worried. We have a great team. I know that they're strong, motivated and ready. And this is one thing that I tell the girls: 'One day, one weekend does not a career make.'"
The Scoop
By Hank McKee
Women's World Cup SG Lake Louise, Canada, Dec. 8, 2013
Equipment – Skier (skis/boots/bindings)
1 Gut, Rossignol/Lange/Rossignol
2 Weirather, Atomic/Tecnica/Atomic
3 Fenninger, Head/Head/Head
4 Goergl, Head/Head/Head
5 Vonn, Head/Head/Head
6 Smith, Rossignol/Lange/Rossignol
7 Kling, Head/Head/Head
7 Rebensburg, Nordica/Nordica/Marker
9 Stuffer, Fischer/Fischer/Fischer
10 Gagnon, Rossignol/Rossignol/Rossignol
Women's super G, Lake Louise, Canada, Dec. 8, 2013. … It is the eighth of 32 races on the women's 2013-14 World Cup schedule. … the second of seven scheduled super G's. … It is the 35th World Cup SG hosted by Lake Louise. … It is the fifth and final World Cup race set for Lake Louise this season.
It is the seventh career World Cup win for Lara Gut. … her fourth in super G. … It is her fourth win of the season and second in SG.
It is the 11th career World Cup podium for Tina Weirather. … her fourth of the season. … She has finished second three times this season, twice to Gut.
It is the 20th World Cup podium result for Anna Fenninger, her 11th in SG. … It is her third podium of the season and second at Lake Louise.
It is the 130th time Lindsey Vonn has placed top five in a World Cup race. … the 23rd time at Lake Louise. … It is her best of two World Cup results this season. … It is the tenth World Cup top 10 for Leanne Smith. … her first of the season in three scoring finishes. … It is the 20th top 10 World Cup finish for Marie-Michele Gagnon. … her first in SG. … It is her third top 10 of the season. … It is the seventh best SG result at Lake Louise for Julia Mancuso. … It is the 11 scoring result at Lake Louise for Stacey Cook.
Gut holds the lead of the World Cup overall standings 446-405 over Maria Hoefl-Riesch (19th in race). … Fenninger is third with 345pts. … Mikaela Shiffrin (did not race) is top American in sixth with 220pts. … Gagnon leads Canada in 13th place with 117pts. … Gut leads the super G standings 200-140 for Fenninger. … Nicole Hosp (12th in race) is third with 82pts. … Leanne Smith is top American in tenth with 48pts. … Gagnon leads Canada in 21st with 26pts. … Austria leads the women's Nations Cup 1220-1001 over Switzerland. … Germany is third with 696pts. … The U.S. is sixth at 466pts and Canada 10th with 242pts.
Results — Women's super G, Lake Louise