August 10, 2010
/
Alpine World Championships 2011 tickets now available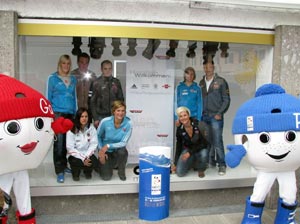 Last week, tickets for the FIS Alpine Ski World Championships 2011 in Garmisch-Partenkirchen (Feb. 7- 20) officially went on sale. The tickets can be purchased online at www.gap2011.com and, at the Ice Stadium in Garmisch-Partenkirchen.
To promote the event, a special campaign was also launched. Athlete-themed shop window displays throughout Garmisch-Partenkirchen seek to promotion the event's theme – "We are a big Family." To kick off the campaign, members of the German National Ski Team climbed in local shop windows while media and fans snapped pictures. All participating ski associations and their top athletes will be featured in about 70 shop windows leading up to the Championships.
"It's a great campaign and above all a good idea," said German double Olympic champion Maria Riesch.
German racer Felix Neureuthe, a local to Garmisch, was part of a traditional Bavarian window. "With Garmisch and Kitzbühel, I was able to win two very important slalom races last year," he said. "That's a good omen for the World Championships."
"Fantastic campaign, fantastic idea, just look at what's going on here," said Olympic gol medlaist Viktoria Rebensburg, who wore a traditional Bavarian costume for the event. "It makes me even more excited about the World Championships."
Information and images provide by the GAP 2011 Organizing Committee.