August 5, 2013
/
After Busy Offseason, Shiffrin Set For NZ Camp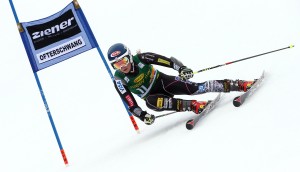 AVON, Colo. — It hasn't exactly been an offseason of rest and relaxation for Mikaela Shiffrin.
The 18-year-old passed through Vail and Park City recently as part of a busy summer schedule that has included stays back East, where she graduated from Burke Mountain Academy in June. In Colorado last week, Shiffrin and her mother Eileen sat in for an interview with FOX Sports conducted by gold medalist Picabo Street, one of the many pre-Olympic media obligations the rising star has had to fulfill this offseason.
Having set sail for New Zealand over the weekend, the slalom champ will, for the first time in more than eight weeks, be doing what she does best: bashing gates.
"It's been good, really busy," said Shiffrin. "We've been doing lots of media stuff and I've been taking German since right after I graduated. We went to visit family in the East before we came back to Vail. Then, I had a week at home before I went out to Park City for some training.
"So it's been really busy, but I feel like I'm almost starting to get into a rhythm: Wake up. Answer some questions. Do some German. Answer some more questions. Work out. Go to bed."
On the docket this offseason is to further dial in the new GS skis — which underwent new sidecut regulations in 2012 — and lay the groundwork for even more success in that discipline. By the numbers, Shiffrin was the best slalom skier in the world last winter, but having also recorded the fastest second-run GS time at a World Cup stop or two, the young gun hopes to make a name for herself in the second technical discipline.
"I'm going to try to dial in my GS a little more," said Shiffrin. "I know there's some new stuff going on with Atomic GS skis, and they're really excited about being able to try out the new stuff. With the changes in the GS skis, everyone is just in a race to find out what works best.
"My GS is really starting to take off, and I'm making some huge improvements, figuring some stuff out with equipment, how my boots and skis work together to make it more user-friendly. I've been having a lot of fun with it."
At Beaver Creek in early April, Shiffrin strapped on downhill boards for the first time in her life to train nearly full-length speed on the new women's 2015 World Championship course, which runs parallel to the men's Birds of Prey track.  At the time, the tech specialist said she might, this season, begin to incorporate into her schedule a couple super combines. But upon further consideration, Shiffrin will again stick to GS and slalom this winter.
"I'm starting to figure out, especially the past few weeks, I've been really busy," Shiffrin said. "I've been thinking about speed, but now it's more for training and getting used to going fast — and it's also helping me with my GS. But otherwise, I'm going to focus on tech and try to keep it simple this year. I'll dabble in speed over the next few years."
Story by Geoff Mintz
Photo GEPA