August 14, 2014
/
Africa hosts first-ever FIS alpine races
The first-ever FIS-sanctioned races held on the African continent took place Aug. 4-5, 2014 in Tiffindell, South Africa. The Tiffindell resort is situated on the border of South Africa and the Kingdom of Lesotho in the Southern Drakensberg Mountain range.
On the schedule were a National Championship, a National Junior Championship, and two men's slalom races.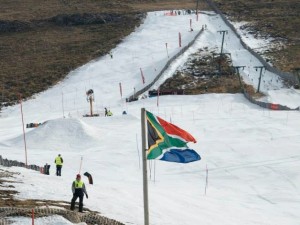 The National Championship was won by Sweden's Alexander Koell while 18-year-old Martin Pitterl of Austria took the title in the junior category. In the slalom competitions, Alexander Koell and Swede Tim Lindgren, currently enrolled at Westminster College in Salt Lake City, clocked the fastest times.
The starting lists with skiers from Sweden, Austria and Slovenia included six racers from South Africa.
From a snow perspective, there has been little or no natural snowfall in southern Africa during the 2014 ski season, but low temperatures have allowed Tiffindell as well as Afriski in Lesotho to carry out extensive snowmaking to open their pistes. In Tiffindell's case, this is the longest-ever season thanks to a newly extended snowmaking area this season.
RESULTS
Men's National Championship slalom – Aug. 4, 2014
Men's National Junior Championship slalom – Aug. 4, 2014
Men's FIS slalom 1 – Aug. 5, 2014
Men's FIS slalom 2 – Aug. 5, 2014
Release courtesy of FIS