This summer I had dinner with some Development Team athletes. As 18- to 20-year-olds, they were excited about pursuing the Olympic dream. But they also asked me few times: "What should I do about college?" I could feel the conflict in their voices. They were living the perpetual tension between living the life of an elite athlete and balancing what do with the rest of their life. My new job was created to help alleviate that tension, promote athlete success and eventually help them find success as athletes and in their careers. Let's look back a bit to address this perpetual tension.
Five years ago, in an initiative led by Executive Vice President of Athletics Luke Bodensteiner, the USSA began to grow its athlete career and education program. Luke chaired a USOC committee that recommended the following: "The USOC should lead by establishing a culture that values athlete career, education and life skills development as a performance enhancer, and that values successful athlete transition away from elite sport."
The key premise is that if USSA takes care of the whole athlete and improves confidence, performance will improve for longer careers. Secondly, USSA's mission is to "provide strong leadership," and we want our athletes to initiate successful careers so that they can take the leadership skills developed as national team athletes and play leadership roles in the next step of their careers. Ultimately, these athletes will stay connected to USSA and help the organization grow over the years.
The athlete career and education initiative has been part of an impressive run, as USSA athletes won a record number of medals at Vancouver 2010 and Sochi 2014, and very few of these successful athletes have retired. In fact, none of the 17 Sochi 2014 medalists retired after the Olympics. That's a first.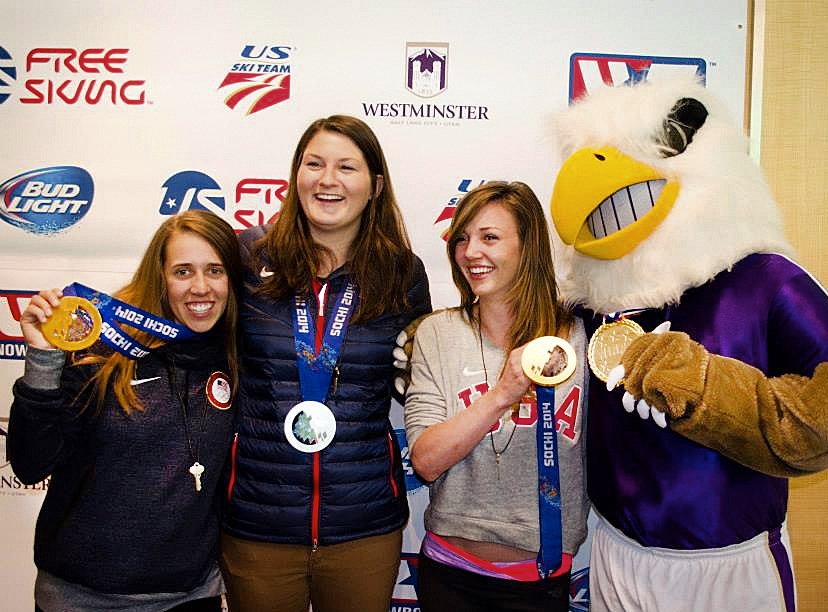 Westminster College sent 23 students to the Sochi 2014 Games; returning medalists Maddie Bowman, Devin Logan and Kaitlyn Farrington show off their hardware to mascot Griff the Griffin.
The Westminster College/USSA partnership is one of the great products of this initiative. Westminster is "the official partner of traditional university education" of the U.S. Ski Team, U.S. Snowboarding and U.S. Freeskiing. The partnership began in 2005 with a handful of athletes completing slightly more than 50 credits. Just last year, more than 30 athletes were enrolled at Westminster, completing 800-plus credits. Twenty-three of those students were Sochi Olympians, and three of them won medals! Both Westminster and USSA are committed to innovation in learning and creating a community of exceptional learners.
One of USSA's four cornerstones of success is "education." I was fortunate enough to have lunch with two of these success stories. Jess Kelley just joined Ski Racing as an associate editor. The Westminster program allowed her to chip away at her college education during her 10 years on the U.S. Ski Team, and then the partnership allowed her to reach graduation two years after she retired. "I would not have gotten that job without the Westminster program," she said. The small classes and talented professors at Westminster taught her the academic skills to match her athletic drive and grit and lead to her next job.
Grete Eliassen, a multiple freeskiing medalist in the X Games and now vice president of marketing for Wickr, told me: "I would never have continued my college career without the help of Lauren Loberg and the Athlete Career and Education program at USSA. She pushed me take classes and helped me through the process throughout my career." Now Grete has a leadership position for a leading social media company and is involved in Ernst & Young's Women's Elite Athlete Business Network.
Jess and Grete were leaders in skiing and are now leaders in business. Good stuff.
Back to the Development Team boys: elite athlete development requires tremendous effort. It is a full-time job to become an Olympic champion. But part of that job is feeling confident in one's life path. The stories of Jess and Grete show that we can build that confidence. I look forward to sharing more of what USSA is learning and doing in this field.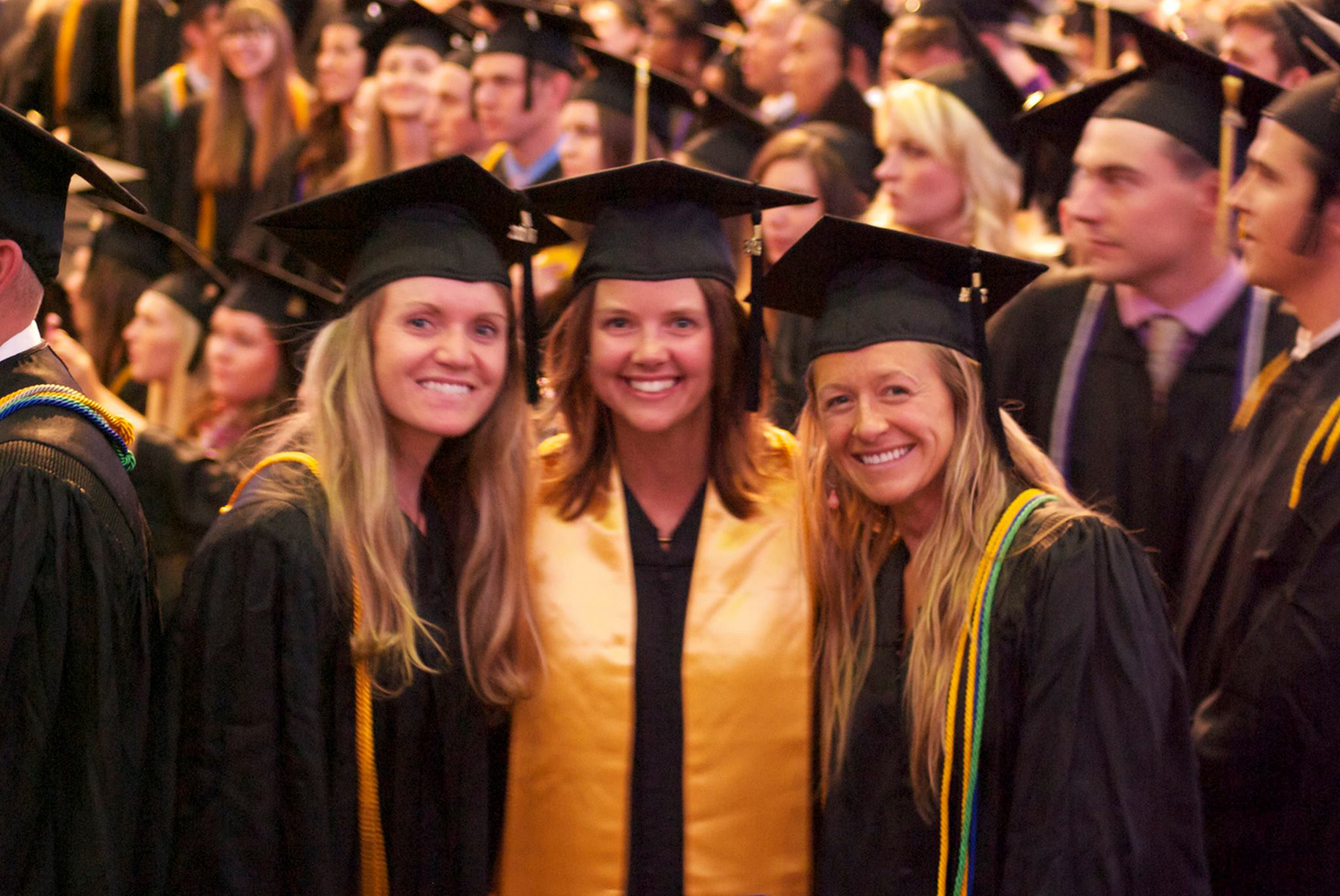 Jess Kelley (far right) has landed a gig at Ski Racing after competing with the U.S. Ski Team and studying at Westminster; here, she celebrates with fellow student-athletes Keely Kelleher and Sweden's Erika Holmberg. Credit: Jess Kelley