How top NCAA racers transition from summer training to fall conditioning
When you're an elite collegiate racer, you don't stash your skis for the summer to let them gather dust while you eat sugar-coated donuts.
Taylor Shiffrin makes cameo appearances in his sister's summer workout Instagram video.
Nope. If you're Kristine Haugen — the 2013 double NCAA champion and repeat NCAA GS champion in 2014 — you figure out how to log serious time on the slopes, despite the fact that ski racing is a winter sport, and despite league and conference regulations mandating that athletes who seek on-snow training do so independently of their college teams. (Coaches and skiers are permitted to participate in regional projects through a national governing body such as USSA.)
Haugen headed to New Zealand to join up with Treble Cone Race Academy and the program run by Guenther Birgmann. "Being a part of a team with skiers from all over the world — guys and girls of all ages — is super fun," says Haugen. "It helps me improve, having an environment with really motivated people."
Kristine Haugen and Chloe Margrethe Fausa train with TCRA in New Zealand.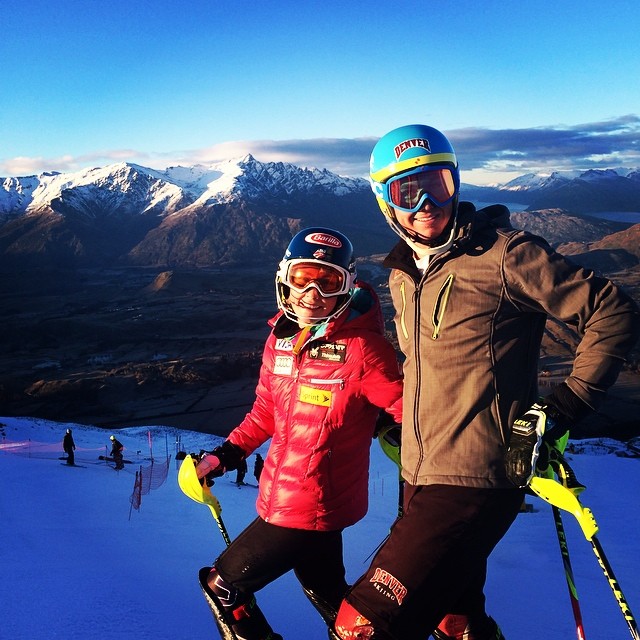 Taylor meets up with his sister Mikaela for some gate bashing in New Zealand.
Denver teammate Taylor Shiffrin and All-American Chloe Margrethe Fausa from the University of Utah joined Haugen at TCRA. Shiffrin, who normally trains with coach Peter Lange of Team America in the off-season, became more creative this year when a summer class conflict arose and he instead decided to train with his Olympic gold medalist younger sister, Mikaela, before meeting up with TCRA. "I must admit it was a rare privilege to train with Mikaela again since we haven't [run gates] with each other since attending BMA together four years ago," says Taylor, who also spent quality time training with Mikaela back home in Colorado, balancing on the slackline and physio balls along with unicycling and playing soccer.
Middlebury's Ghassan Gedeon Achi trains slalom in Mt. Hood with the USSA Eastern Region Training Group College project.
If you can't get to New Zealand, maybe you take advantage of summer skiing on Mt. Hood in Oregon. A total of 24 NCAA athletes from Bates, Colby, Middlebury, St. Lawrence, St. Michael's, and the University of Vermont participated in the USSA Eastern Regional Training Group College project with a focus on fundamentals and technical skills on the Palmer Glacier from Aug. 13 to 21, coached by Stever Bartlett and Abby Copeland (Middlebury), Jim Farrell (Mt. Mansfield Ski Club) and Bill Reichelt (UVM). "With the time demands of school and summer employment, college athletes rarely get a chance to train in an environment where they can work on skills without worrying about speed," says Bartlett. "We spent the first two days doing a drill progression and moved into short-course GS training — then into full-length GS. We ended the last days with simple short-course slalom work to give the athletes opportunity to make changes in their skiing and had a final day of regular-length slalom."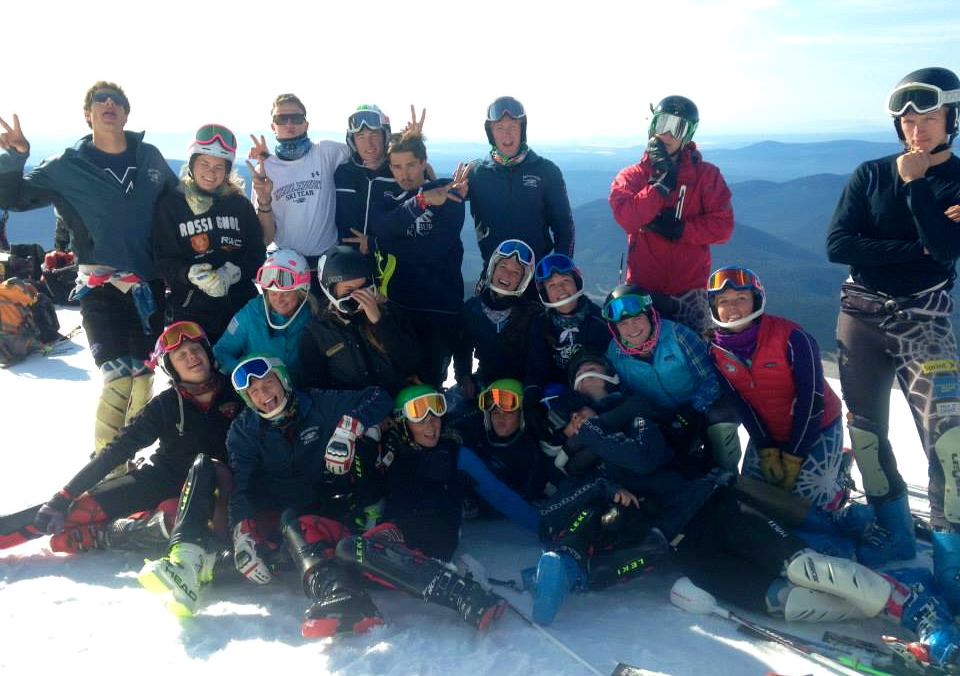 Athletes from several EISA schools trained together in Mt. Hood this August.
Meanwhile, last season's NCAA slalom champion, Kristina Riis-Johannessen from the University of Vermont, managed to squeeze in a few days of skiing on a glacier in her homeland of Norway at the end of June before meeting up with other collegiate athletes at Mt. Hood in August. "It's important for NCAA athletes to get on snow in the summer just to keep the feeling in your body so you don't get too rusty until the next time you ski," says Riis-Johannessen. "The skiing at Mt. Hood was awesome, and I had a great time getting to know everyone and had so much fun with our after skiing activities as well."
Even just a few days of skiing outside of the competition season can be critical for collegiate athletes who are trying to make the necessary adjustments to stay competitive on the "still new" GS skis, which are longer and have less radius than the skis from two seasons ago.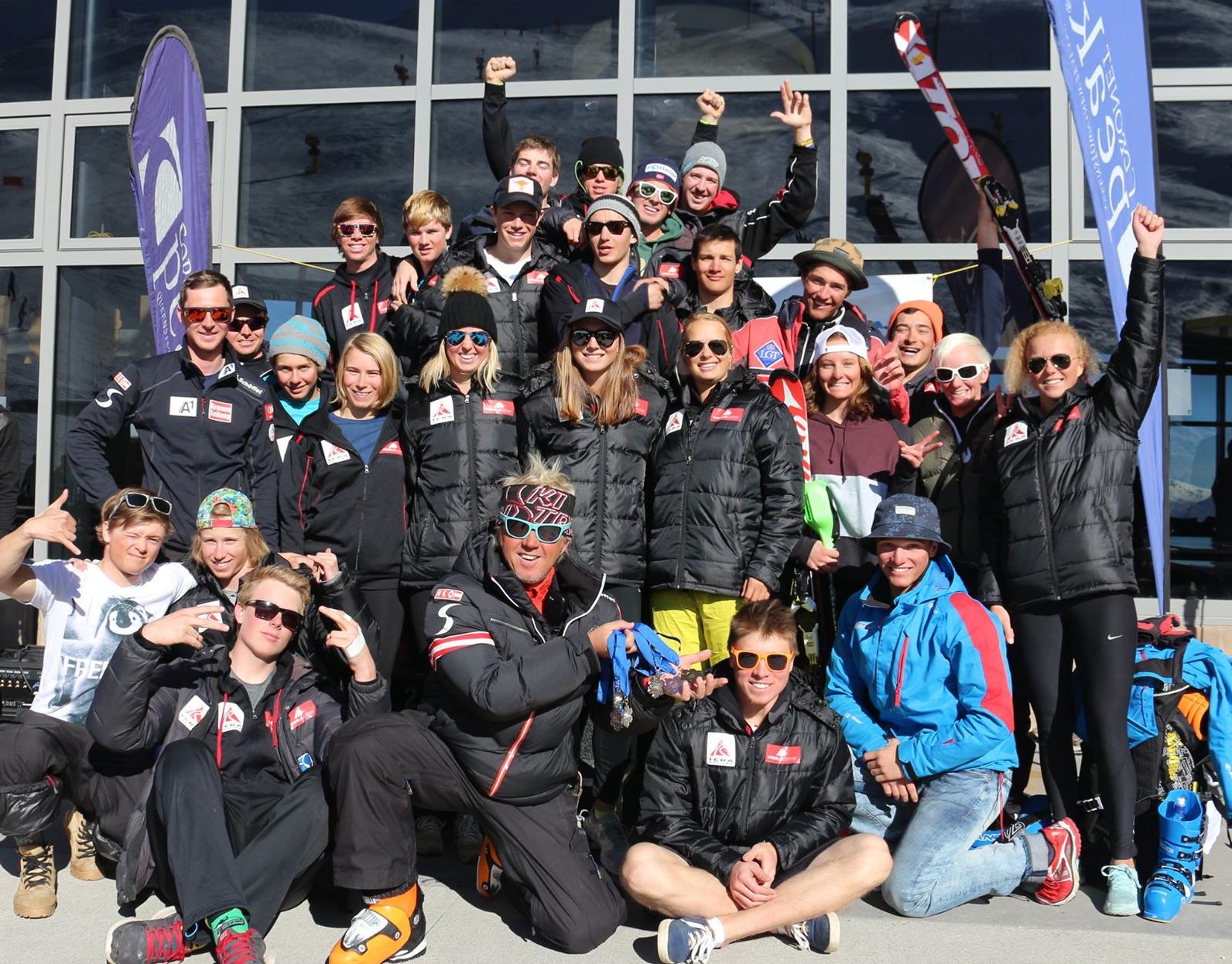 Guenther Birgmann poses with his TCRA athletes (including Kristine Haugen and Chloe Margrethe Fausa) in Coronet Peak.
"Many athletes are still fine-tuning their tactics and techniques on the modern GS skis," says Bartlett.
Then there's 2014 RMISA MVP Sean Horner from the University of New Mexico, who prefers the solitude of solo training sessions in his hometown of Boulder, Colo. "Being away from the team in the summer isn't always bad," he says. "It's always awesome to have the team around since they are like family, but being a 'lone wolf' for the summer lets me focus on what I need to put into the work without any distractions."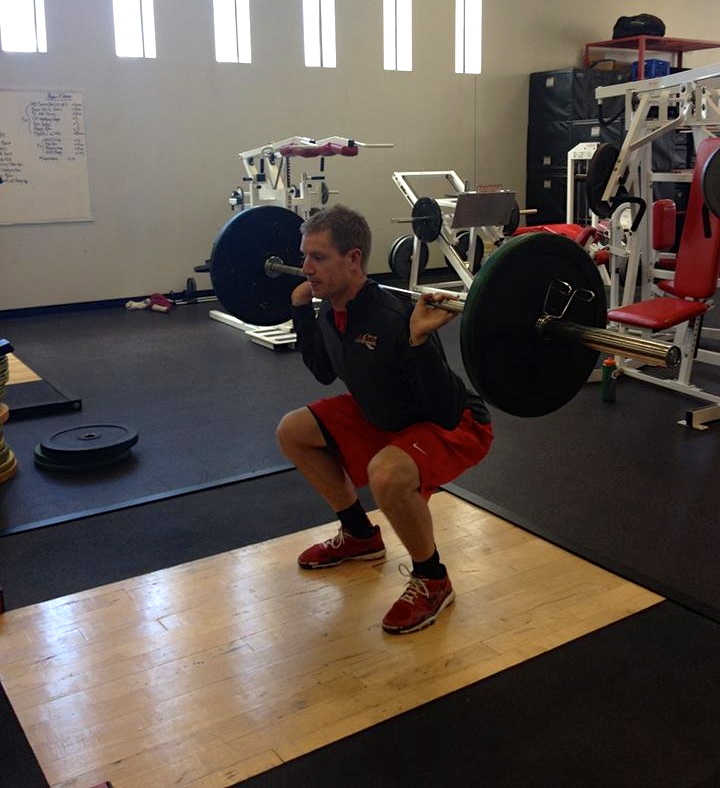 Sean Horner puts in quality time at the weight room this off-season.
Horner set weekly goals for weight lifting, mountain bike racing and rock climbing, and attended a short on-snow camp in August. "Now that we are seeing more people go from the college circuit onto national teams, I don't see any reason not to train like the guys skiing World Cup," he says. "It may not be the high volume some other college racers get by spending a month in the Southern Hemisphere, but I was skiing fast with confidence, and that's all that matters at this point in the year."
Don't mess with the ladies of the EISA who also honed their paintball skills this summer.
Take it From the Top – Advice on fall preparation for junior skiers from elite NCAA athletes

"Fall is the most important part of the year because this is when you can really put in the last bit of work that is supposed to help you the rest of the year, through the whole season… if you stop now, everything you did will be a waste of time. You just have to keep pushing through hard workouts."
Kristine Haugen University of Denver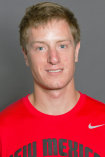 "Staying self-motivated is probably the most difficult and beneficial thing to accomplish throughout fall training… the real progress comes in the work I do when nobody else is watching."
Sean Horner University of New Mexico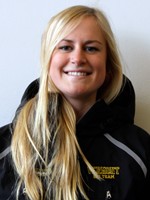 "It's very important to prepare your body for skiing, but I believe that preparing yourself mentally can be just as beneficial. I like to watch some good ski videos in the fall and think about all the fun and enjoyment skiing brings me."
Kristina Riis-Johannessen University of Vermont

"The best thing you can do to get ready for the ski season is to watch World Cup videos and do some visualization. Set task-oriented goals that will help you improve your skiing, and stick to them."
Taylor Shiffrin University of Denver