Sarah Schleper returns to the World Cup under a new nationality
With her golden mane of hair, trademark starting-gate roar and indomitable spirit, Sarah Schleper raced for the red, white and blue for more than 17 years. This season, however, Schleper fans will also be waving the Mexican flag as she charges her way down slalom and GS courses.
That's because Schleper is now racing for Mexico, part of a nationality shift that began with her 2007 marriage to Federico Gaxiola, and a 2009 chat with Hubertus Von Hohenlohe. Now, the Vail native aims to compete at home during the Vail-Beaver Creek 2015 World Championships — for a new home country. "It will be a dream all and of itself," she says of the February event. "I have such a strong community of support."
It's been nearly two decades since Schleper raced her first World Cup in 1995 — which just happened to be at Vail-Beaver Creek. In the two decades since, she's notched a handful of World Cup podiums and one World Cup win, in slalom at Finals at Lenzerheide in 2005. She officially retired from competition for the U.S. Ski Team in December 2011, carrying her son, Lasse, down the Lienz course.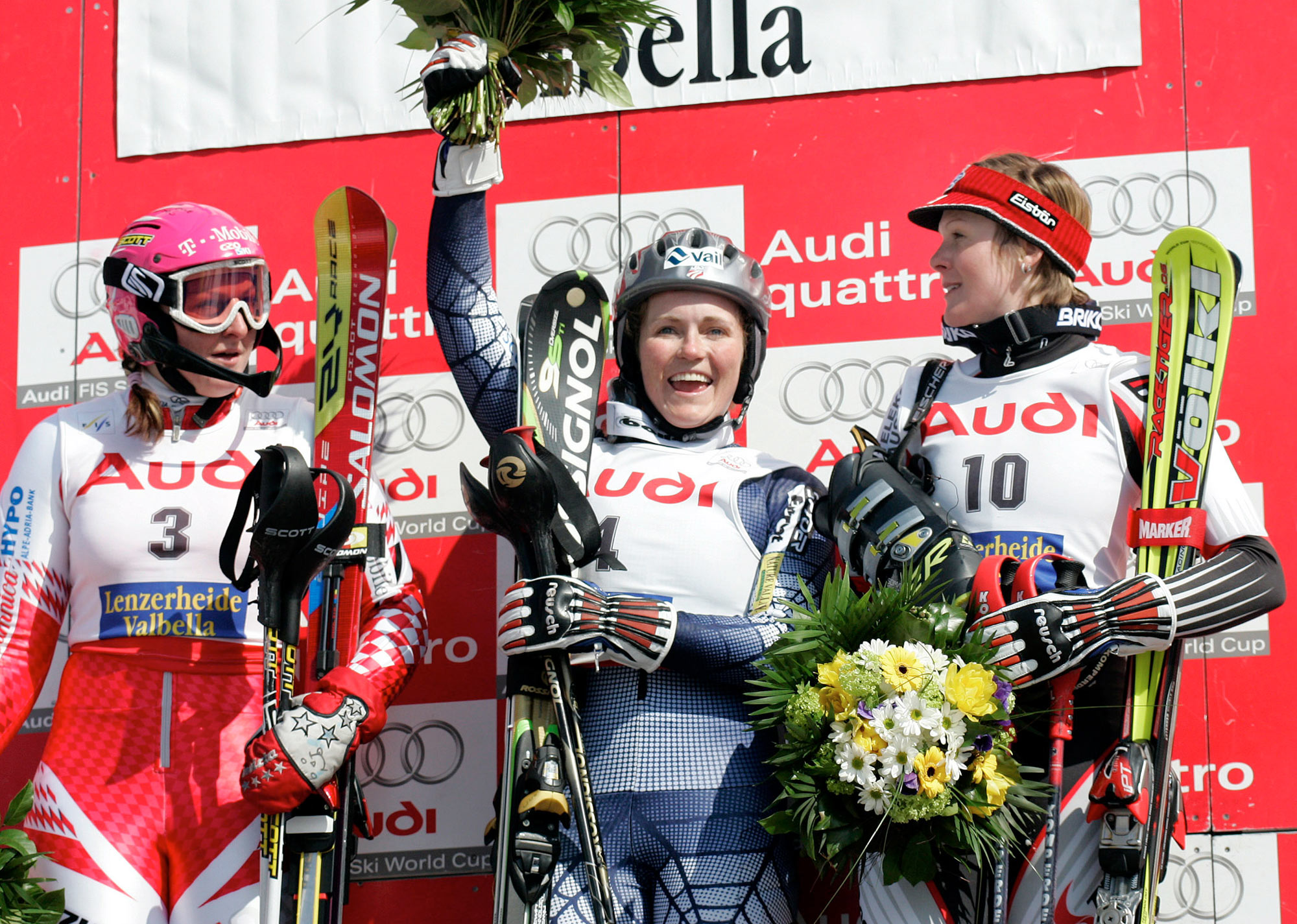 Sarah Schleper officially retired from the U.S. Ski Team with a memorable run in Lienz, carrying her 4-year-old-son, Lasse, down the course.
Schleper is now 35 and Lasse is 6; sister Resi, 18 months, has joined the Gaxiola clan. Soon, they'll be cheering for madre as she races for a new country, having been granted Mexican citizenship last April after years of red tape.
"We sat down with Hubertus Von Hohenlohe back in 2009 at the Val d'Isere World Championships when he planted the seed, 'Why don't you race for Mexico?'" recalls Schelper. "At that point it was a seed for the future, because I was fully committed to my comeback with the U.S. team, after Lasse, but we did begin to pursue citizenship at that time. We started the long, arduous process of translating important documents, getting residency in Mexico and committing to a dual citizenship."
Schleper tried to get citizenship in time for the Sochi Olympics, which would have been her fifth Games, but was unsuccessful. As she told the Denver Post, Schleper looked ahead toward PyeongChang 2018, doubting citizenship would arrive in time for World Champs in her hometown.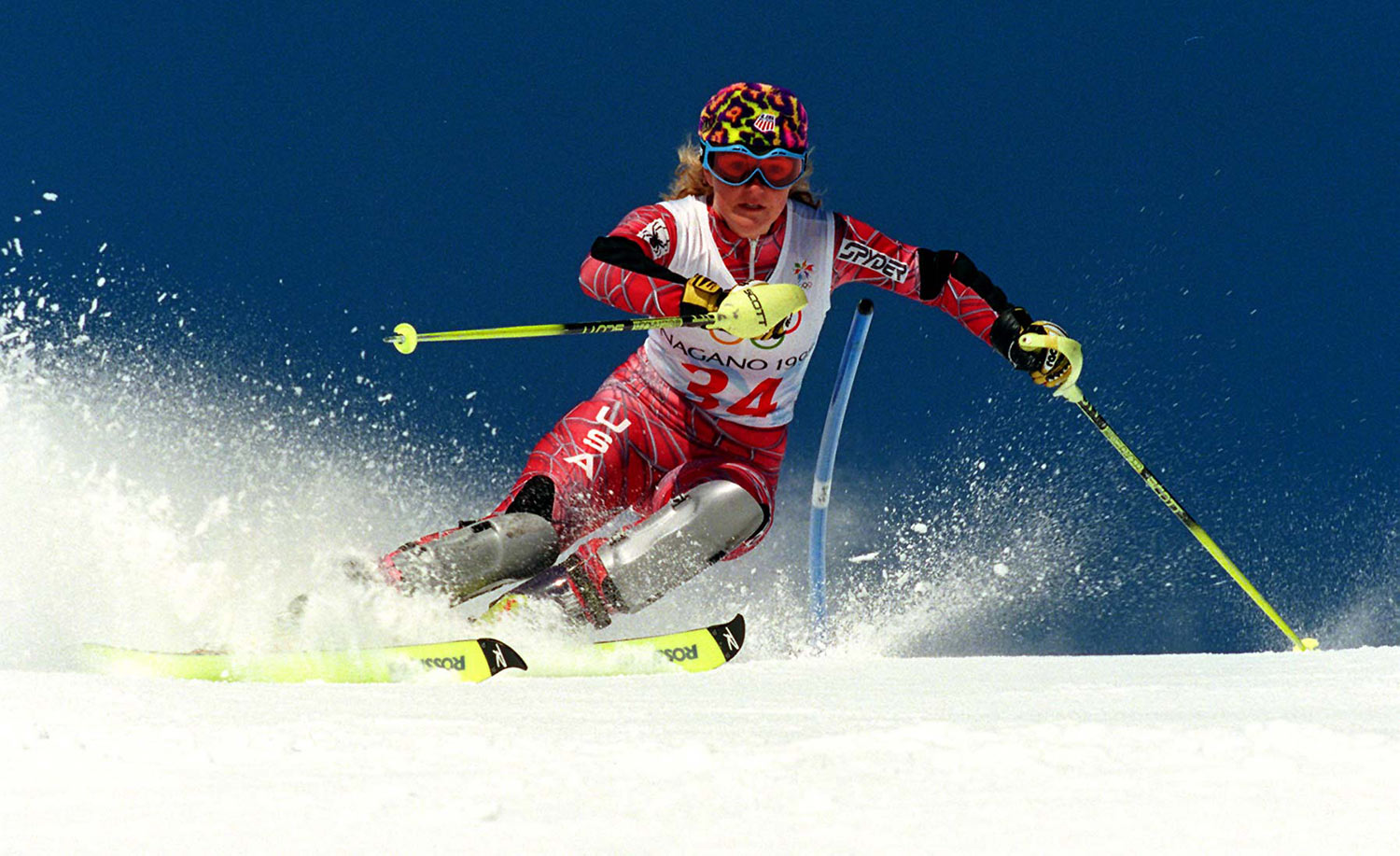 Schleper competes in the 1998 Olympics.
But last spring, Schleper received an email confirmation of her approval for citizenship. Two weeks later, she became an official citizen at Los Pinos, the residence and office of Mexican President Enrique Peña Nieto, who was there to shake her hand.
That gave Schleper the green light to focus her sights on Vail-Beaver Creek 2015. Injured for the last World Championships in Vail, in 1999, Schleper has made multiple comebacks from setbacks. In 2006, just over a week after she competed in the Olympic GS in Torino, Italy, she tore several ligaments in her knee and missed the remainder of the 2006 season and the entire 2007 season.
While rehabbing, Schleper met Gaxiola, and they had their first child — causing her to miss an additional season in 2008. She returned for the 2008/09 season, and started her first World Cup race after a two and a half year break, in Soelden, Austria.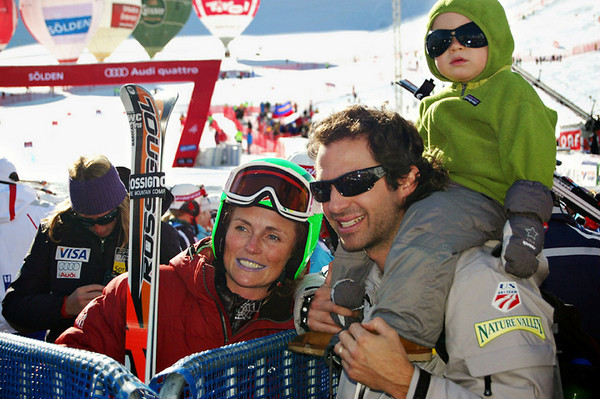 The Schleper-Gaxiola family celebrates Sarah in Soelden in 2009.
This time around, her comeback has a different feel and focus.
"My purpose or mission for racing now is much different, and is almost more important," says Schleper. "What matters now are not the medals around my neck, but the people's lives I have been — and will be — able to touch and inspire. I am going to do that through racing, through coaching young kids and in passing my values onto my family."
She has already competed in her first World Cup — again, in Soelden — and will continue to focus on GS, making her second start in Aspen next weekend, Nov. 29 and 30. So much of her comeback thrives from a deep love of skiing and an immensely competitive spirit that she feels every time she steps in the starting gate.
"I loved the adrenaline I felt in the start and inspection at Soelden this year; you really can't get that kind of energy from anything else," says Schleper. "Nothing comes close. Even though it almost scared me right out of the start — to overcome those forces and contend with one of the most technically challenging slopes and conditions in the world — is a huge accomplishment. I love being out on the training slopes at the start of training courses with my friends."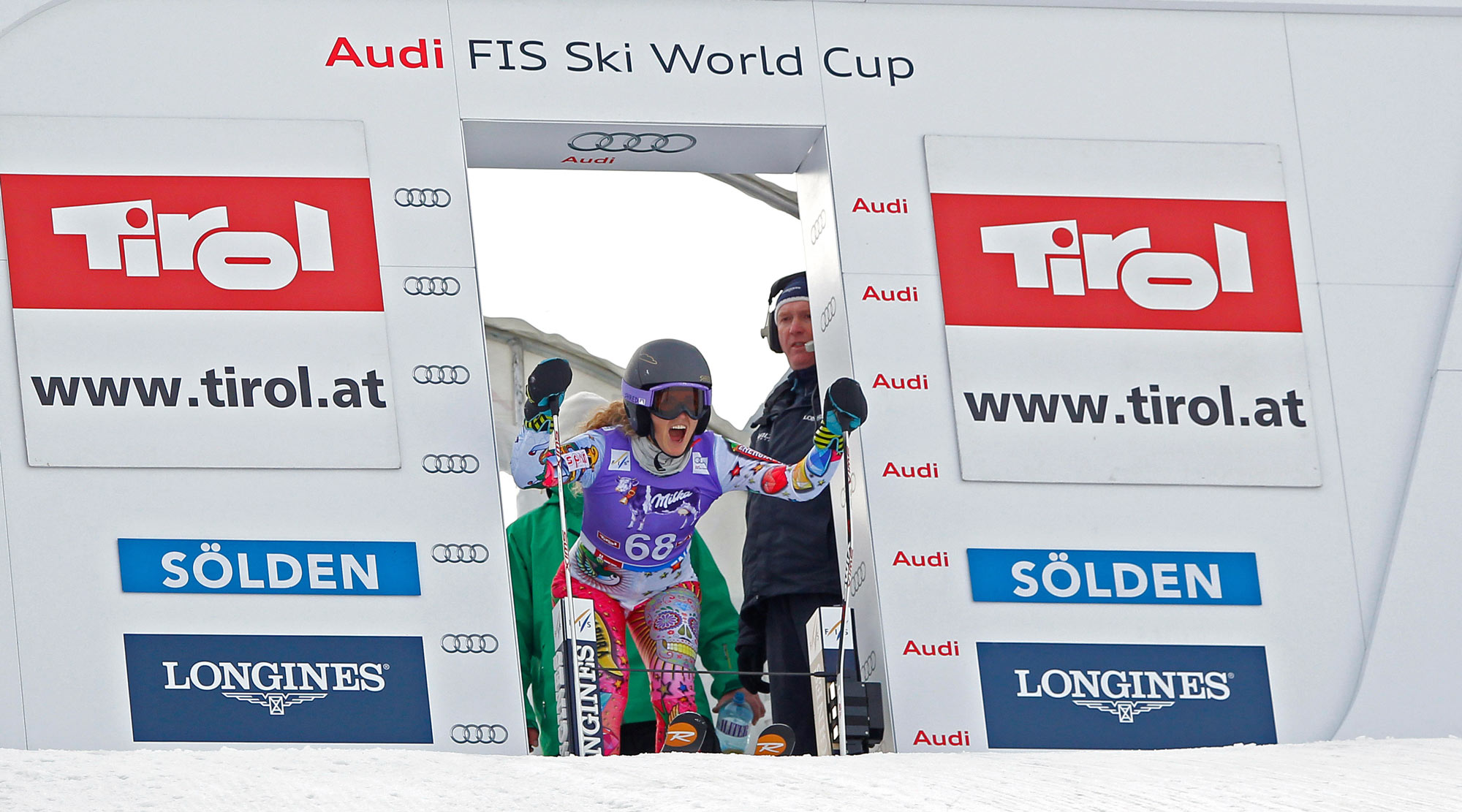 Schleper roars out of the start is Soelden last month.
At age 35, and having undergone multiple surgeries on her knees and back, Schleper says she feels 100 percent healthy and dedicated to pushing boundaries.
"I want to show that this is a place where anything is possible, and that dreams do become a reality — a place where it's acceptable to compete with heart no matter what the outcome," says Schleper. "My body feels good. I love that I can continue to compete on the world stage. At my age, as a mother, it's unheard of. Anything is possible."
Team Mexico, meanwhile includes a few other family members: Schleper's brother, former U.S. Ski Teamer, Hunter, is her coach while her mother-in-law will travel and serve as nanny for baby Resi and as the team's press officer. Schleper has also found support and training partners in close friends and former teammates Megan McJames and Resi Stiegler, who say they equally enjoy having Schleper back out on the slopes.
"It was really cool for me to be around her because she loves it, and it's inspiring to me to see someone out there having so much fun," says McJames. "It makes me realize that having fun is the reason to be out there skiing and racing. Sarah loves the process of racing, and makes it clear that the reason to be out on the hill is to get better, but that having fun is equally as important."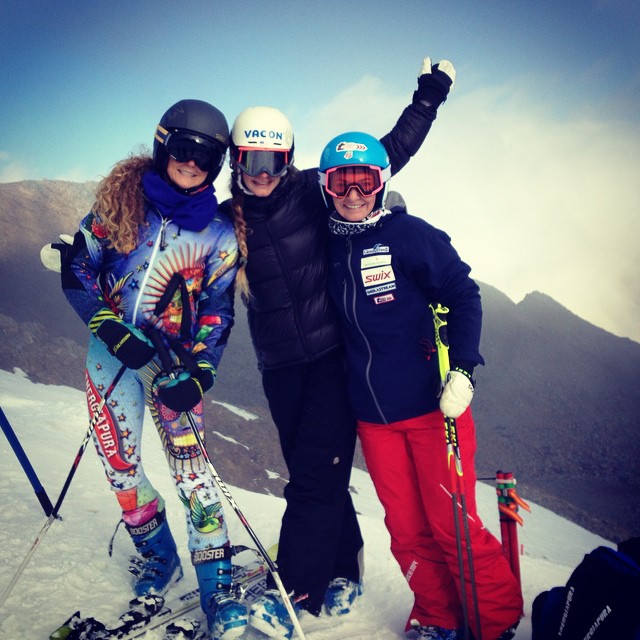 Schleper reunites with former teammates, Megan McJames and Resi Stiegler. Courtesy of Resi Stiegler.
Schleper will travel most of the winter without her husband or oldest child, as they have to remain home for Lasse to attend school. But their support of her new endeavor has been unwavering.
"What I'm really excited about is seeing racer Sarah come back," Gaxiola told the Denver Post back in June. "Once this all came about, she turned into that old Sarah, the racer I knew. Watching that has been really fulfilling. And just being back in the game is extremely exciting."
Then there's the excitement of World Champs around the corner. "To be in the same race on the same day as Lindsey and Mikaela and to give all our hometown locals a reason to stay in the finish until the last racer comes down is a huge honor," says Schleper. "I love skiing, I love ski racing, and I love Vail and Beaver Creek. This is a crazy cool experience."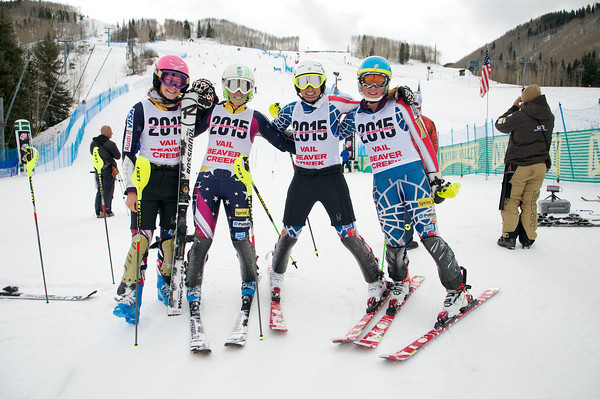 Schleper sports her Vail 2015 bib during training at Vail with Mikaela Shiffrin, Resi Stiegler, and Hailey Duke.
Schleper has long-term plans and desires for Mexico to grow in the international ski racing world. She hopes to ski through the 2018 Olympics in South Korea and to continue to foster ski racing in Mexico by serving as a mentor and coach for the younger generation.
"What I love about this project is that it doesn't stop here," says Schleper. "This is just the start to building a really strong Team Mexico. I want to inspire an entire nation into our sport and build a rock solid foundation. To show both the Mexican and American people, well really the world, and everyone who watches and loves our sport, that this is the path for fun and speed."