Can the U.S. women find more speed with new coach Stefan Abplanalp?
It wasn't exactly a golden Olympic season for the U.S. women's speed team last year, with Lindsey Vonn sitting out most of the winter, and Julia Mancuso missing the top-five until her clutch bronze-medal performance in the super combined at the Sochi 2014 Games.
There were high points for Stacey Cook, who skied to career-best super G results and a pair of fifth-place downhill finishes in Cortina, but she would be the first to say that Sochi left something to be desired. Alice McKennis gave it her all, hoping to come back from injury and make a start at the Olympics, but ultimately returned home for the second half of the winter to fully prepare for 2015. Leanne Smith and Laurenne Ross — after podium performances a year earlier — had few solid results during the season.
That's history.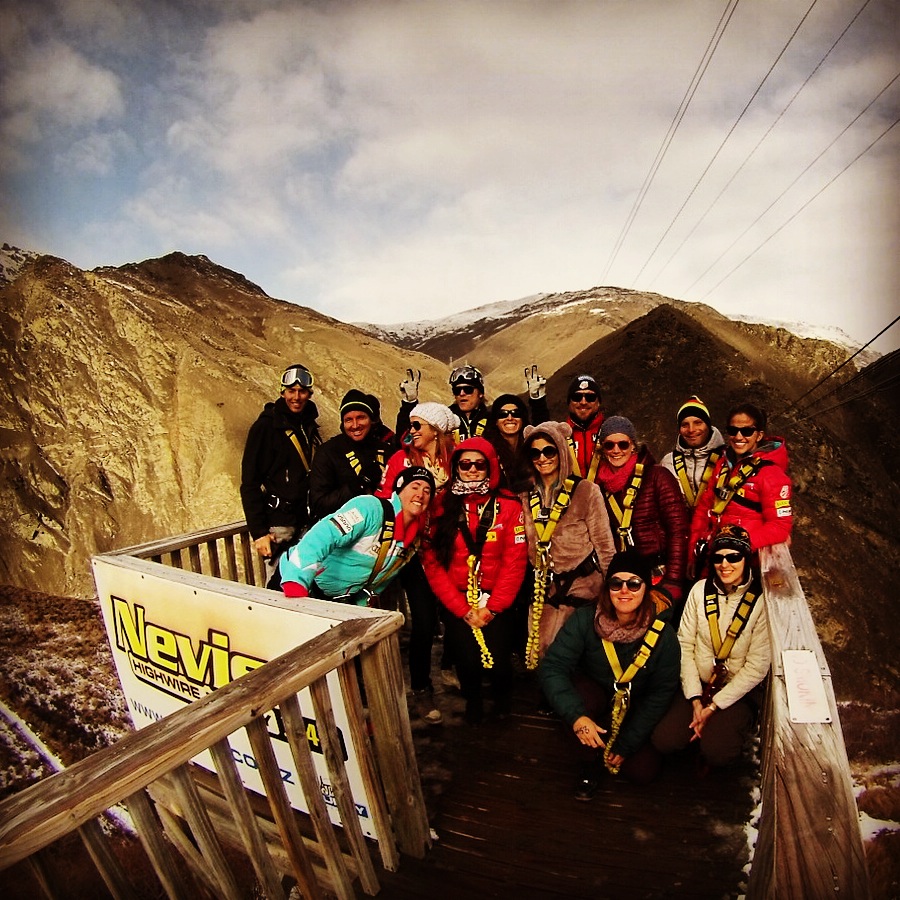 The U.S. women's speed team and coaches pose for a photo during their training block in August. Photo courtesy of Leanne Smith.
A new winter is in the air, and a new head coach, Stefan "Stef" Abplanalp, hopes to shake things up. A new offseason training calendar will force the ladies out of their routine. The premier event of the season, the 2015 World Alpine Ski Championships in Beaver Creek, will be decided on the new Raptor race hill. Julia Mancuso will get a new pair of boots; a new set of speed suits should quell concerns for all, and a new knee — or seriously repaired one — for Lindsey Vonn will hopefully engender strength and confidence in the champ and her teammates.
For the speed team, of course, the most dramatic change has been to the coaching staff, now led by Abplanalp. He had taken over the Norwegian ladies squad in 2012, after a controversial dismissal from the Swiss team. He takes the place of Chip White, who led the speed program for four years and spent 18 total seasons on the U.S. coaching staff. Like White, the Swiss coach has a reputation for being dedicated and appreciated by his athletes.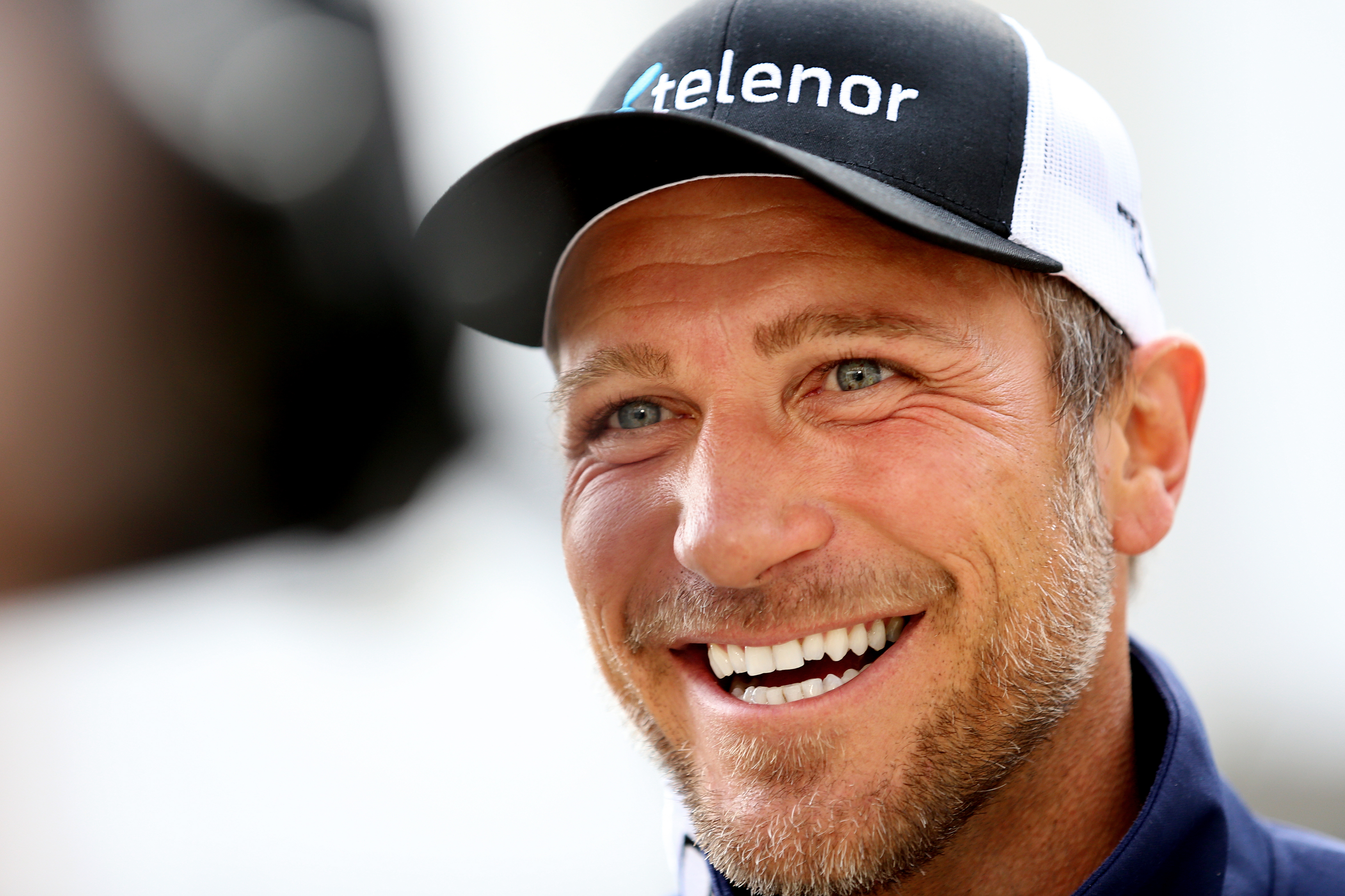 Stefan Abplanalp, who formerly coached the Swiss and Norwegian ladies teams, will take the reins of the American squad this season. GEPA
"To be honest, I'm surprised how similar their styles are," says team veteran Stacey Cook. "Chip was an amazing coach. I don't think you'll ever find anyone who cares more about his athletes. Stef has really shown the same thing right off the bat. He's making an effort to learn each of our personalities and consider our individual needs."
"He has a really positive outlook," said Mancuso of Abplanalp. "He brings a new dynamic to our group that has been the same for a long time. So far, it's been a great prep period and everyone is super stoked."
Abplanalp has immediately adopted more of a one-team approach, which is something new. In past years, Vonn worked most directly with Jeff Fergus, who left the U.S. Ski Team in the spring. Likewise, Julia Mancuso has worked with Chris Knight, who remains on staff as an assistant under Abplanalp.
"It's a little different but a good thing," says Mancuso. "We have had a close coaching relationship for a while now, and it's good to bring other energy in and also for him to be more involved with the other girls. It feels like everyone is more willing to work together."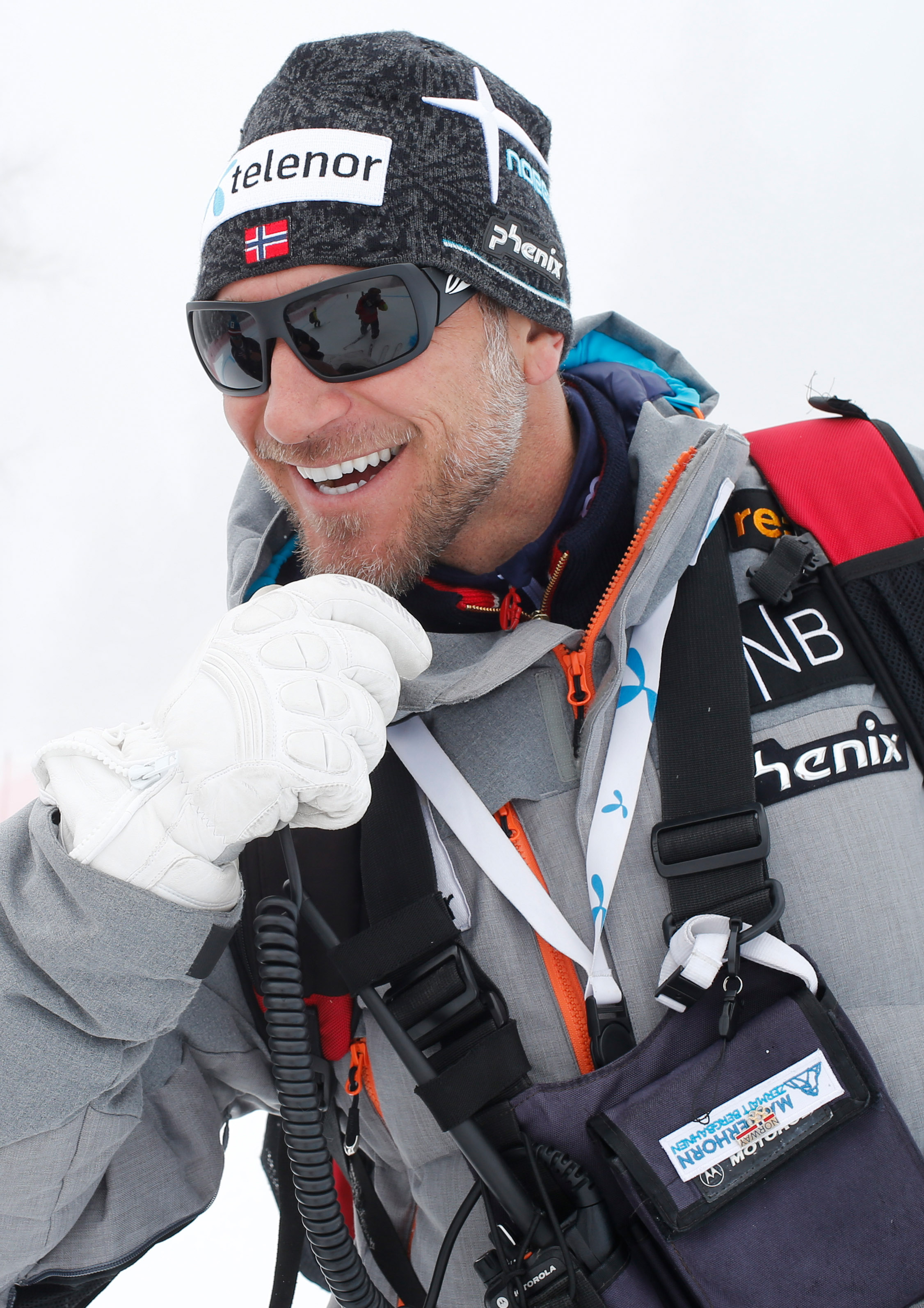 Known for being well liked by his athletes, the Swiss coach Abplanalp has plans to rejoin Lindsey Vonn and Julia Mancuso in the same program, along with the rest of the World Cup speed team.
For the first time in years, the superstars will follow the same program as the other World Cup athletes, among them newcomer and Sochi standout Jacqueline Wiles. We may also see a super G start or two from Mikaela Shiffrin, a transition that will be primarily overseen by her coach on the tech team, Roland Pfeifer.
"It's great when things work smooth," adds Mancuso. "I think Stef's plan for the other girls reflects more on his plan for me and Lindsey, so it makes it a little easier to stick together. Stef has put more emphasis on GS, which is one of the reasons Lindsey and I used to have to break away from the speed team to get the training we need. I think the new way should be good! Hopefully Lindsey comes back healthy and doesn't need a lot of special training."
"He has a goal in mind to make it one team, including Lindsey and Julia, which has been tough to do in the past," says Cook of Abplanalp. "He's convinced he can do it, and when someone has that much confidence, you believe him. I'm really excited to get Lindsey back in this environment. And Julia has been closer the last few years. We could be the most powerful group in the world."
For Abplanalp, the prospect of coaching top-level talent and working for a dedicated organization is what drew him across the pond.
"Norway was a good challenge," says Abplanalp. "Having a smaller group, working also in a new country and a new culture. It was a good challenge to build up a World Cup team for the women's side in Norway.
"When I got the offer from the U.S., to coach the speed girls, it was for sure a challenge to go back into a bigger federation. To work for the U.S., it is for every coach in ski alpine one of the best [destinations] because there is a strong setup behind it, with the Center of Excellence, the training center, and you have a strong leadership at the top of the federation.
"I've known the [American] girls a long time from battling against them," adds the coach. "You have young ones like Jackie coming up, but then you still have Lindsey, who is coming back from an injury. You have Julia trying to find her shape again. You have Ross, Smith and Stacey, who have also been on the podium. They are really good skiers. To build this team back to the strongest speed team in the world, that is the challenge. That is what was driving me to take the job."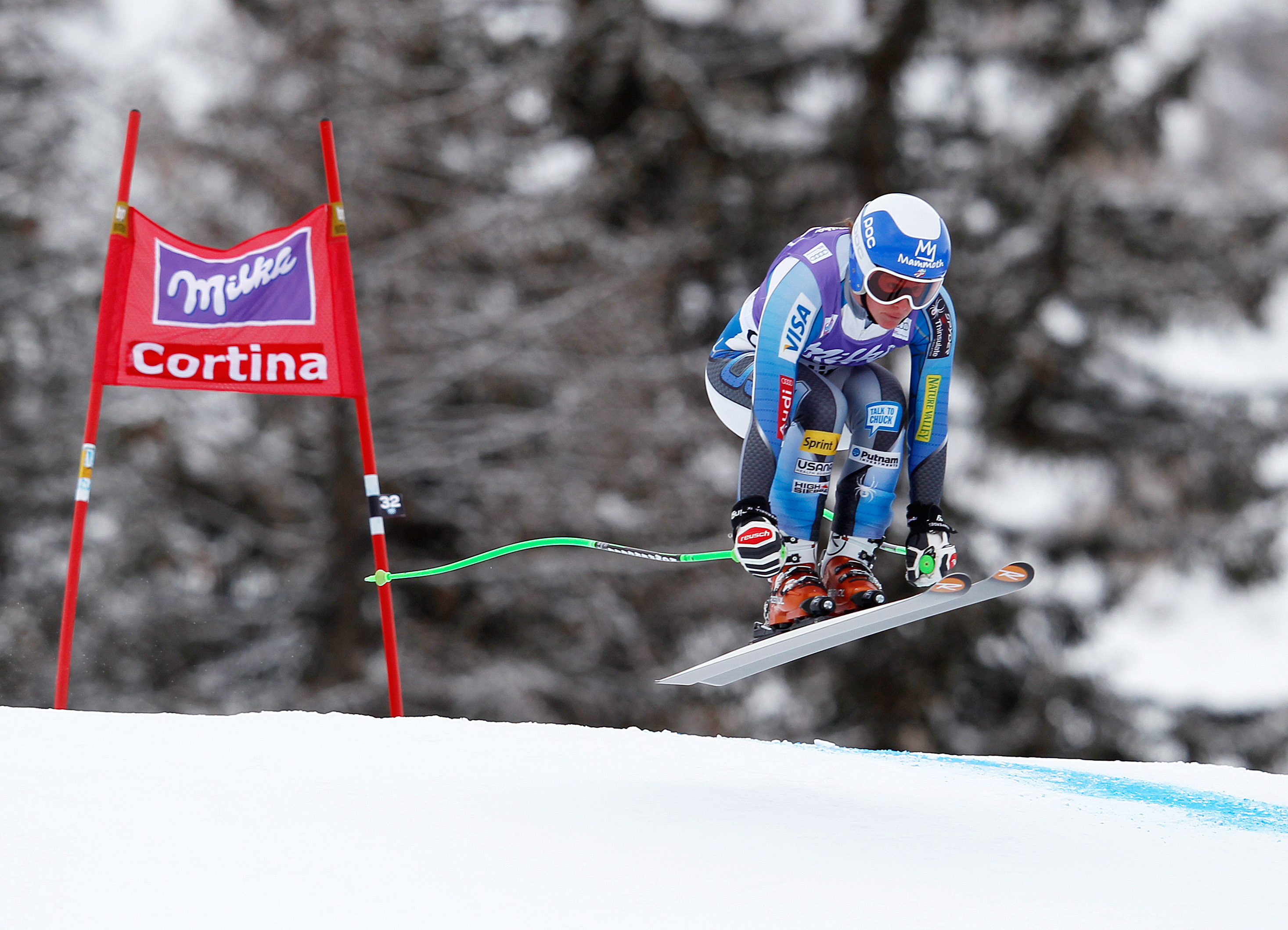 Stacey Cook races to a season-best fifth-place result in Cortina. GEPA
2014: A 'toss year'
This time last year, the women's speed team was reveling in its six-pack of podium finishes. Lindsey Vonn was ambitiously rehabbing and just getting back on snow with gold-medal aspirations for Sochi. The World Championship test events in Beaver Creek, which opened the World Cup speed season, were the first chance to showcase potential.
It quickly became apparent, however, that the expectations — among fans, the press and the athletes themselves — were overly optimistic. The U.S. ladies, who had enjoyed exclusive training on Beaver Creek's Raptor downhill course before the race, failed to make a statement at the test events in November. (Cook led the team in 19th place in the downhill. Smith placed best, 23rd, in the super G.)
Rumors of alarmingly slow race suits (which may, indeed, have been a factor) began to percolate, but few onlookers were willing to attribute multiple-second differentials to sluggish outerwear.
Thanks to Cook's strong results in Cortina and Mancuso cracking top-10s in January, the team gained some momentum heading into Sochi. But the results were broadly disappointing at the Games. Mancuso skied off with the lone medal for the women's speed team.
Now, with a rare, home-snow World Alpine Ski Championships circled on the 2015 calendar, Abplanalp described last season simply as a "toss year."
"For me, it's important to not only search for what went wrong, but also what went right," says Abplanalp, who was asked by USSA to analyze results from 2014. "There were a few things to address. One thing, for sure, was the physical work. They need to get stronger. … For this, they have a great training center in Park City."
Abplanalp also says that the women need to relearn how to trust themselves. "We need to bring the confidence back," he says. "The way we've built up the training is to get the technical foundation down, trust the outside ski at the top of the turn. All of them — or most of them — have been on the podium, so they know how to ski fast."
With a laugh, the coach wisely declined to disclose much of his "game plan" for the Raptor World Championship downhill track, but did say he likes the course. "It is for sure one of the best courses in the World Cup," says Abplanalp. "We could see that last year. You need unique gliding skills and you have to be patient, then it's really technical and steep. You have to search for speed, but still control it to keep the rhythm. It's important to have big confidence."
The U.S. ladies are expected to get some training days on the Raptor race hill in the early part of the winter.
"We're going to be there [in Beaver Creek] for a week or so this fall," says Jackie Wiles, who's hoping to make a statement in her sophomore season on the World Cup. "That was a rough race for everyone last year. That was my first World Cup, so I was pretty nervous and terrified, being the really intense hill that it is. I know the girls weren't very happy with their results, and I think we can only improve from there."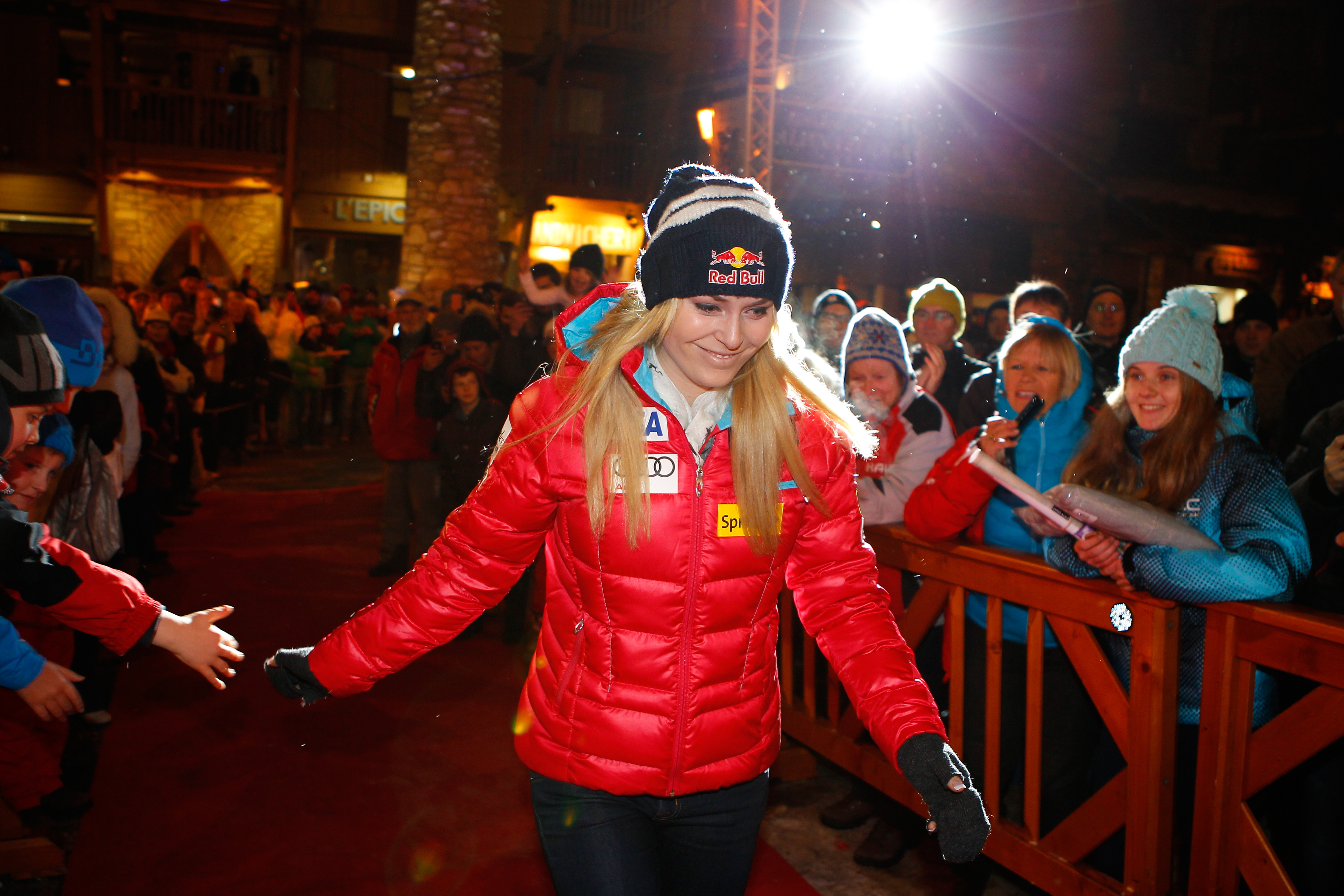 Lindsey Vonn is expected to train under new head coach Abplanalp this season, along with her speed teammates.
September in Zermatt
Another modification instituted by Abplanalp to shake things up this offseason was moving the team's September training block to Zermatt, Switzerland. Under White, the team had been avoiding the European crowds by training in Portillo.
A change was needed, says the Swiss coach.
"All of the girls, they have many years now in Portillo, which is a really great training site for speed, but it is also a very challenging and demanding training course. We need to change the terrain a little," says Abplanalp.
The course length in Chile is roughly 1 minute, 10 seconds, which is similar to what the ladies experienced in Zermatt.
"It's not better than Chile; it's different," he says. "They had, most of the athletes, a tough season. The terrain in Zermatt is a bit less challenging, but it has really good downhill and a gliding section. You have two breakovers. You have a jump. … I think it is good for the athletes to have a bit of change, new terrain, new surroundings."
Not all of the team members were immediately thrilled with the new training program.
"[Europe] is a really hard environment," says Cook, who previously skied in Portillo 11 years in a row. "Every kid in Europe plus their mother and father are up on the ski hill, it seems like. Everything is a battle. It's hard to get anything done there. I thought we had convinced our coaches never to go back there in the fall.
"But Stef is confident in the program," she adds. "I do understand needing a different stimulus, needing to do something different and not be on the same hill every training session. I'm yet to be convinced how much I'll like it. Sometimes we don't like everything we do as athletes, but it will still make you better."
In August, the team also did a two-week stint in New Zealand, beginning the camp at Roundhill, along with the tech team, mainly focusing on GS and slalom work.
"The goal in the first part of the camp was to build a strong technical foundation, to get the basics mastered again and to really optimize the movement patterns on really clean and easy terrain," says Abplanalp. "For sure, also make adjustments to the equipment."
"At Roundhill, we had perfect conditions for a re-entry back to snow," says Cook. "Even though we log so much time in the spring, you take two months off and you come back and feel like you don't know what you're doing."
Because of a lack of snow, the group decided to skip Mount Hutt, where they had hoped to train GS and super G, instead traveling straight to Coronet Peak, where conditions were better, suitable for roughly 15 fairly demanding super G turns.
Cook reports that the whole team immediately had confidence in Abplanalp's plan.
"The camp started off really well and ended really well — with a little bit of rain in the middle," she says. "We were sticking to fundamentals, getting everything back to the basics, really good, strong focus on the small things. … Stef has a really good mind for that kind of stuff. Technically, he's very sharp, but he also understands peaking. Some of those things are sometimes harder for coaches to understand, creating a good progression."
"The team chemistry was really good in New Zealand," says Wiles, who will spend her first full season with the World Cup group. "It's been awesome working with Stef. He's brought a lot to the table, a great attitude and a lot of positive energy to the team. He's willing to do whatever to make us better."
For Mancuso, there's definitely been some offseason tweaking to the gear, but she's not ready to entirely credit the issues with her setup for inconsistent results last season.
"I have been dialing my equipment in, getting my boots all set up," Mancuso says. "I have a new boot made in my size, so that's exciting. I feel a lot more comfortable, and things are going good so far.
"It was a strange year last year, so I am not planning on changing too many things. It's important to just keep doing what I always do and believe in it; it's not really time to change anything in my career, just keep things simple and go back to that place where I was performing my best."