Long before a young bricklayer from Flachau captivated the ski world's attention, another, quieter, Hermannator from Zell am See was changing the sport.
Some know Hermann Gollner as a freestyle legend who invented the mobius flip and was the first to pull double and then triple flips on snow. Others know him as a pioneering rock climbing legend in Europe and the U.S. who, at age 71, climbed a 5.13a wall known as Pump o Rama. Still others remember him as one of Austria's finest ski racing talents and Junior National Champion before he came to the states out of economic necessity and dominated the pro tour.
I know Gollner as a legendary coach whose name is synonymous with hard core. I grew up hearing "Hermann" stories told by kids at Stratton Mountain School — how they waited nervously to see what shoes he would pull from his huge gear bag, and what dryland torture was in store. It might be a "short long distance run" of intentionally indeterminate length and intensity; "weight hiking" with backpacks full of rocks; a team dip-till-you drop competition; a gymnastic contest; or some other uniquely Hermann session. The stories always elicited laughter and quiet awe not only for the man, but also for what he inspired his athletes to do. Nobody worked harder in their lives than they worked with Hermann.
"My school of thought was always: learn how to suffer a lot and eventually you get stronger," Gollner says. Pushing the limits, he believes, is part of our inborn compulsion to be the best we can possibly be. "We should not prevent people from pushing the limit," he says. When asked about the line between adventure and irresponsibility he adds, "But we should try not to be stupid." And he grins.
The most remarkable thing about this hardcore master is the humor that flows throughout any conversation. There is no line between effort and reward, serious and fun, competition and recreation, making a living and making a life. It's all one big package, a package wrapped up in a drive toward continuous improvement.
With Gollner, that drive often takes the form of training inventions. While in Colorado recently, I met with him to talk about his latest invention, something he calls Roof Top Plyo Box. Think of a plyo box in the shape of a roof, its surfaces covered with a smooth yet grippy rubber climbing surface. A flat strip along the top and a bumper along the bottom are nods to safety. The skier stands on it in ski boots and jumps from one sloped side to the other. "Push away, absorb, land, push away," Gollner explains. "It adds a high level of athletic skill."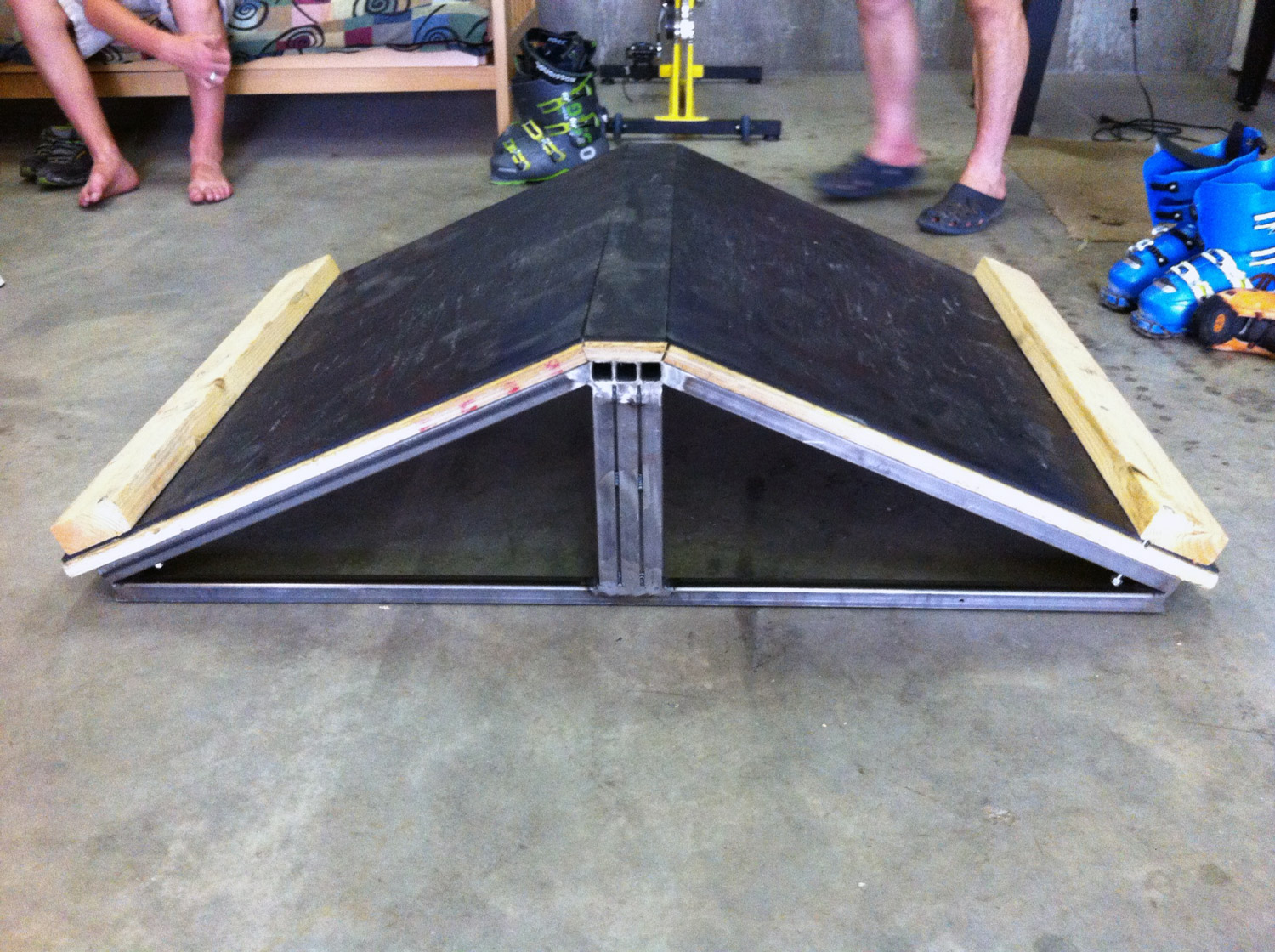 As with all Hermannventions it works — as long as you do. When coaching at Stratton Mountain School in the 1970s, Gollner saw the nordic coaches training with inline skates (which predated roller skis) and immediately outfitted all his alpine skiers with his version — a track of wheels bolted directly to the ski boot soles. Later, he engineered a boot for extremely bowlegged skiers that worked beautifully, but had to be screwed directly into the ski. His most enduring addition to the sport, however, was the "Hermann Gate," a post-bamboo alternative to the dangerous (for skiers), exhausting (for coaches) stick-in plastic gates. The Hermann Gate featured plastic discs that created an elongated flex zone, a screw-in base and a wrench.
After leaving the USST in 1980, Gollner patented the gate in 1981. "The other coaches laughed at me screwing in every gate before the start of training," he says. "But then they wondered why they were running up and down the hill all day and Hermann was not." The Hermann Gate became the standard for 30 years.
Despite its success, Gollner "lost his shirt on that gate," he says, thanks to expensive patents and blatant yet indefensible (without deep pockets) patent infringements. "It helped the sport," he says with a shrug, the gesture explaining the simple motivation behind all his inventions, including the latest, the Roof Top Plyo Box. "This was a search for something to allow kids to feel what the right balance is, to feel success in the ideal body position and failure in the wrong position," he says. "In rock climbing you feel failure in the wrong position when you slip, but in skiing, you can't feel that. You rotate, and your skis still turn."
The transition to the opposite angle allows the skier to simulate all three different major weight shifts. (Hermann and co-conspirator Harald Harb — rather than myself — can offer full detail on this.) The box also quickly reveals a skier's weak side. Tilting the box and propping it up on one side will create a steeper angle to train the athlete's weaker side. "Eventually the body figures out how to make it work, how to achieve balance," Gollner explains. One can also boost explosive strength by adding height along the middle strip; force a longer jump laterally; and, of course, just make life hell by going for longer time. (Warner Nickerson has the current record, at 220 jumps. Holy lactic acid!) It also requires an element of courage. "Courage is very much like a muscle," Gollner says. "It needs training. I like to say that familiarity is the mother of all braveness."
Despite interest from top ski clubs and coaches, Gollner plays cool on the potential financial upside of his latest invention. "If it catches on, it will sell itself," he says. "I don't want to push it. I want to go climbing."
See Hermann triple flipping in Vail here