The biggest collection of stars during the two-week stretch of the FIS Alpine World Ski Championships wasn't on the Birds of Prey or Raptor courses, or in the finish corral or press conferences after the events. They were over on Vail's Gold Peak for a celebrity charity event and friendly head-to-head competition amongst old foes.
During the only day off of the entire championships, Korbel staged its Legends race, with 1999 Vail/Beaver Creek five-time medalist Lasse Kjus joining his longtime friend and Norwegian teammate Kjetil Andre Aamodt as the 2015 Legends of Honor. Between the two they own 36 Olympic and World Championship medals — 20 for Aamodt and 16 for Kjus — 39 World Cup wins and three overall World Cup titles.
They gave the term "big-event skiers" an entirely new meaning with their impressive collection of hardware. Kjus still holds the record for winning a medal (including two golds) in all five events he entered during the Vail/Beaver Creek 1999 World Championships. Several athletes have won four medals, but have been unable to get that elusive fifth to match the feat of Kjus.
Aamodt and Kjus were joined by some of the greatest ski racers to ever grace a starting gate, including Annemarie Moser-Proell, Marc Girardelli, Tamara McKinney, Phil and Steve Mahre, Franz Klammer, Janica Kostelic, Anja Paerson, Pernilla Wiberg, Maria Hoefl-Riesch and Didier Cuche — to name a few.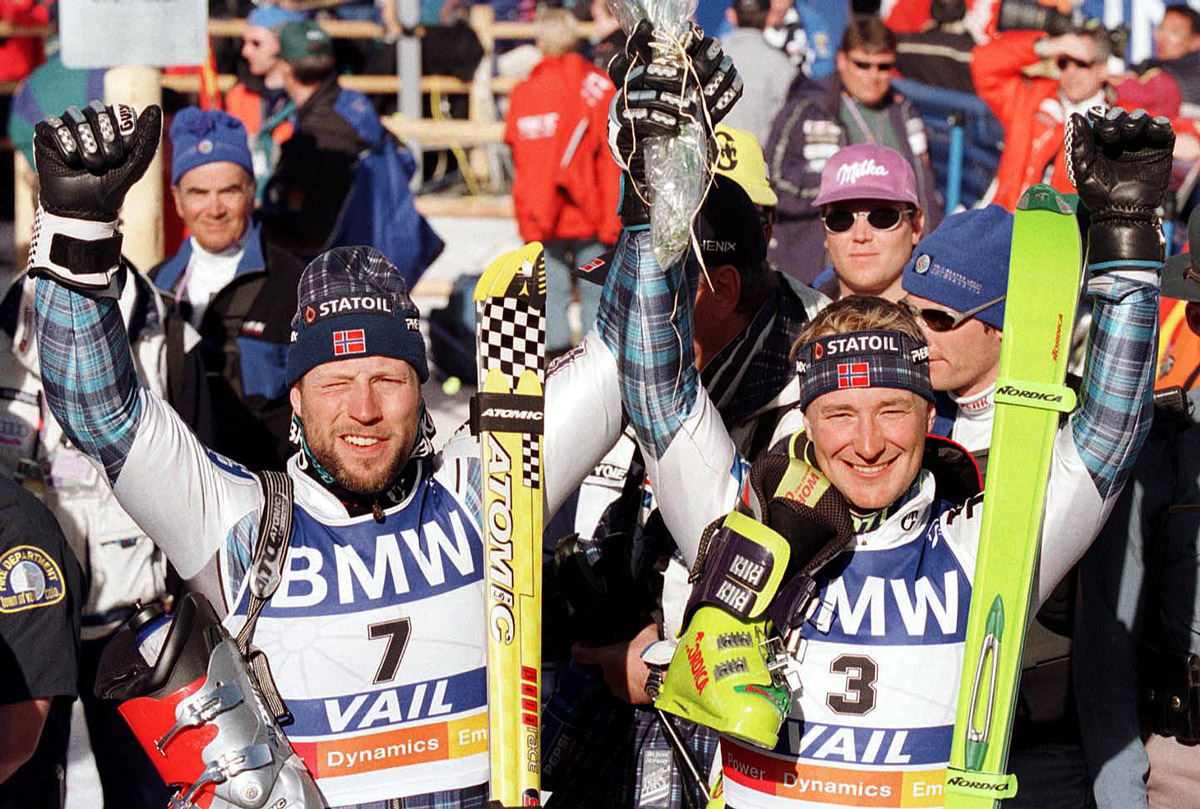 Lasse Kjus and Kjetil Andre Aamodt are honored as the 2015 Legends of Honor.
"Yeah, we have a lot of history together, you know, 20 years of World Cup racing," said Aamodt. "There are some good stories up there. We are not in the shape we use to be, but we are trying to fight it down, it's an easy course luckily, but it actually a little bit icy." He joked, "I think I'll have to check my edges."
The race, which was set in dual format, began in the morning as a charity team event that raised money for the Vail Valley Foundation and the global youth organization Right to Play; it carried over into the afternoon with a head-to-head race between the legends. The gold-medal match-up that everyone was rooting to see between Kjus and Aamodt never came to fruition as Didier Cuche, a little fresher on his feet after retiring in 2012, proved too fast for the aging twosome and knocked Aamodt out before the final.
"That's also the problem, you don't have the physical [ability] but your head is there and still wants to go for it, but there is nothing happening when you go into the turn," said Kjus with a laugh.
Before the race, Aamodt fooled everyone about his true intentions to be fast. After making fun of those who wished to wear a speed suit, he appeared in one of his old Norwegian race suits.
"Yeah, yeah, I always have a plan," said Aamodt, known for his dry sense of humor. "You have to have a game plan; if you are old and have a bad back, you need all the tricks in the book you know, but a couple of guys still have the suits on, and I only have it part of the way on because my stomach is too big, but I still think I'm going to be OK with it."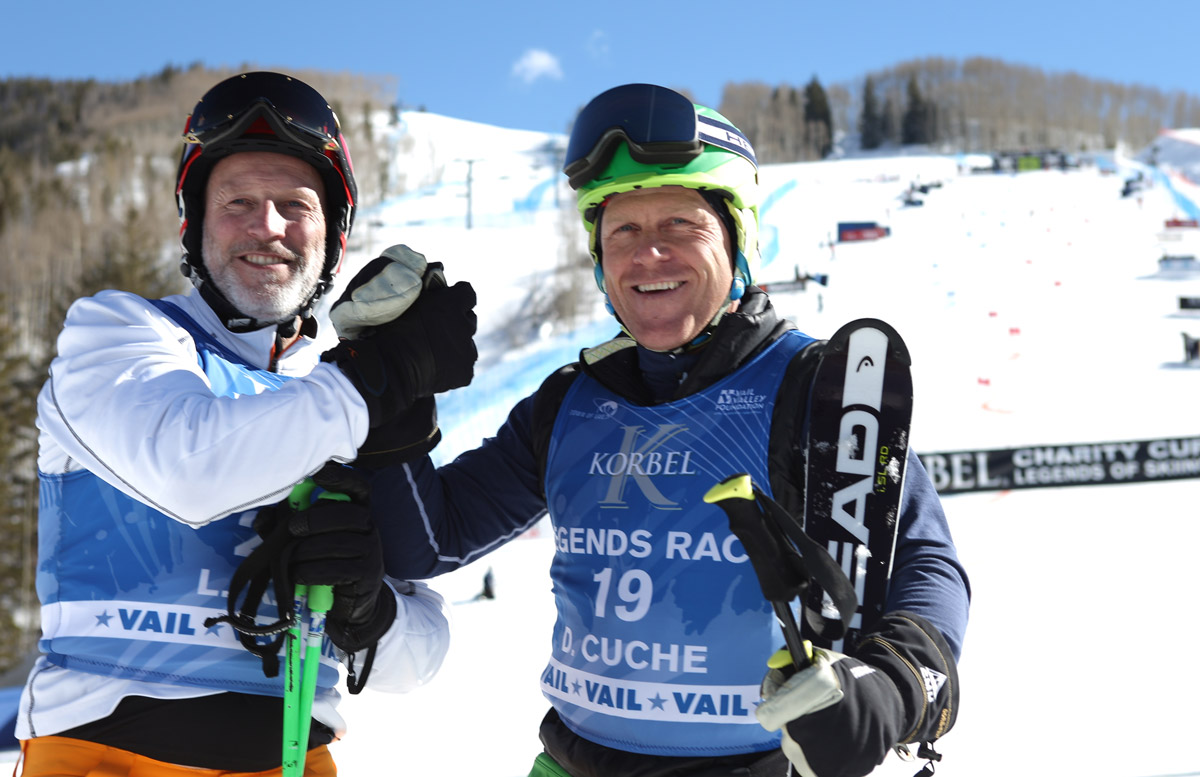 Kjus and Cuche battle it out on Vail's Gold Peak.
In the end Kjus earned his "sixth" medal at Vail/Beaver Creek, finishing runner-up to Cuche. The Vail/Beaver Creek 1999 double gold medalist in super G and GS, Alexandra Meissnitzer, took the women's title ahead of Kristina Koznick.
"It always feels great to come back here, I love this valley always, the climate the skiing, the mountainside, the snow, especially the snow," said Kjus of the Vail Valley.
Some legends donned race suits just as Aamodt did; others were much more casual as they raced from the same course as for the Nations team event that took place the day before. Cuche didn't appear to have lost the touch that brought him 21 World Cup victories during his illustrious 16-year career on tour. He made sure to include his signature ski flip in the finish after each run, and joked after the event that it was only his second win ever in Vail/Beaver Creek after winning the super G in 2002, on what he claims is his favorite venue.
"Of course Beaver Creek," said Cuche. "No, I'm not kidding; it's the only place I regret not having won the downhill. It's the only downhill I really wanted to win. I won many, many training runs and I never made it on the run, always a little mistake in the race, it's so easy to make a mistake on that hill and I always had one, that's why I got second by one tenth."
Cuche praised the Legends course and the cause. "For us it's just one day helping people to bring lots of money together," he said, "and it's always for a good thing; Right To Play is working hard on its role around the world."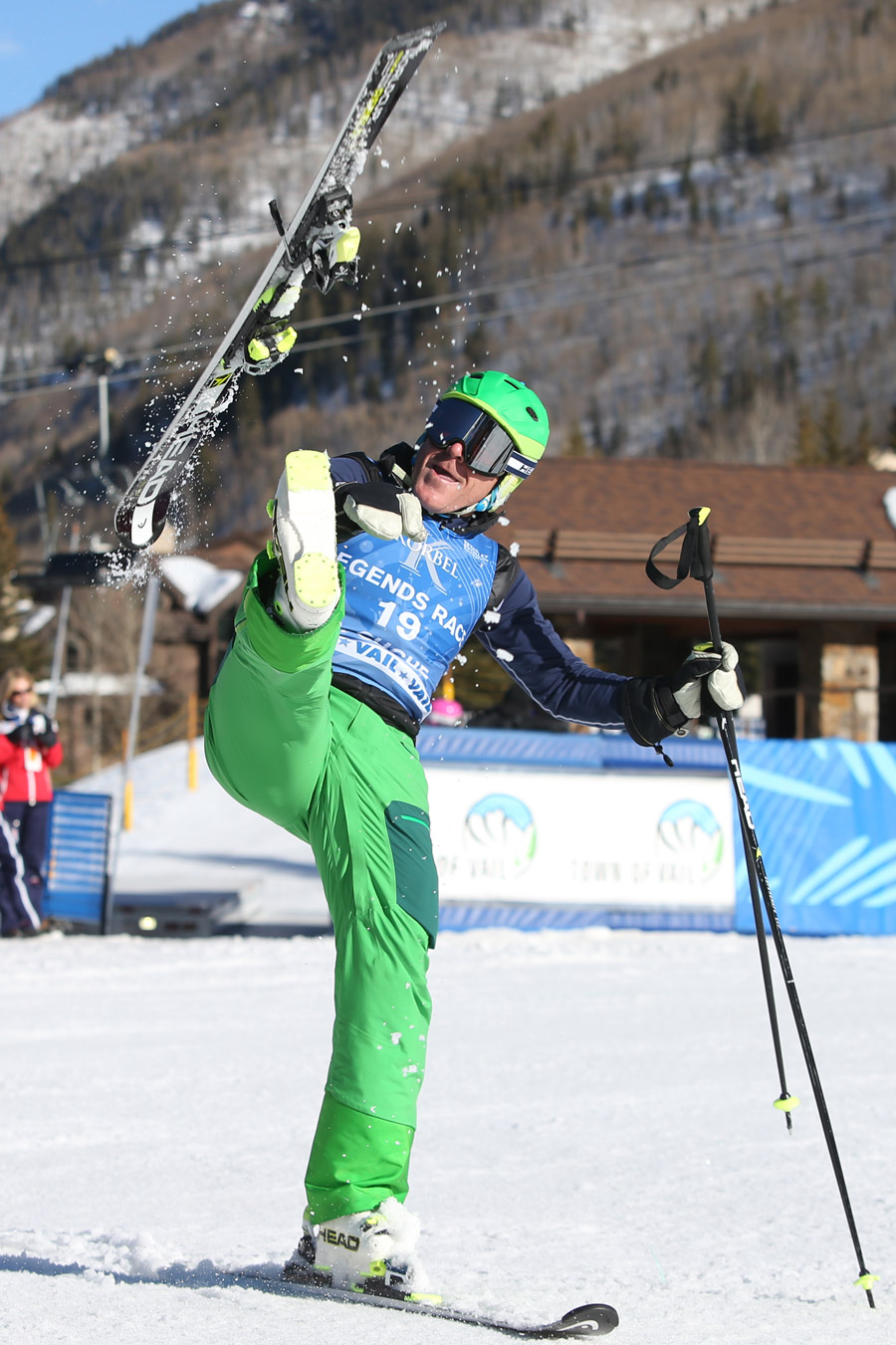 Cuche shows off his signature ski flip for the fans.
After the intense, emotional speed events at Beaver Creek, it was a lighthearted event before the technical events heated up the Birds of Prey course once again. The party was a showcase of some of the best athletes to ever cross a finish line and shared with the fans a true love for the sport.
"It was so fun; it was so great to come out," said McKinney, pointing to the presence of Franz Klammer and Annemarie Moser-Proell as among the highlights. "We get to see our heroes that we had when we were coming up, and then see some of the younger ones we think we know, but we don't really, and I got to be in the start with Maria Riesch. It's like a big family."