With suboptimal training conditions, Ted Ligety looks to extend his winning streak in Soelden
It has been a challenging month for the five American men expected to start for the U.S. Ski Team at the World Cup giant slalom opener in Soelden, Austria, this Sunday, Oct. 26.
Warm and foggy conditions split the team up with Ted Ligety, Tim Jitloff and Brennan Rubie electing to relocate to Saas Fee, Switzerland, while Bode Miller and Jared Goldberg remained in Soelden, the team's usual training ground during this time of year.
"Typically, the last four years, we've been in Soelden and trained on the Icebox, which we love and is the perfect prep for Soelden," says Forest Carey, the multi-team head coach. "This year, the Icebox isn't open, and there's no training on the race hill, due to lack of snow. In order to get quality GS training, you had to go elsewhere."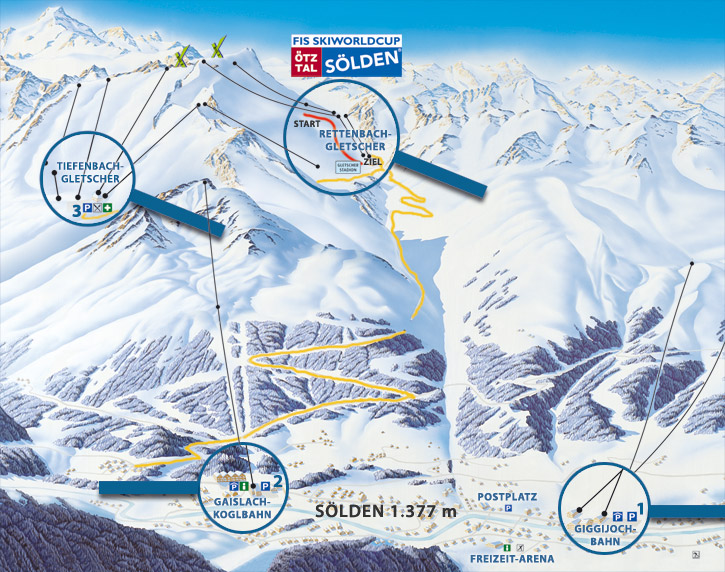 So, will it simply be an even playing field for all of the teams heading into the Soelden GS opener on Sunday? Nope, says Carey. The Euros could get the edge, having taken advantage of more optimal training in early October, which the Americans didn't get.
"No one got good training the last two weeks, but the two weeks prior to that, Hirscher and the guys who live here had great training — high pressure and frozen snow," says Carey, adding that the Austrians were joking it had been the warmest days of their summer in the lead-up to Soelden.
But all that changed this week, with a foot of snow blanketing the village and closing the road up to the glacier. Amid reports of two and a half feet of white stuff on the race hill, organizers are scrambling to prep the courses, and remain optimistic for good racing conditions.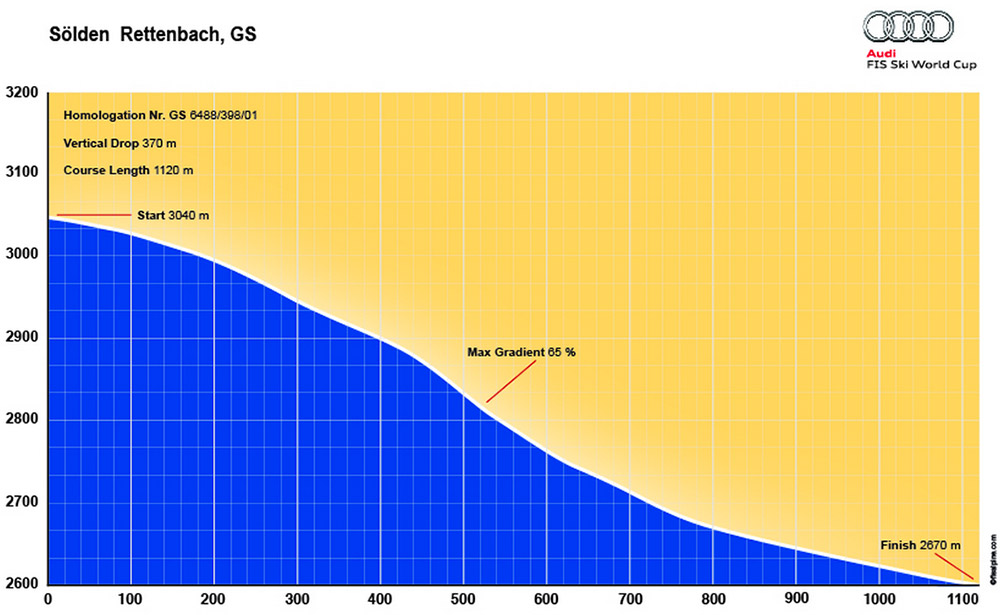 Goldberg and Miller were able to do some speed-oriented testing in Soelden, which is part of the reason they chose to hang around. The age-defying Miller skied in New Zealand for a couple of weeks in August. He did not, however, participate in the men's camp in Chile and has since been dealing with some not-so-age-defying back pain in his return to skiing.
For Ligety, New Zealand was an average camp — it was 60 percent good, weatherwise. In Chile, it was one week of good and one week of bad.
"Ted is Ted," says Carey, while acknowledging there have definitely been better prep periods for the GS gold medalist. "Since we've been in Europe, it's been a challenge. In terms of quality of training, he's not as prepared as he has been the last couple of years, but he's still skiing at a high level."
Meanwhile, Jitloff is getting stronger and stronger, says Carey. "He had a little more consistency last year, and I'd say he's very prepared for Soelden and for the GS season in general. His equipment switch [to Stöckli] hasn't set him back at all. He's happy with it and he's skiing fast … fast as anyone we train with, relative to Ted."
The 23-year-old Goldberg, after winning a couple of FIS giant slalom races in New Zealand this past summer, is hoping to continue to put himself on the map in the discipline. Coming off a strong 19th-place GS result at the Olympic Winter Games in Sochi, he'll see just his second World Cup giant slalom start this weekend. (The other was a DNF at St. Moritz a week before the Games.)
"He's skied a lot of GS this prep period," says Carey. "It works out because he's here [in Soelden] testing speed skis and he's skiing really well, so he's going to be in the race, but by no means is this race a real big focus for him."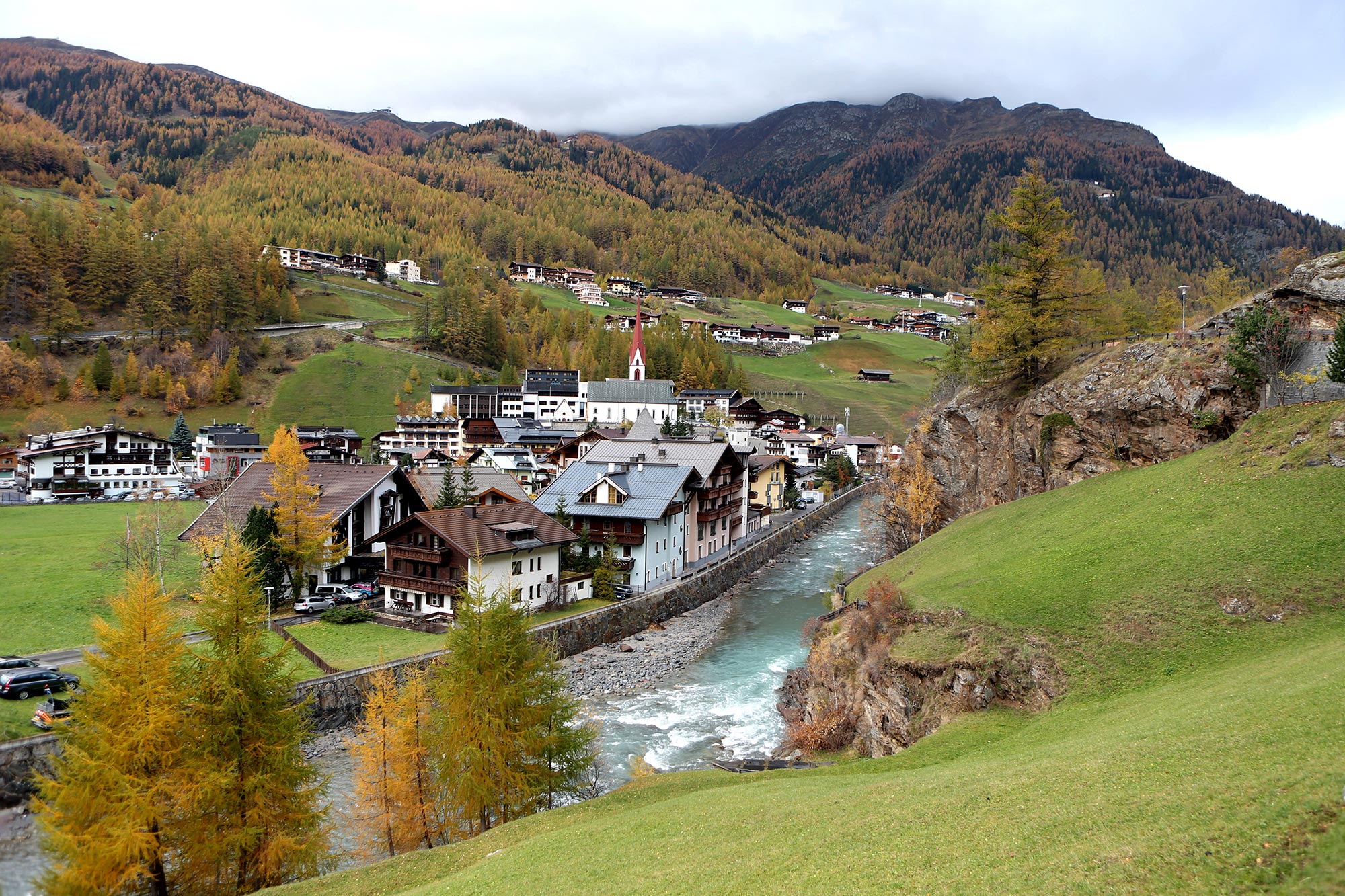 Warm temperatures around Soelden — now covered in white — wreaked havoc with American training this month. GEPA
Something about Soelden
Soelden, a village and popular ski resort situated in the Oetztal Valley of Tyrol, Austria, will again play host to the opening act of the Alpine World Cup season. The GS races for both men and women are set to take place on the Rettenbach Glacier, a high-quality track with a starting gate situated nearly 10,000 feet in altitude. The U.S. Ski Team is almost literally at home in Soelden. In 2011, the team announced a partnership with the Austrian resort as its European training base. The main village is located at 1,368 meters above sea level, and the resort's highest peak, Wildspitze, the second highest mountain in Austria, towers to 12,400 feet.
Soelden has welcomed the best in the world to kick off the World Cup season every October since 2000, as well as three previous seasons (1993, 1996 and 1998).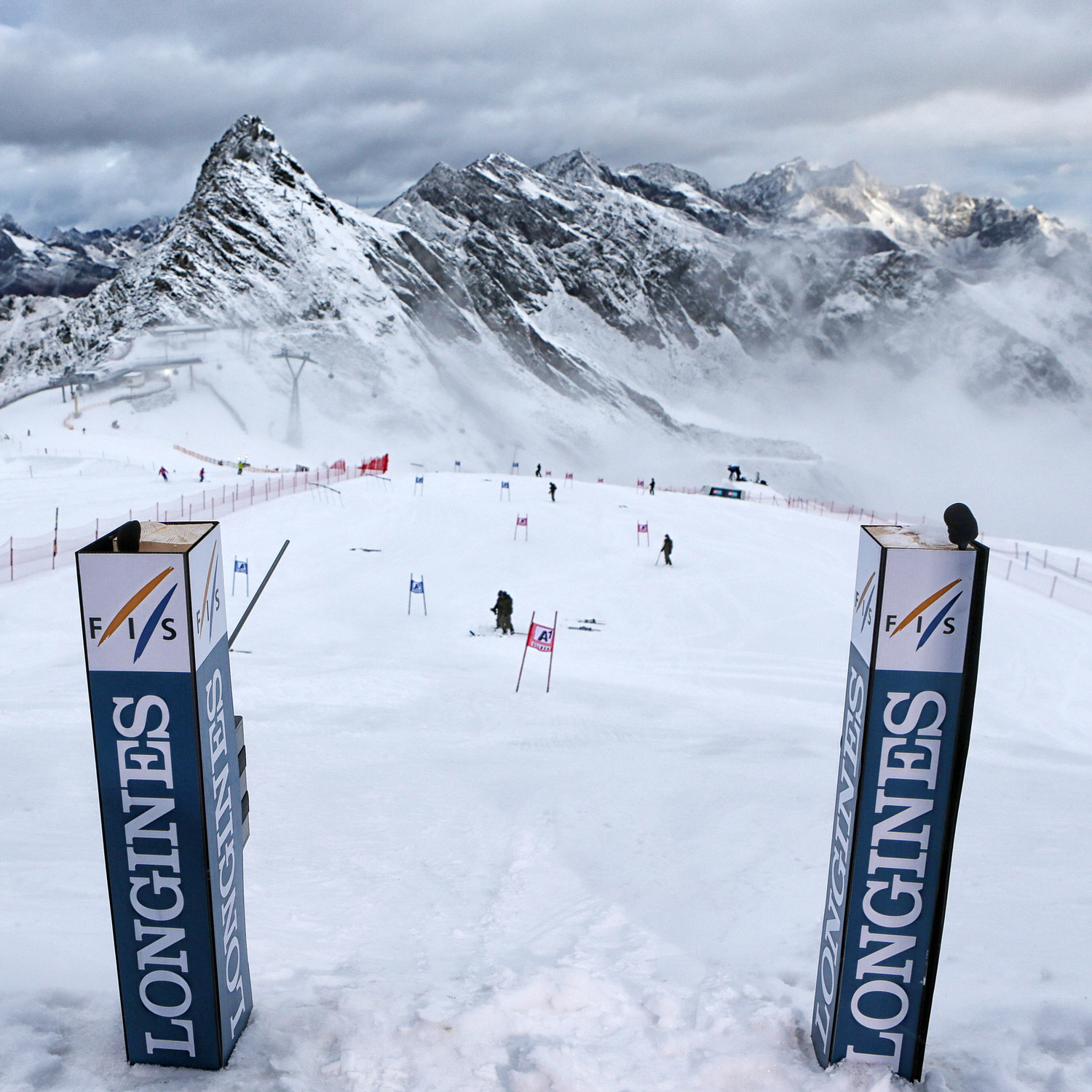 The Rettenbach Glacier is good to go, say organizers. GEPA
In last season's installment, Ted Ligety, Alexis Pinturault and Marcel Hirscher finished 1-2-3, setting the stage for a season-long GS campaign and perhaps the closest finish in World Cup history: Ligety and Hirsher tied with 560 points. The globe ultimately went to Ligety, decided by his greater number of wins that season, the first of which came in Soelden.
Ligety has owned the event for three straight years, his biggest margin of victory coming in concert with the rollout of the new GS skis and a stunning 2.75-second victory over Manfred Moelgg in 2012. Two seasons earlier, the race was cancelled for just the second time in its history. Before that, Ligety hadn't finished off the podium since his first career start at the venue in 2005.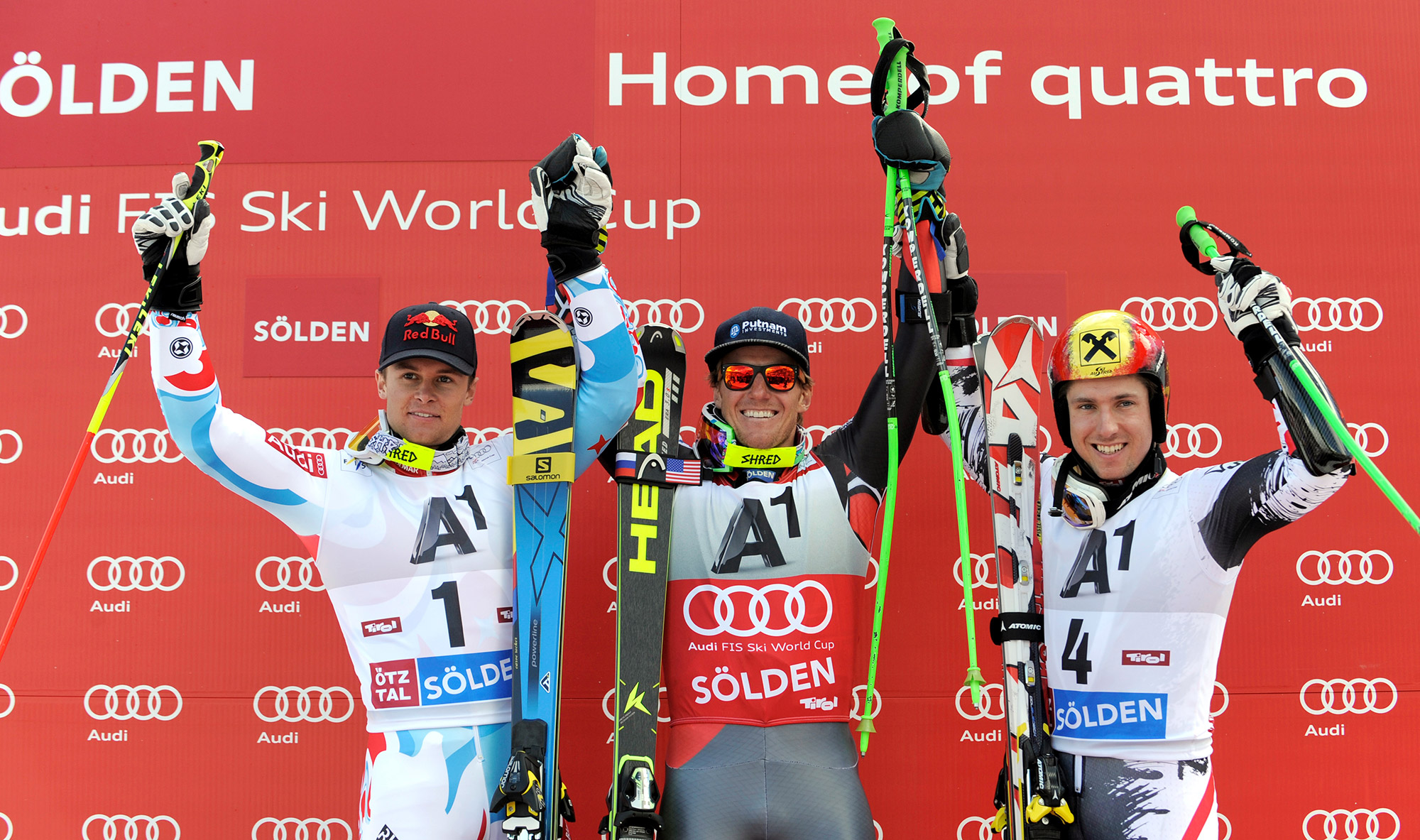 Last season's podium: Ligety, Alexis Pinturault and Marcel Hirscher.
Soelden Notes from Hank McKee
There have been 29 World Cup races held at Soelden, and 33 winners, mostly due to the near-miraculous three-way tie for the win in 2006 among Nicole Hosp, Tina Maze and Andrine Flemmen — the first of two Norwegian women to have ever claimed a Cup GS.
All of the races at Soelden have been October giant slaloms, the first held in 1993. Unlike most regular season Cup races, Soleden events are not made up if cancelled by weather or other circumstances.
The Austrian hosts have won eight of the 29 held to date (27.5 percent), Finland one, France two, Germany four, Italy one (Denise Karbon in 2007), Norway four (Flemmen with two of them) and Slovenia three, all from Maze. The Swiss have four wins, Sweden one and the U.S. six (Ted Ligety three times — 2011, 2012 and 2013 — Bode Miller twice and Lindsey Vonn once).
Ligety and Swiss Lara Gut are the defending champions. Ligety went on to lead the GS standings at the end of the season while Gut finished fourth. The win stands as Gut's only World Cup GS victory.
It was the first of five GS wins in the 2014 season for Ligety.
Maze, Ligety and Hermann Maier share the mark for most wins at the site with three.