January 12, 2015
Masters: Winner's Circle
Three standouts on the 2015 U.S. Alpine Masters Ski Team
Each year, the fastest man and woman in each age group at the U.S. Alpine Masters Championships earn spots on the masters national team. Receiving the honor takes both speed and consistency. This year, the team selection was based on place points in giant slalom and slalom. (The super G at the 2014 national championships at Okemo Mountain, Vt., was cancelled because of weather.) Twelve men and 11 women earned a spot on the 2015 team.
Who are these fast folks? Incumbents, first timers, former World Cup athletes, NASTAR graduates, retirees, college athletes — they come from a variety of backgrounds and ski areas across the United States, but they race on the masters circuit for the same reasons: to go fast, for the friendships and because it's fun!
Meet three standouts on this year's U.S. Alpine Masters Team: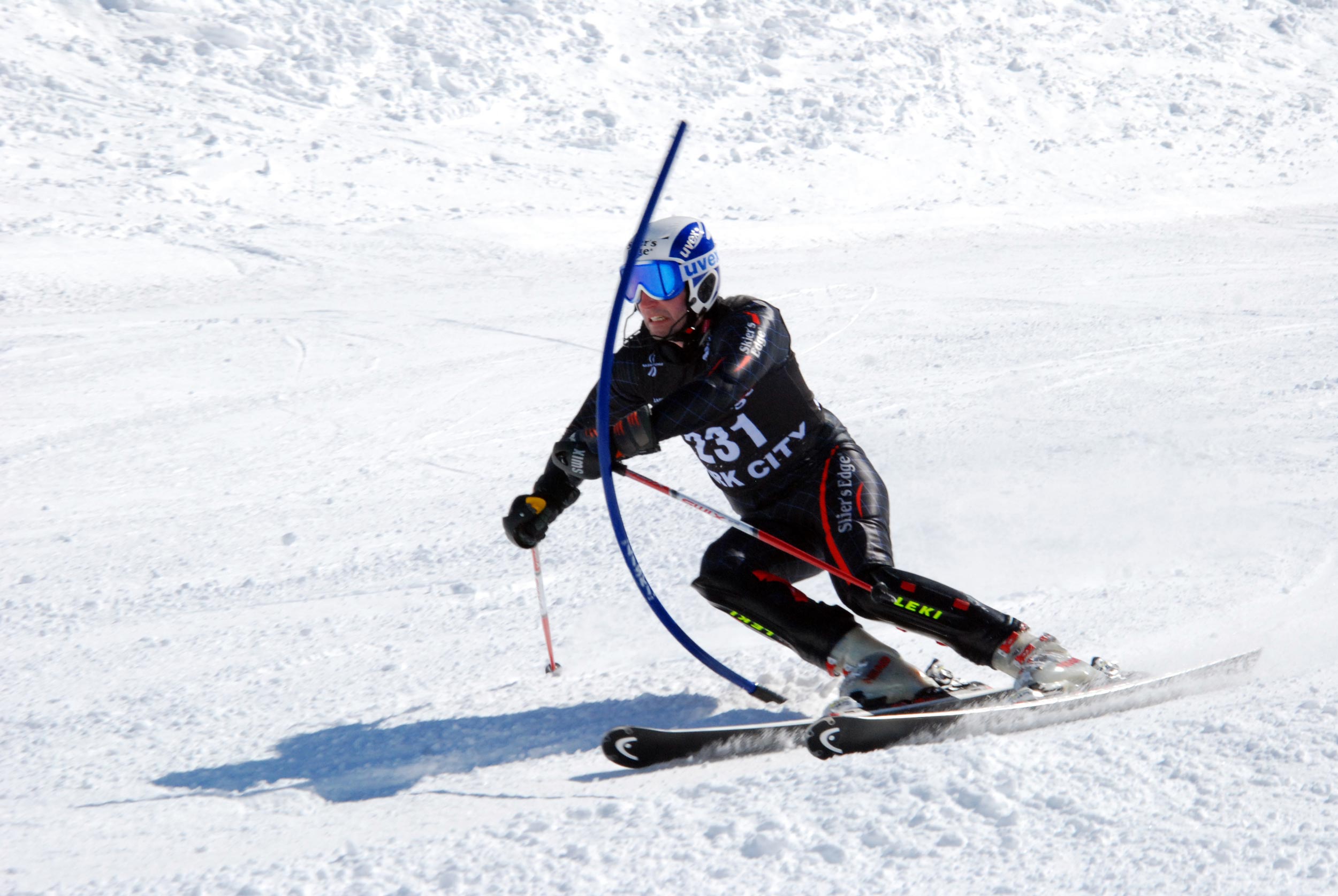 James Thoman races at Big Sky; credit Lisa Densmore Ballard
James Thoman (Men's Class 3)
Residence: Elma, N.Y.
Home ski area: Holimont Ski Area
When James Thoman gets in the starting gate, all eyes turn toward the course. Since he joined the masters circuit 12 years ago, he has been a racer to watch, especially in slalom, though no one counts him out in other events.
"A decade ago, slalom was my favorite event without a doubt," says Thoman, who qualifies for the masters national team for the fifth time. "Speed events are my worst discipline, but I'm usually smiling in the finish."
Thoman raced as a junior at Kissing Bridge in western New York, and then in college for the State University of New York-Geneseo. When a few of his beer-league buddies took him to a masters race, he was hooked.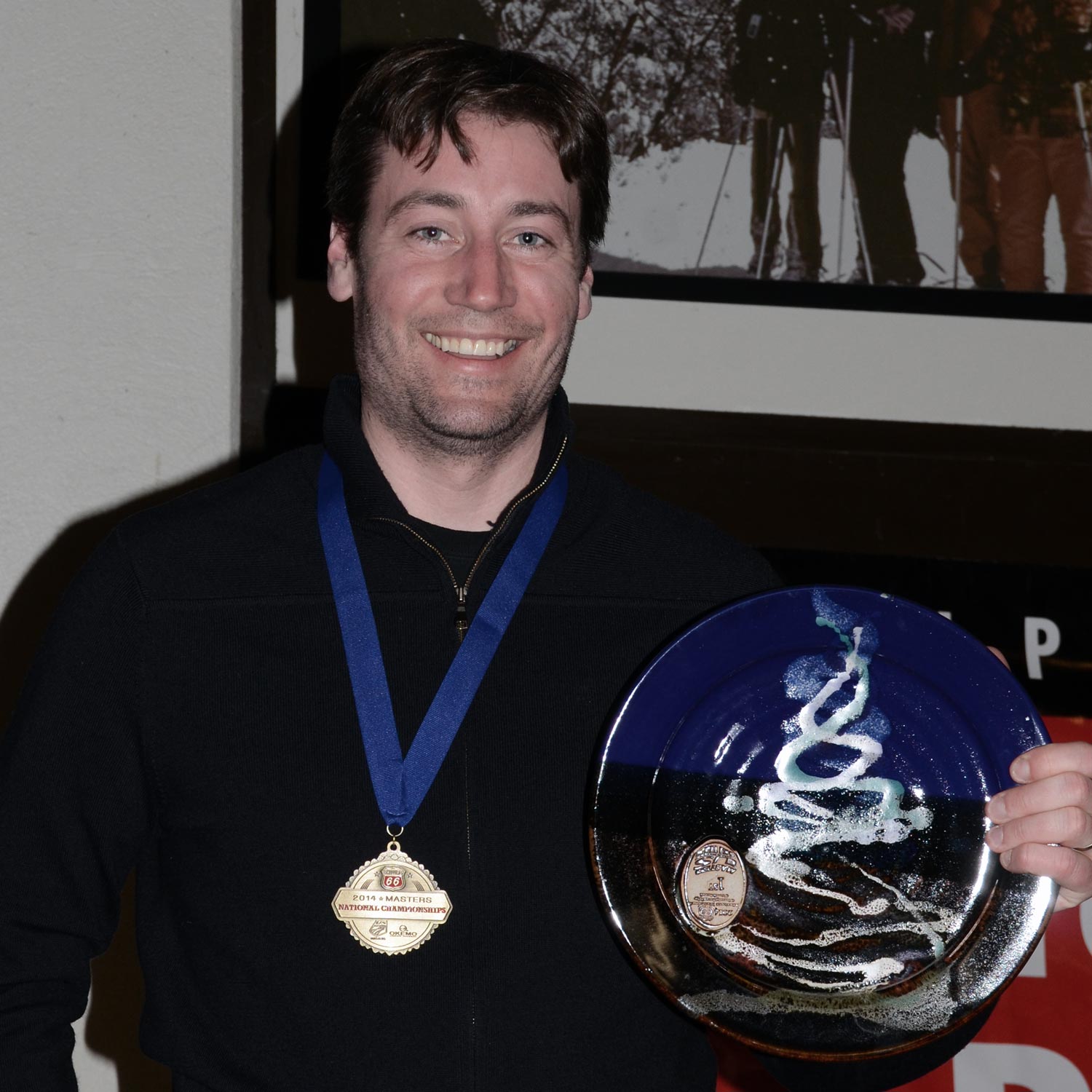 Thoman is tops at Okemo; credit Lisa Densmore Ballard
"I like masters racing because it's a great group of people," says Thoman. "It's a challenge to keep up with the competition. I always enjoy figuring out how to be faster."
He helps others figure it out, too, as an adult coach at Holimont Ski Area, which also serves as his own training ground. "I demonstrate as much as possible," he says. "I also had a good early-season camp at Sun Peaks last year. I worked a lot on a higher line. I go too straight most of the time."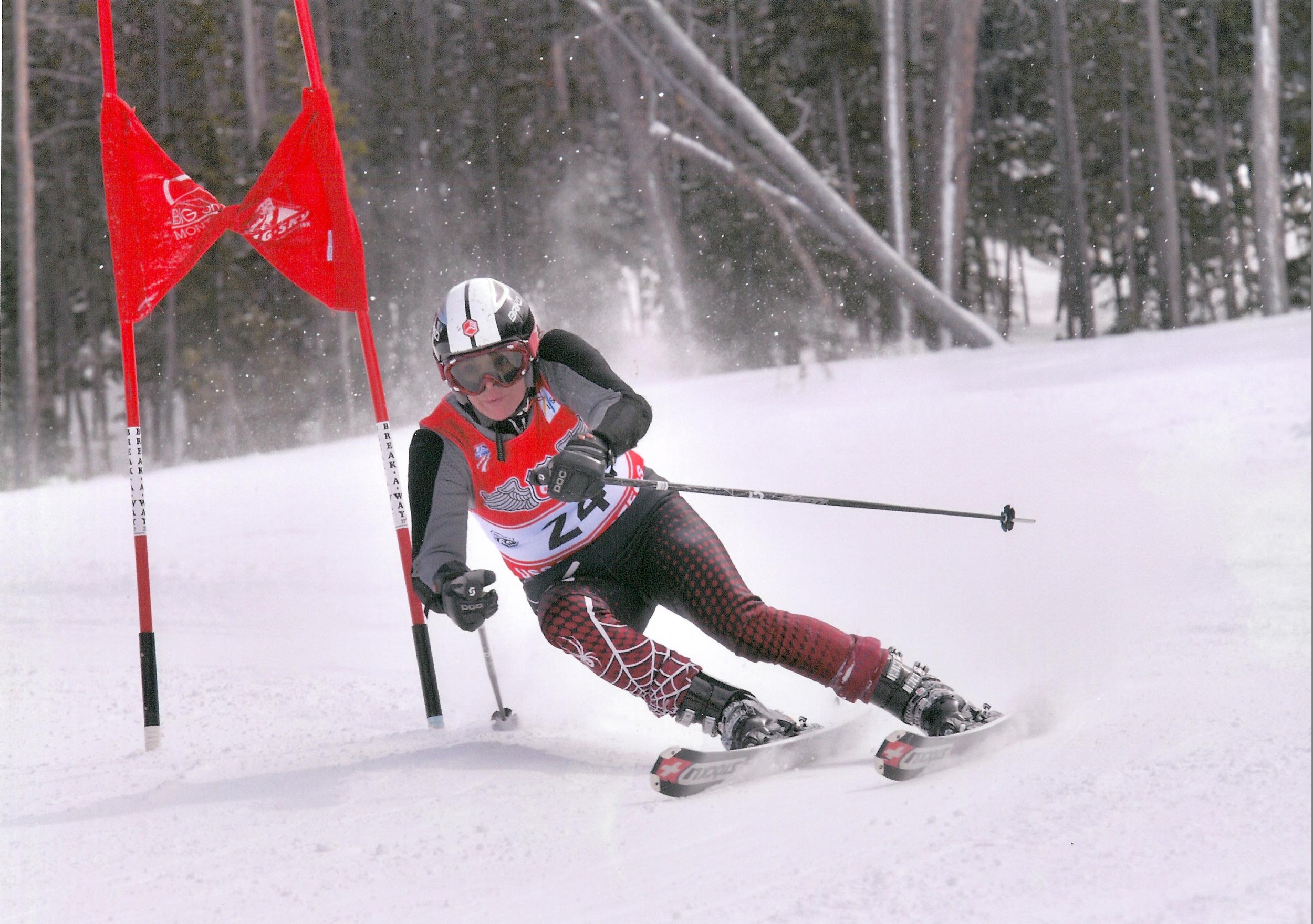 Lanzel says she is still figuring out her GS
Amy Lanzel (Women's Class 7)
Residence: Park City, Utah
Home ski area: Park City Mountain Resort
It's impossible to compete in the Intermountain Division of the masters circuit without knowing Amy Lanzel. The personable Intermountain masters chair and a longtime competitor, Lanzel has an infectious smile and unbounded enthusiasm that energize ski racers of all ages.
The legendary Gary Loritz was among the first to introduce Lanzel to masters racing over two decades ago. The combination of Loritz's passion for the sport and après-ski beers was the initial hook, but with each passing year, Lanzel has increased her dryland and on-snow training. Like a fine wine, she gets better and better with age, as they say.
"I'm strongest in slalom, then super G," she says. "I'm still figuring out GS. It's been a constant struggle for years. I would have given up on GS long ago if it weren't for all the support from the other masters and my coaches."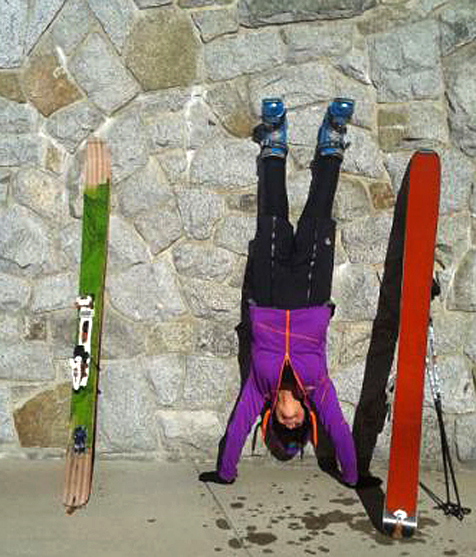 Amy Lanzel has turned the masters world upside down with her enthusiasm.
Lanzel grew up skiing at Mount Ripley in Michigant. "My father died in an auto accident when I was young," says Lanzel. "We were seven kids. Skiing was the least expensive childcare in town."
Lanzel raced through high school and during her first two years of college at Northern Michigan University, but put away her race skis en route to becoming a nurse and eventually the CEO of Interactive Medical LLC, which markets and sells medical devices. Though her work is in healthcare, she gets her biggest health benefits from ski racing, along with the other sports — such as waterskiing, hiking and biking — that she does to get in shape for the winter.
"It's not just about the racing," she says. "It's a lifestyle."
Italian stallion: Deb Adams attacks in Abertone
Deborah Adams (Women's Class 4)
Residence: Fairfield, Conn.
Home Ski Area: Hunter Mountain, N.Y.
Deb Adams is another example of how masters racers often get better with age. She joined the masters circuit 20 years ago, but had her brightest winter in 2014, qualifying for the U.S. Alpine Masters Team for the first time, earning second overall in slalom in her class on the FIS Masters circuit and winning the South American masters slalom title. "I had the time of my life, traveling to three continents, five countries and competing in 14 races for Team USA," she says, proud of the crystal globe she brought home from the international masters finals in Abertone, Italy. "It was an amazing journey."
Adams grew up skiing at Hunter Mountain, where her family spent weekends camping in the parking lot in a typewriter repair truck that her dad turned into an RV. She started racing at age 10, competing in events such as the Empire State Games and on her high school ski team before captaining her college team at the University of Massachusetts-Amherst while studying electrical engineering. Today, she's a software engineer for Sikorsky Aircraft Corporation, competing on her company's night league team and on the masters circuit.
"Ski racing is my life!" says Adams. "I love to ski all year long. I waterski in the off-season, so I tell people, when the snow melts, I'll ski on that too." That said, Adams will sit out the 2015 season. She ruptured her Achilles tendon in September at a training camp in Chile.
"My goal for the winter is to recover and come back stronger in 2016," she says. "I love the confidence masters ski racing gives me. It flows into the other areas of my life."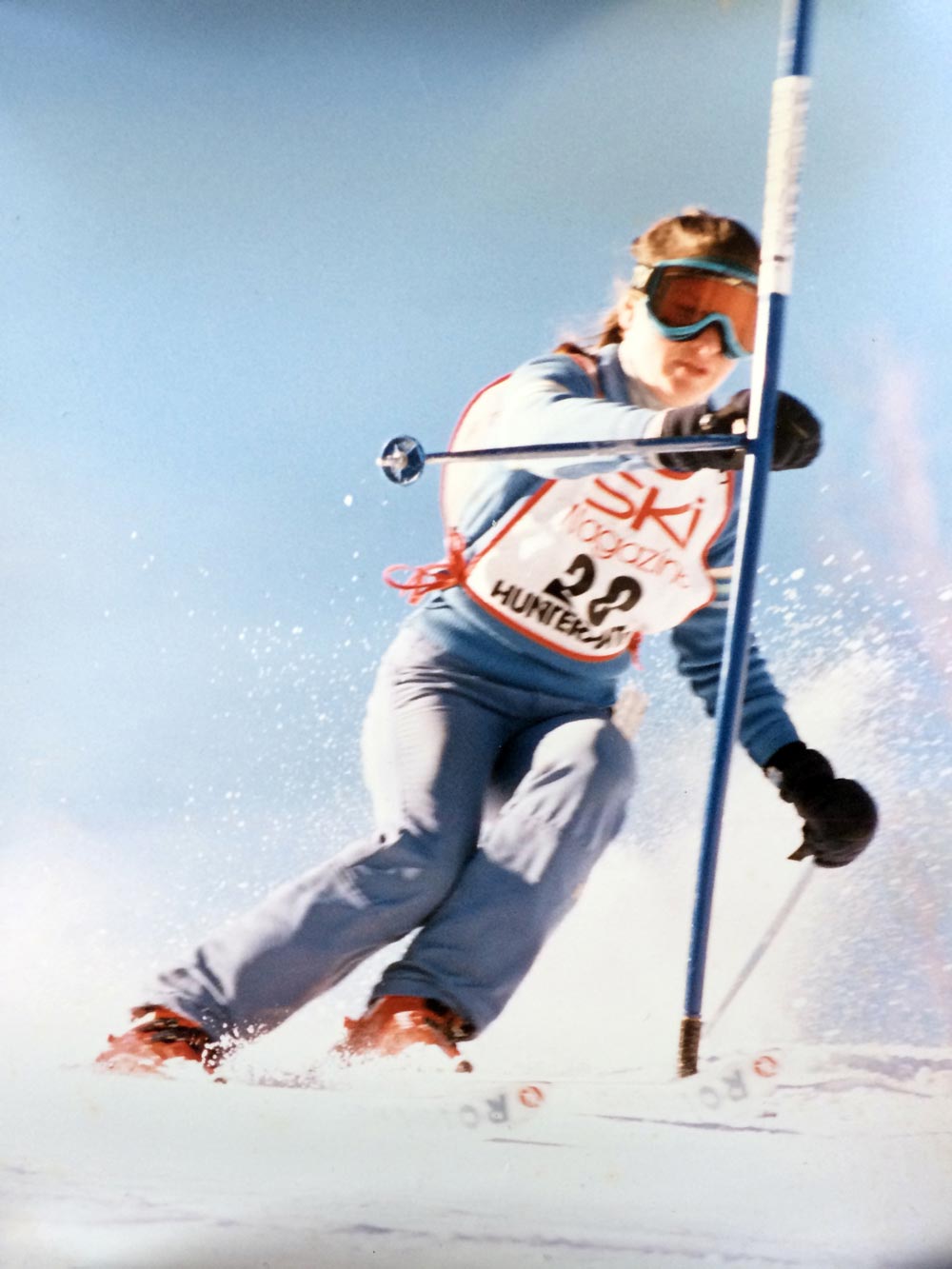 Adams has come a long way since learning to turn 'em at Hunter