November 7, 2014
Green With Envy?
A Look Inside Green Mountain Valley School's New Racing Performance Center
State of the art. High tech. Legit. Those are the latest buzzwords on campus at the Green Mountain Valley School (GMVS) in Waitsfield, Vt., thanks to the brand-new, $10 million, 33,000 square foot Racing Performance Center.
And when construction on the facility (also known as the RPC) finished two months AHEAD of schedule, staff and athletes wasted no time settling in at the start of the 2014-15 season.
"GMVS has always aimed to provide our athletes with the best platform for success, but a facility like this really elevates the level of performance that we can achieve," says Headmaster Dave Gavett. "We owe a very sincere and heartfelt thank you to our donors and to the huge team of people that helped make this vision a reality."
The RPC is now home to:
Coaches' offices
A multi-purpose gym
Advanced ski tuning and equipment facilities for both staff and athletes
A multi-depth pool for workouts and recovery
A weight room including a turf strip
Locker rooms for athletes
A climate-controlled yoga/TRX studio
Conference spaces
A spin room with bikes
Physical therapy space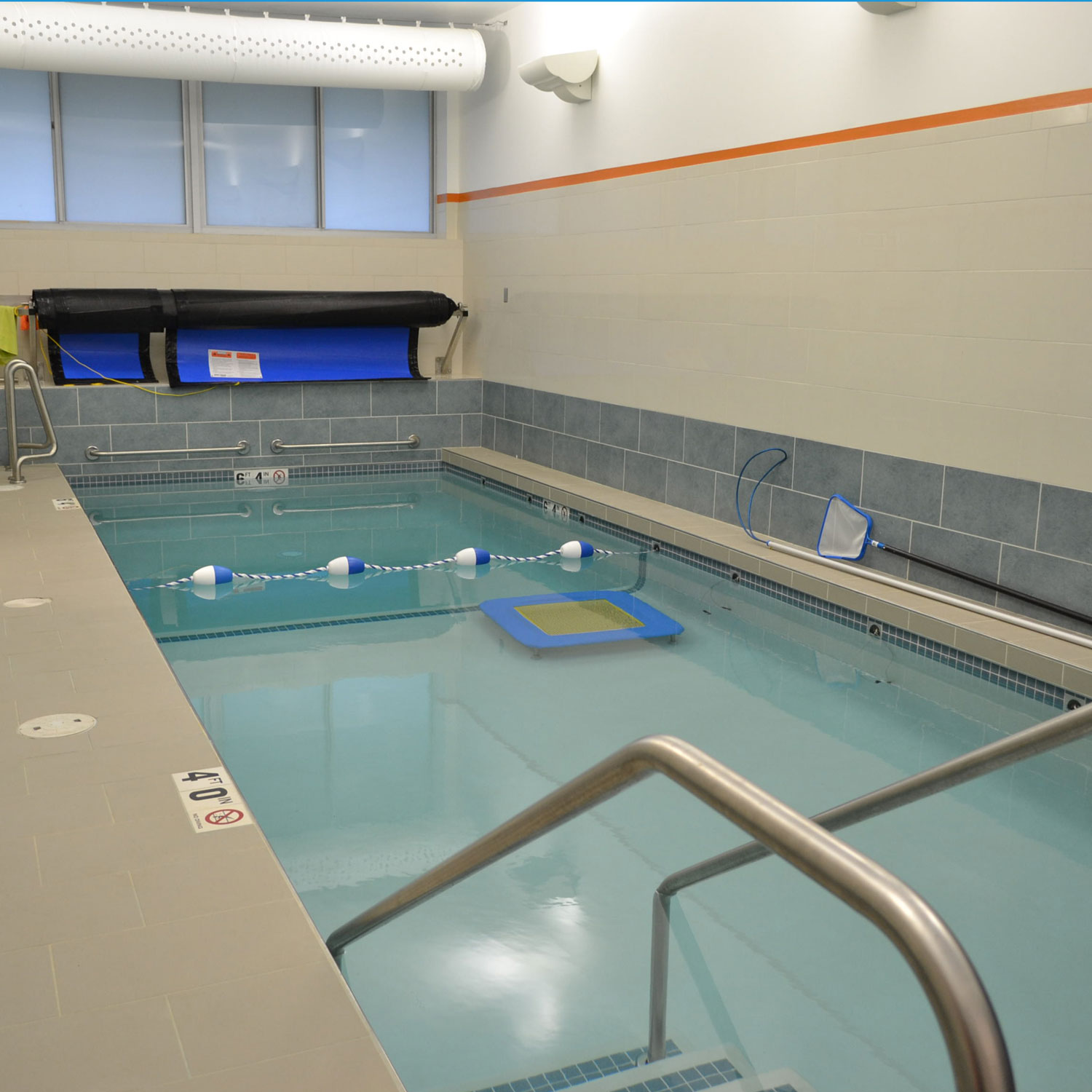 The multi-depth pool was designed for jumping workouts and to aid athletes returning from injury.
And yes, this is still a high school. "It just brings the whole environment to a whole new level," says senior Mika Smith from Castleton, Vt. "It makes the training seem more real and intense. Now that we're all in one place, you see everyone's working hard and you see all this new awesome equipment we have, and you feel like you want to do more and you feel like you CAN do more."
The RPC is the first of its kind at any location in the East, and it was modeled off the USSA Center of Excellence in Park City, Utah. USSA President and CEO Tiger Shaw, whose daughter attends GMVS, was on hand for the September dedication ceremony at the facility, which was made possible through private donations.
At the core of the building's technology is a professional ski tuning facility and accompanying student tuning space. GMVS Alpine Equipment Manager and Ski Racing Backshop columnist Todd Carroll is much like a king who finally got his castle.
"A lot of people who have been around for two years can't believe that we went from 850 square feet in the basement of the old sports center to 1,800 square feet in the newest building on campus," he says. "The finished touches, whether it's the modular race flooring or the machinery laid out as it really should be so that we can run both machines at the same time — people are pretty impressed with how it came out."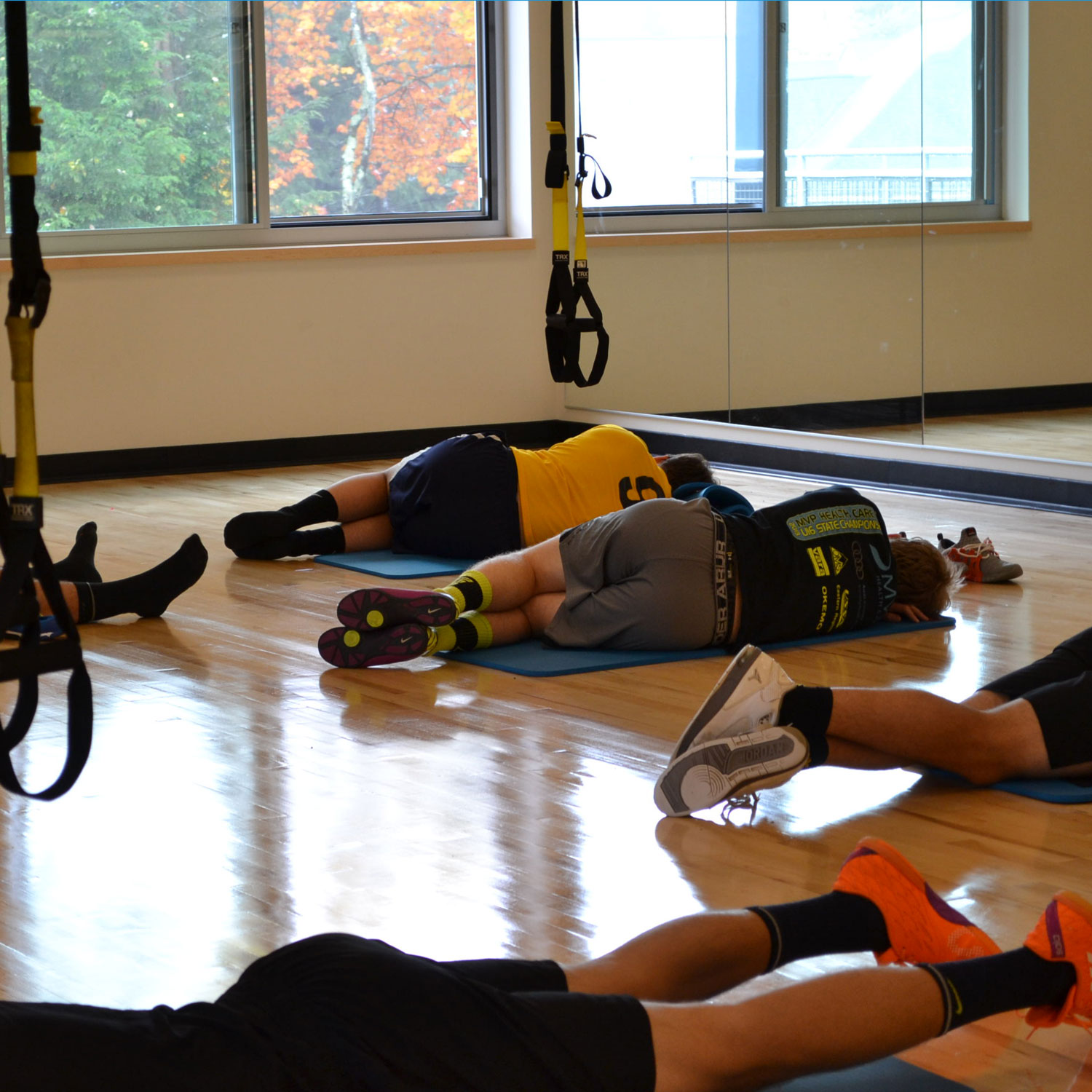 Athletes stretch out in the yoga studio space outfitted with TRX equipment.
That machinery includes a Mercury automated machine and a Race NC finish machine, both from Wintersteiger; a Montana Wax Future robot; a custom boot-fitting bench; and a semi-custom software solution for tracking service on skis and boots.
Carroll was instrumental in the design of his new space, examining professional race rooms for expanded storage and production and modeling off their service component.
"In terms of how modern we are here with the machinery we have, we're right on par with where most manufacturers are at," he says, "Relative to other ski academies, between our student tuning space and the ski room that we have here, I would say that we're setting the bar."
Safety was paramount in the design, and the new student tuning space has both natural and artificial light as well as downdraft tables to help filter vapors from waxing and also remove metal particulate out of the air from hand-held edge machines that are becoming more common.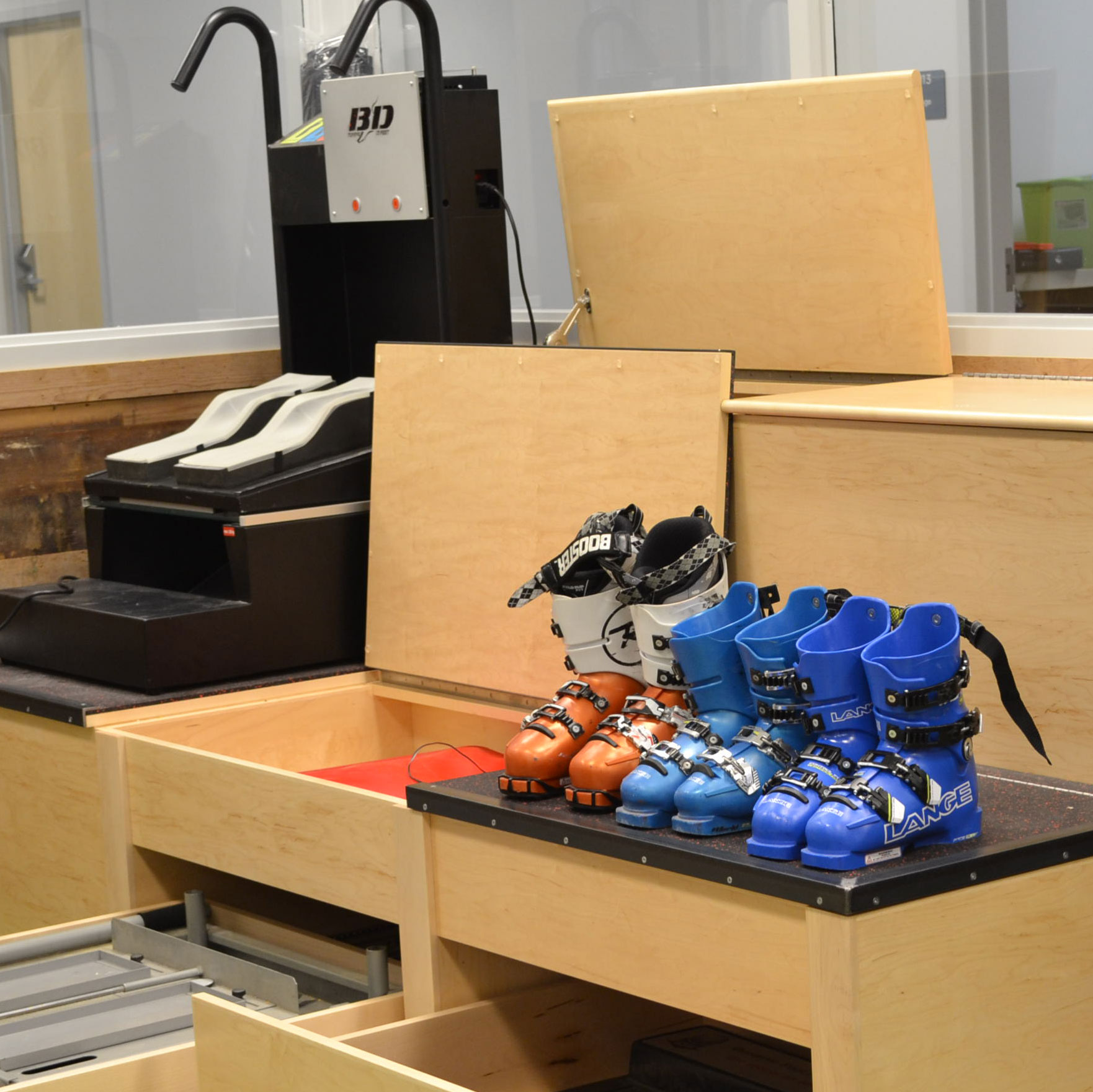 The custom bootfitting bench is a hybrid of all the best that GMVS Alpine Equipment Manager Carroll has ever seen.
Carroll is most proud of the bootfitting bench, which he says looks nice but is also incredibly useful and utilitarian with storage and room for three athletes to sit while work is being done on their equipment. "I've seen a lot of really cool boot benches," he says. "This one borrows from my top three and creates a hybrid that combines all of these things."
Before leaving for Chile in September, Carroll and his staff prepped 400-plus pairs of skis. He also built 45 pairs of boots — a light load, says Carroll, who expects that close to 1,000 pairs of skis and 120 pairs of boots will pass through the RPC this year. It's helpful that the coaches' offices are in the same facility so that equipment questions can be answered as a team with greater efficiency.
"Coaches can easily link up with athletes to come in and we can look at canting, we can look at bevels, we can look at ramp angle," says Carroll. "Whatever it might be, by way of everything being in one place, we simplify the process."