Why the U.S. cross country team skipped New Zealand for Alaska training
The post-Olympic slump can be tough. The fanfare, the build-up and the attention of a four-year cycle leaves behind an enthusiasm gap and — more importantly for athletes — a budget gap. This year is no different with the U.S. men's cross country team facing a standard post-Olympic decline in financial support. But instead of stepping down preparation or reducing the number of camps, USST coaches pivoted, moving August preparation from New Zealand to Alaska and finding unexpected benefits along the way.
Take the conditions on Alaska's Eagle Glacier, for one. "There are many places to ski in the summer, but Eagle Glacier allows our team to tackle klister skiing each afternoon that isn't always available to us in New Zealand," said head women's coach, Matt Whitcomb. "We aren't looking for perfect conditions. We already know how to ski in that."
Unfavorable conditions are common in World-Cup-heavy central Europe. The Eagle is often wrapped in the same costume of fog, clouds, wind, sleet, rain or snow. That awful weather is something Alaska Pacific University coach Erik Flora, the man charged with organizing the Eagle Glacier camp celebrates, calling it "championship-day weather."
Eagle Glacier sits in the Chugach Mountains, a 10-minute helicopter ride from Anchorage. Simple dormitories house the athletes within walking distance of an 8K loop set annually in different configurations for freestyle and classic training. Like New Zealand, it has all the constraints needed to practice elite level skiing. Unlike New Zealand, there's no coffee bar in the base lodge. This is the rough-and-tumble boxing gym in the bad part of nordic skiing's town.
"The beginning of an Olympic cycle is a good time to try something new," said USST head coach Chris Grover of the change. "Back-to-back camps with the women and men allowed us to pool our coaching resources, giving us better camp support and making it more economical for us."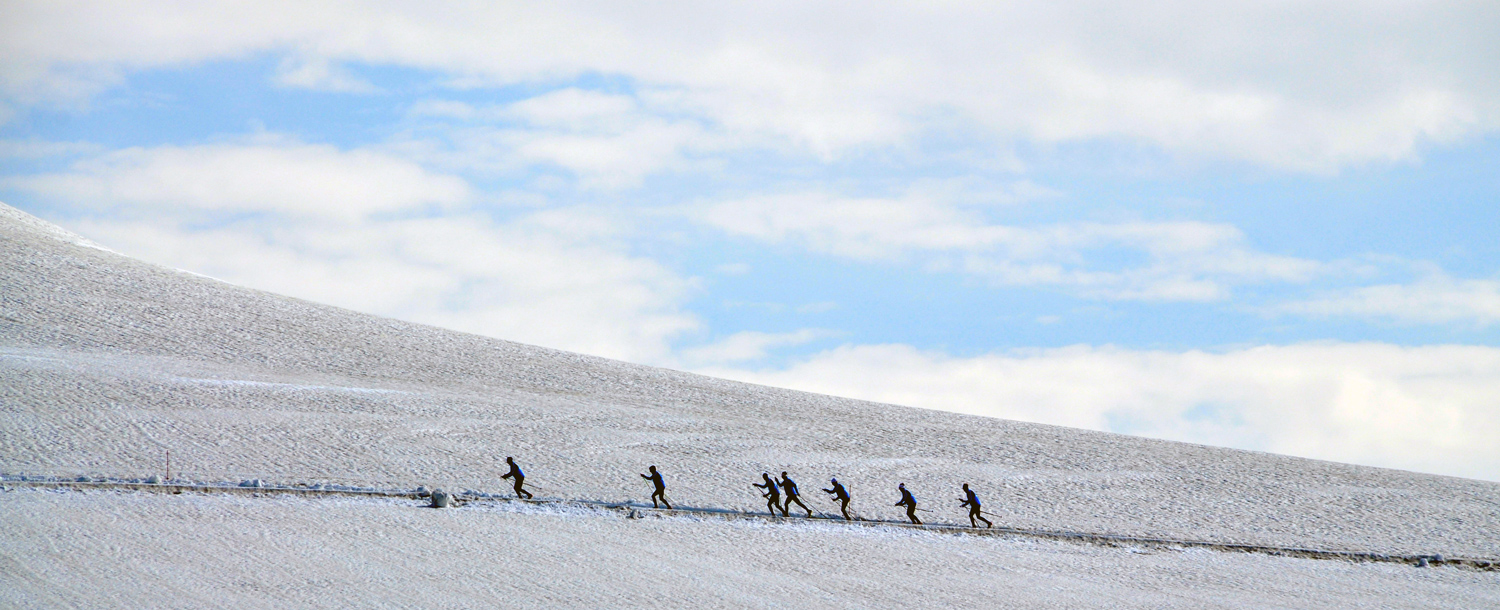 Women Know Best
The U.S. women's team has used the Eagle Glacier for the better part of a decade, inviting a wide selection of elite athletes from the U.S. and Canada to participate. The last four years have seen the camp called the North American Women's Training Alliance (NAWTA), though a more appropriate name might be the International Women's Training Alliance, given the participation of Celine Brun-Lie, a Norwegian Olympic bronze medalist, this season. Support, teamwork and healthy competition mark the two weeks as a convivial time in cross country c ski training.
That camaraderie is crucial to the isolated nature of glacier camps with their close quarters and limited activity outside of training. USST men's coach Jason Cork explained that while the glacier can be isolating, it's not wildly different than most weekends on the World Cup. When the two weeks were finished, he said: "I was ready to come off the glacier, for sure. It's a good training situation, and it's a good living situation, and I didn't get too cabin-fever-y. I'm rarely in any town for two weeks straight during the year, so just like after 10 days in Davos or Nove Mesto or Park City, I started to get a little itchy to leave."
USST member Simi Hamilton, known for a wide interest in outdoor sports, said he was initially reserved about the trip to Alaska but gave Eagle a thumbs-up. "Overall, the camp was a huge success," he said. "The training was great; we had a good ratio of intensity, volume and recovery; and the conditions, both dryland and on-snow, were ideal." Hamilton and teammates also took occasion to seek out some backcountry skiing nearby when the hard work of training was over.
Looking Ahead
Out of the Eagle Glacier camp came clear goals and a laundry list of improvements for preparation in the next few months. The team coaches relished the chance to watch the collection of 14 athletes trade ideas, mimic each other's technical strengths and generate intensity sessions at a level simply not attainable without the company of world-class training partners. Whitcomb highlighted the increased training, explaining that more opportunities such as those offered by the Eagle should be a focus.
"I'd like to take things up a notch and bring over two guest athletes next year, whether it be in Alaska, Park City, Oregon or Vermont," said Whitcomb. "The international partnership has been so key to our team."
Already in 2014, Kikkan Randall traveled to Finland to train with Aino-Kaisa Saarinen for three weeks. Liz Stephen joined former Eagle Glacier camp participant Astrid Jacobsen in Norway this fall. It isn't just the training that makes the Eagle a useful time. The cost-effective locale can mimic great racing, is relatively accessible for U.S. nordic athletes and brings together the country's best racers.
"The Eagle Glacier and Alaska Pacific University have been very good to us," said Whitcomb. "Program Director Erik Flora and his staff work long hours to prepare the glacier for us so the workout conditions are optimized. They are fantastic hosts of the camp each year."