The average World Cup technician spends between 200 and 275 nights a year on the road. Jet lag? Try also juggling power conversion, ski room temperatures, and access to the ski hill — all factors that can all make or break a tech and the respective racer.
So they have lots of lessons to share with the rest of the racing world. Even if you're only traveling a handful of overnights each winter, being comfortable tuning skis in a new space is critical.
But how should you set up a moveable shop while keeping expenses down? Here, World Cup techs share their tips, starting with Pepi Culver: "The tools are out there to take your dream shop on the road, but you can also put together a nice setup without going crazy."
First and foremost in any road game is the arena. You want a space that is large enough to comfortably work in, is well lit and flat, has access to power, and is adequately heated. Scraping skis on a deck, ironing between two hotel chairs, or tuning with vises setup on a guardrail (yes, this has happened) are all recipes for poorly prepared skis or worse, including injury. "At some point you get stuck somewhere freezing cold or way too hot," says Jonathan "Napa" Weyant. "Ultimately, having the basics covered without being at one extreme or the other is important to the end result." If your motel or condo doesn't have a specific tuning space, call the local race club — they might have space for you to tune or have an idea of who might be willing to share their space.
Next comes your starting lineup. As long as you have the space available, it makes sense to invest in your own travel bench. "You want to have a sturdy bench that's dialed in the way you like it," says Aaron Haffey. When it comes to the players you put on the floor, Napa is emphatic about keeping it simple. "It's the same on the road as it is as home," he says. "It's what you do, not what you do it with." The bottom line is that you really don't need to have the fanciest tools or wax until you have a strong command of the basics both at home and on the road.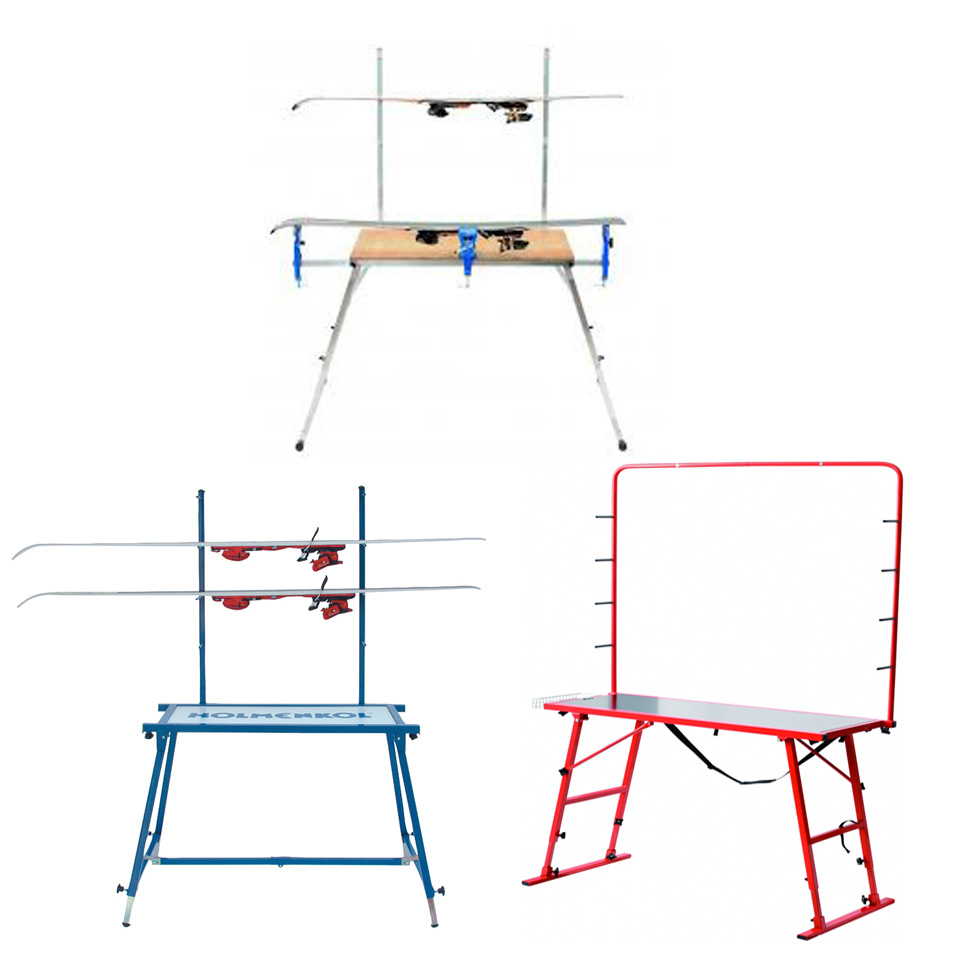 The right bench makes a huge difference for even a novice tuner.
And what about when you inevitably have to troubleshoot? As you become a more seasoned traveling technician, you'll learn what additional tools you might need. Take, for example, an indoor-safe space heater. "You simply can't get the work done right in the freezing cold," says Haffey. "Wax doesn't melt, your fingers don't work right, and you rush to get the job done without doing it right." Power strips, converters (depending on where you are headed), and even incandescent clip-on lights can turn a useless shed into your own World Cup waxroom.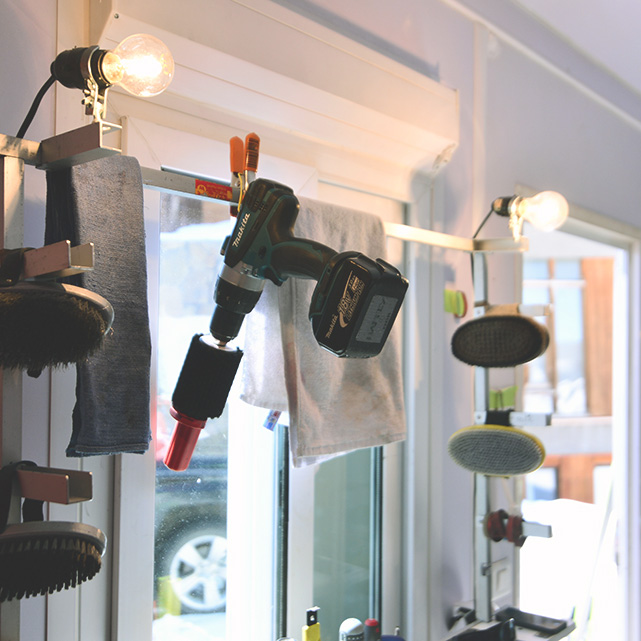 The little details can turn a dark basement into an operating room.
While you are learning those plays, there are two other things not to be forgotten that will help make sure you are prepared and always welcomed back to a garage, hotel conference room, or ski club tuning area.
A team is only as good as the bus it travels in. Rubbermaid (more affordable, and recommended by Napa) and Zarges (spendy) both offer a variety of toolboxes for storing and transporting your expensive tools and other accoutrements.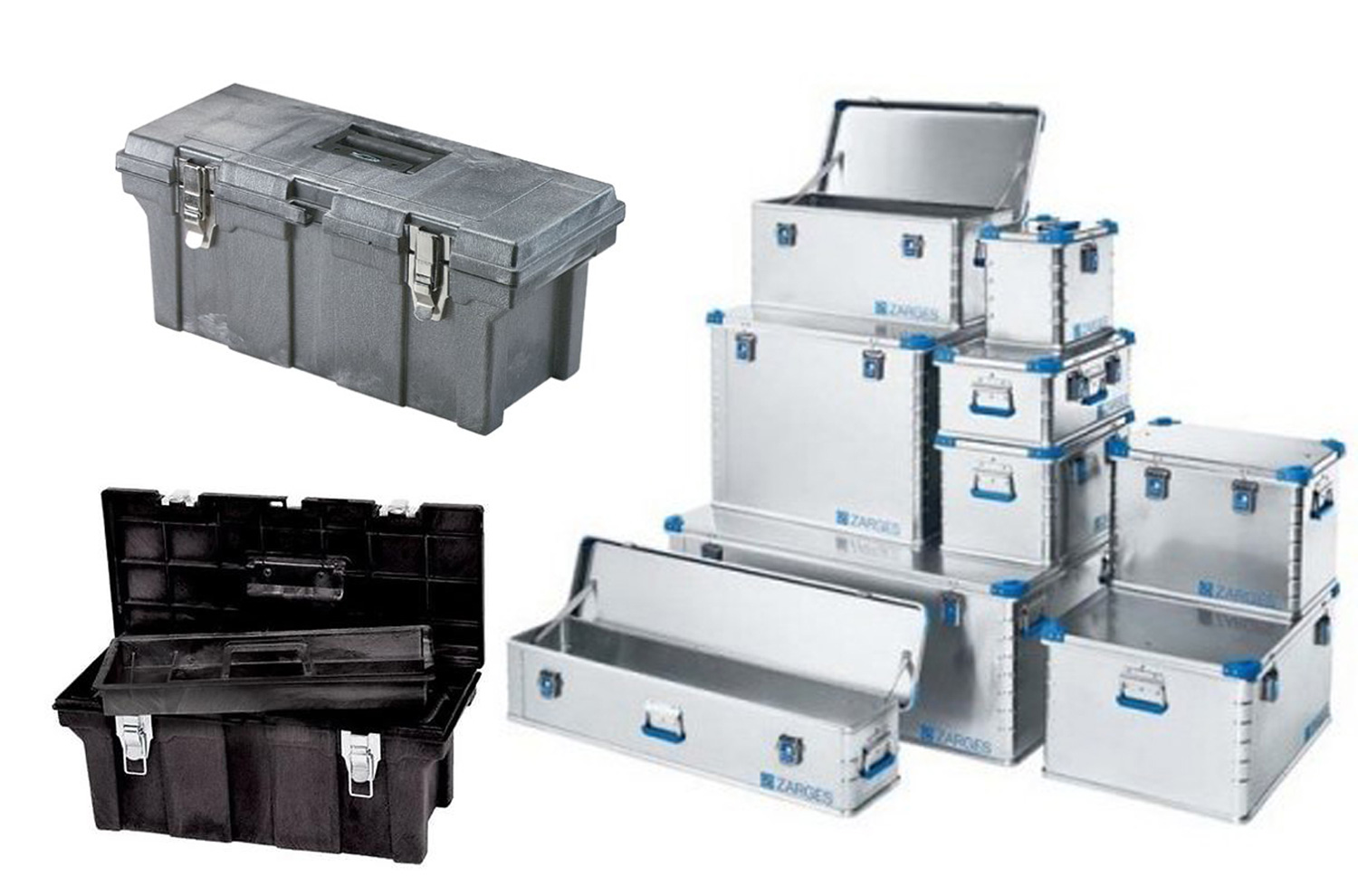 Toolboxes that are built right help keep your tools in prime condition.
Leave the visiting team locker room clean. Very few lodges, motels, or condo rentals have extra brooms or dustpans, which are critical to your post-tune cleanup. "If you want to maintain a good relationship with a hotel, condo owner, or friend with a garage," says Haffey, "it's important to clean up thoroughly after you're done." Culver suggests packing a tarper or banner to put under your bench. "Nothing ruins a hotel conference room carpet faster than a bunch of training wax dripped all over it," he says.
So, whether you feel like you're chasing your athlete from one faraway race to another or are trying to get a jumpstart on planning for a state championship on the road, keep calm, gather your team and follow this playbook. "Having the right tools and space for the job means that you're going to produce better quality," says Culver. "ou can tell any craftsman by the quality of the tools they have and the shape of their workspace."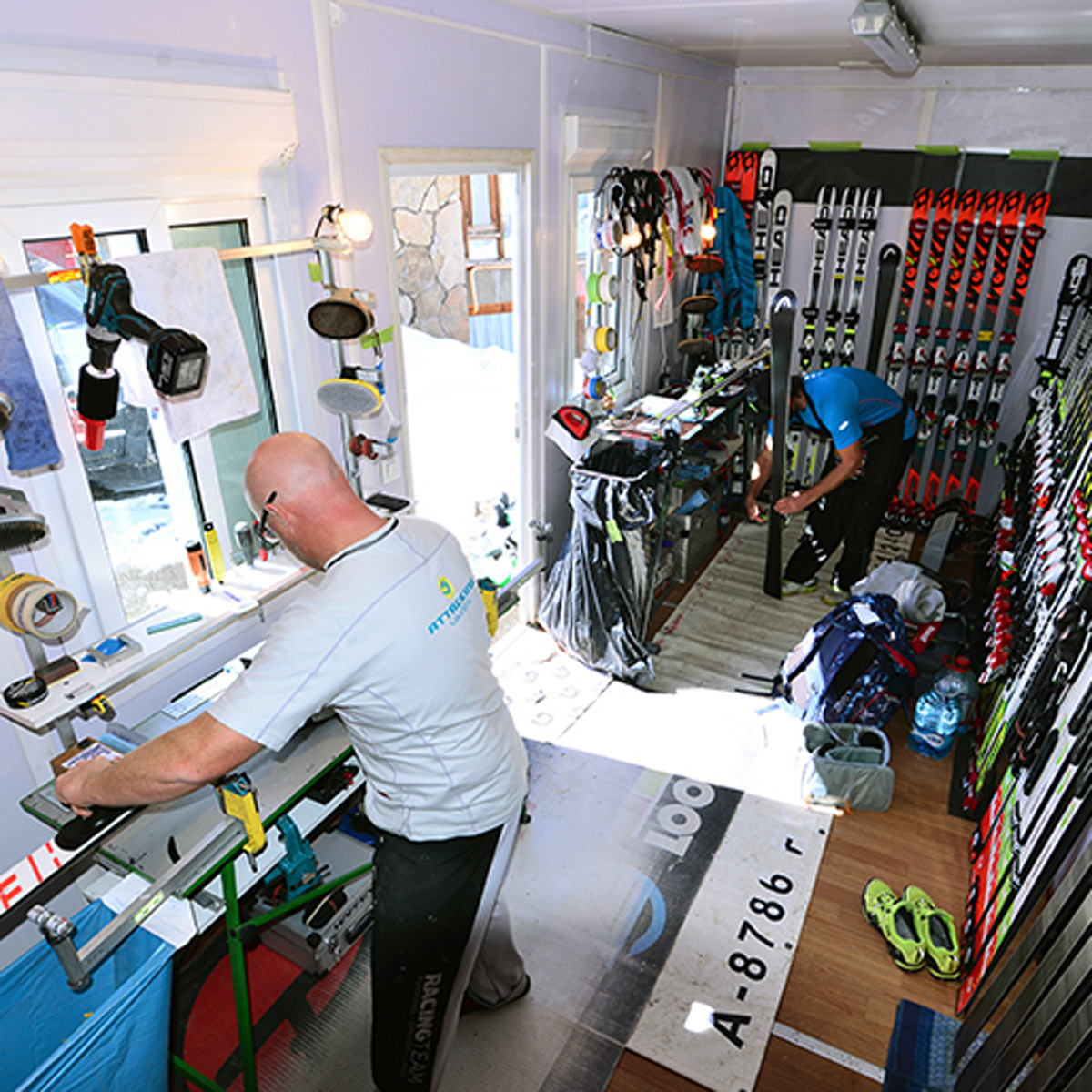 Look closely: see the floor covering? Be good to those who lend space.