What Aksel Lund Svindal can learn from Steven Nyman; hope for the 2015 World Champs?
Talk about a snap heard 'round the world. On Oct. 19, just days before the World Cup Opener in Soelden, Aksel Lund Svindal ruptured his Achilles tendon while playing soccer.
"I was out for a little run with the rest of the team," the five-time World Championship wrote on his Facebook page. "We ended the session playing around with a ball. Just holding it up in the air between us. Suddenly I felt something snap in my leg and I knew right away that something was wrong. Achilles."
Svindal was brought to a hospital in Innsbruck and underwent surgery shortly after.
"A real injury and extremely bad timing just as the season is about to start," the Norwegian said. "Nobody can say 100 percent sure how long the recovery will take, but I'm ready for the weeks that are coming."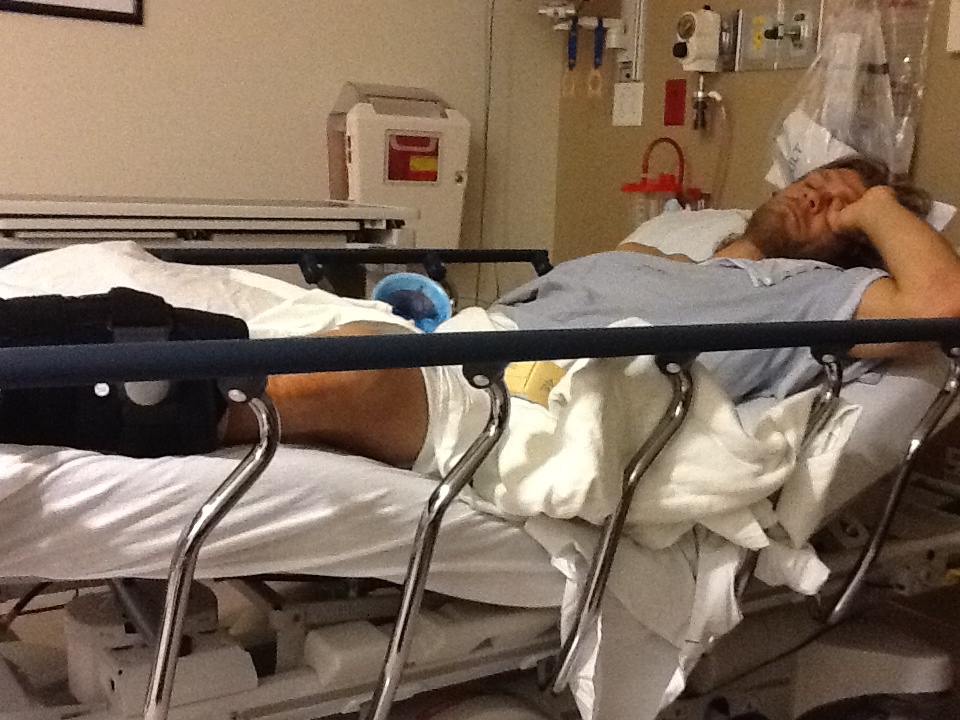 Steven Nyman lies in recovery in Utah after surgery to repair his Achilles tendon in 2011. Courtesy of Steven Nyman
What Lies Ahead?
When U.S. Ski Team speed specialist Steven Nyman ruptured his Achilles tendon in 2011, it happened on the flattest part of the easiest hill he skis all season.
"My skis split and my nose went to my tips, essentially," says Nyman. "My skis came back together, and I was just stuck in the hyperextended position. I felt like my knees were going to bend backwards. I caught and rolled sideways, and just slid it out. I thought I hurt my knee. I stood up and did some squats and was thinking, 'I'll probably be out a week or two with the knee.' Then, I started skiing. I got on my left foot — that really hurt. I had nothing there. It was pretty clear I didn't have an Achilles."
When he got to the bottom, Lindsey Vonn was the only person who believed him, Nyman recalls. Sure enough, his Achilles was torn — and not in the most typical of ways.
"The Achilles is a 'sophisticated rope,'" explains Salt Lake City's Dr. Timothy Beals, who specializes in foot and ankle care and performed the reparative surgery on Nyman. "The key to having the proper function of the limb is to have 'the rope' at the right tension, as well as muscle redevelopment after the profound atrophy that always accompanies the injury."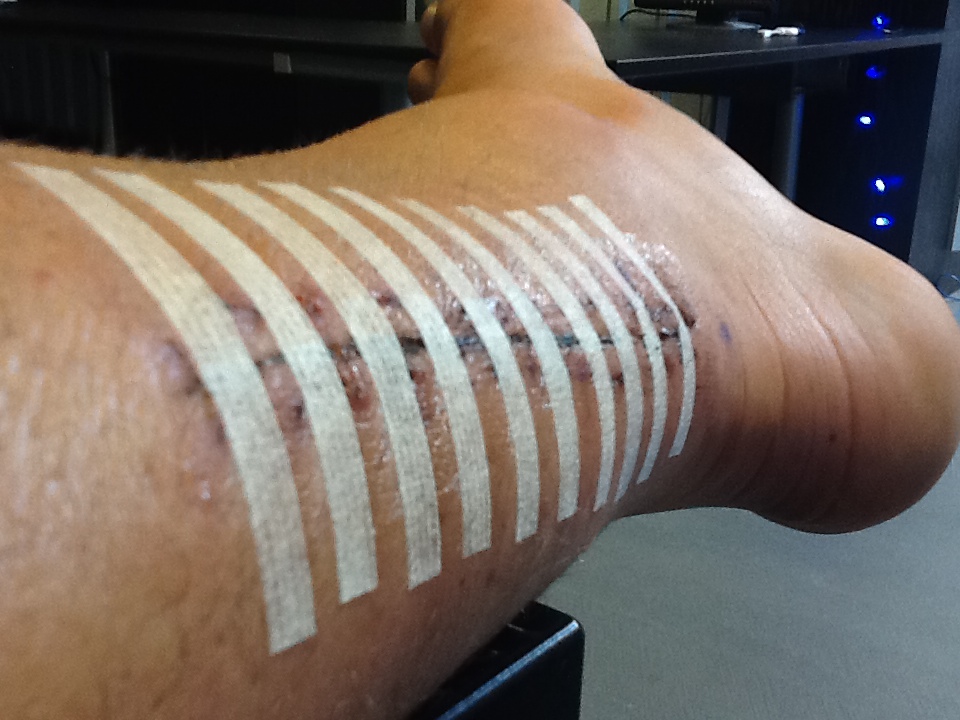 An intimate view of Nyman's injury after surgery. Courtesy of Steven Nyman.
Nyman, says Beals, had an unusual injury that extended along the tendon and muscle unit.
"Imagine the forces required to disrupt the Achilles mechanism when confined in an alpine boot, likely much larger than when the ankle is free to move," says Beals. "Most Achilles injuries are quite benign when they occur — the tendon tears about five to six centimeters up from its insertion."
It's safe to assume Svindal has sustained a significantly less severe version of the injury than Nyman did. Nevertheless, early prognosticators wrote Svindal off for the remainder of the season. But the Viking is not currently willing to rule out the possibility of making a return in time for the World Alpine Ski Championships in Beaver Creek, a venue at which he's captured four victories and 11 podiums during his career.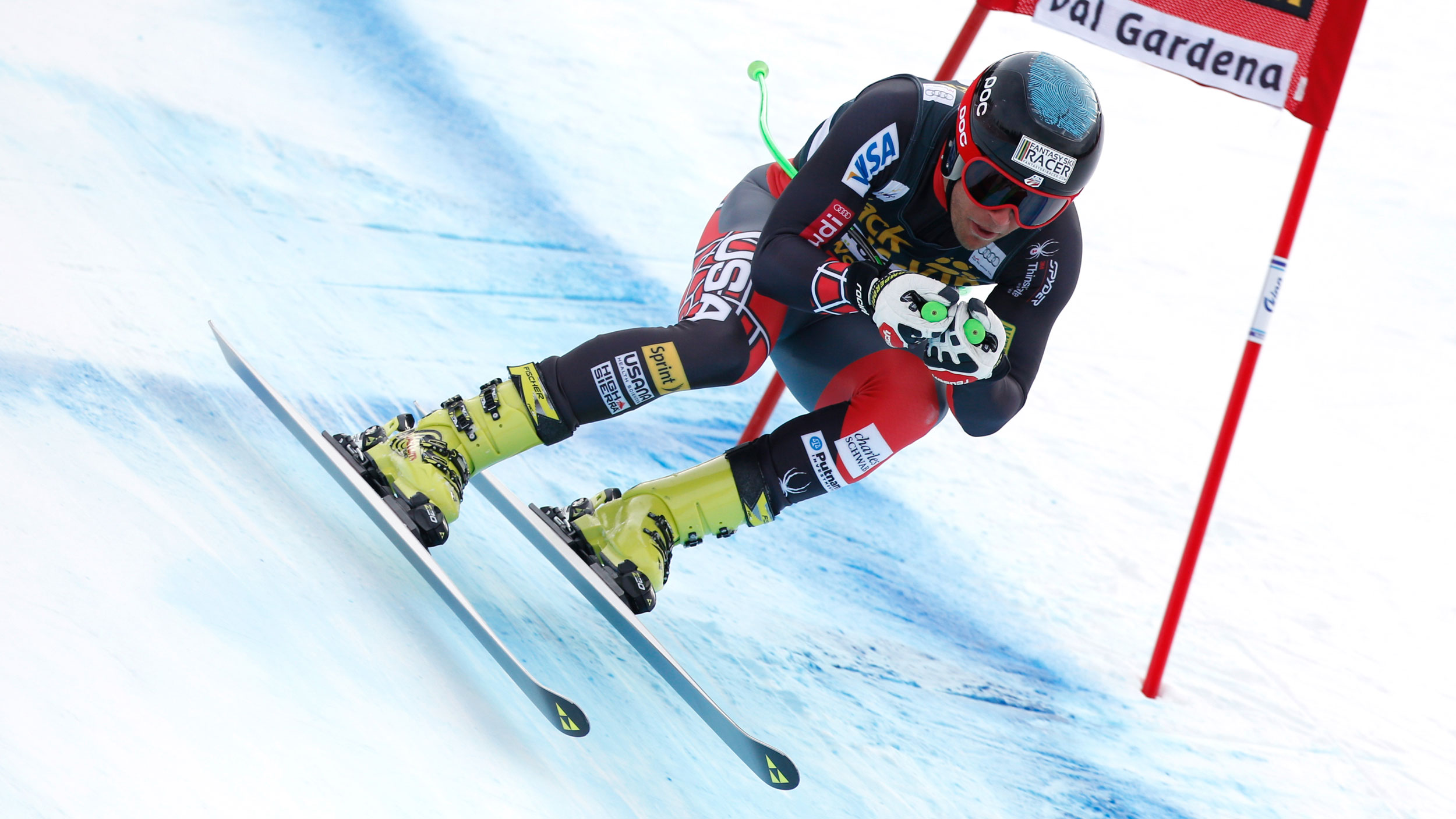 After tearing his Achilles in 2011, Steven Nyman has made a full and remarkable recovery to rejoin the World Cup tour.
Nyman had a much longer zone of injury, says Beals, which required a much more extensive repair, surgically. "In my mind," says Beals, "it's all that much more impressive that he was able to return to such a high level of sport."
"After an injury like that, as an athlete, you want to take the next step forward," says Nyman. "Stuff like that happens. It's a reality — you know it's going to happen at some point in your career. But I wanted to get back to the top — and it sounds like Aksel has that same mentality."
It won't be the first time the 31-year-old Svindal has staged a comeback. During a 2007 training run in Beaver Creek, Svindal crashed into the nets, breaking bones in his face and suffering a laceration to his groin and abdominal area. After sitting out the remainder of the season, Svindal returned and won his second overall title the following year.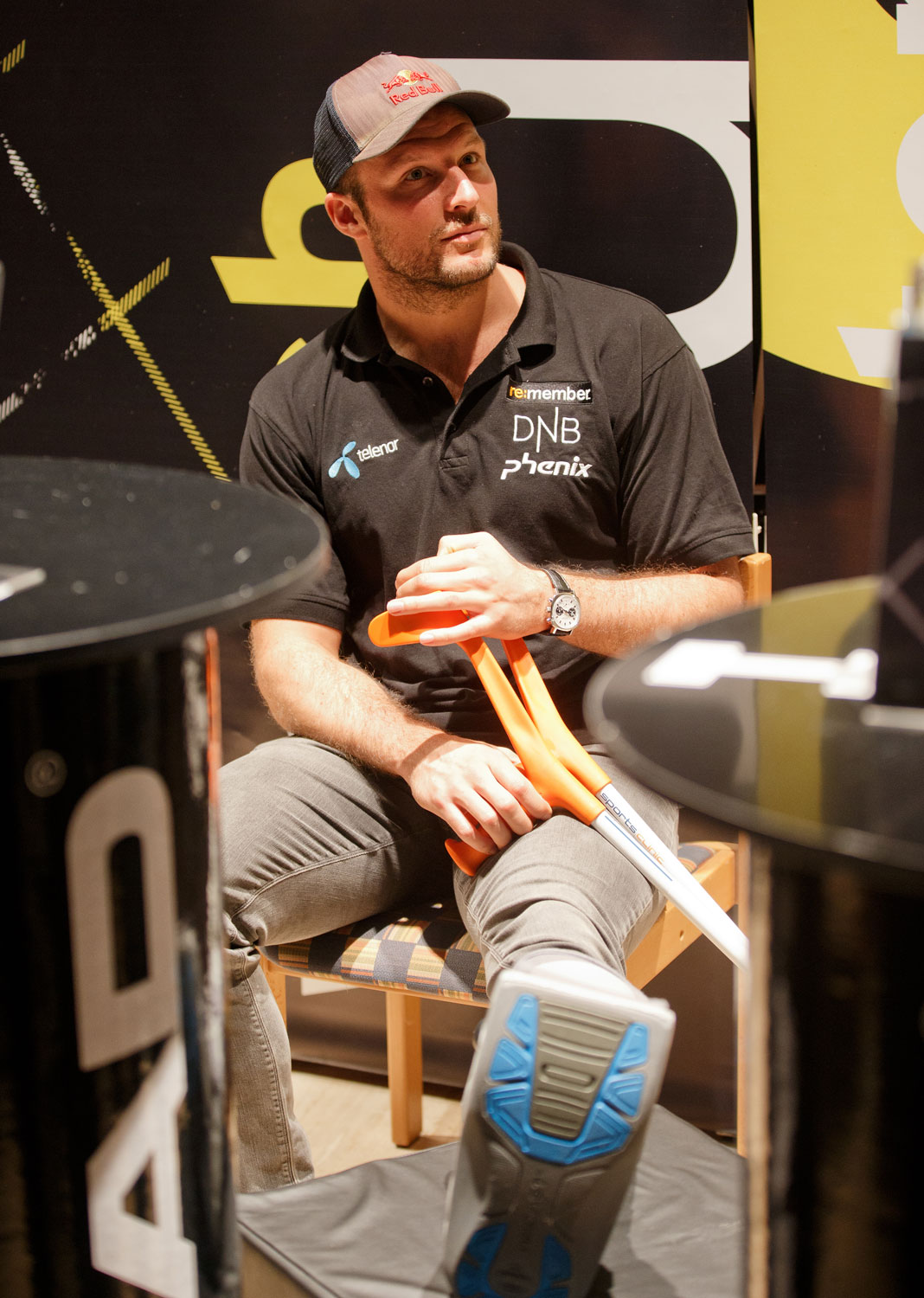 Aksel Lund Svindal elevates his torn Achilles tendon at a media event in October.
Svindal has World Cup company in rehabbing an Achilles tear this winter. Italian tech specialist Manfred Moelgg suffered the injury during a dryland training session in August. The 32-year-old underwent surgery the following day, and returned to skiing in early November, more than two months after the accident, which represents perhaps the best-case scenario for the injury.
This fall, Moelgg tweeted that he felt great to be back on snow — not as fast, but optimistic.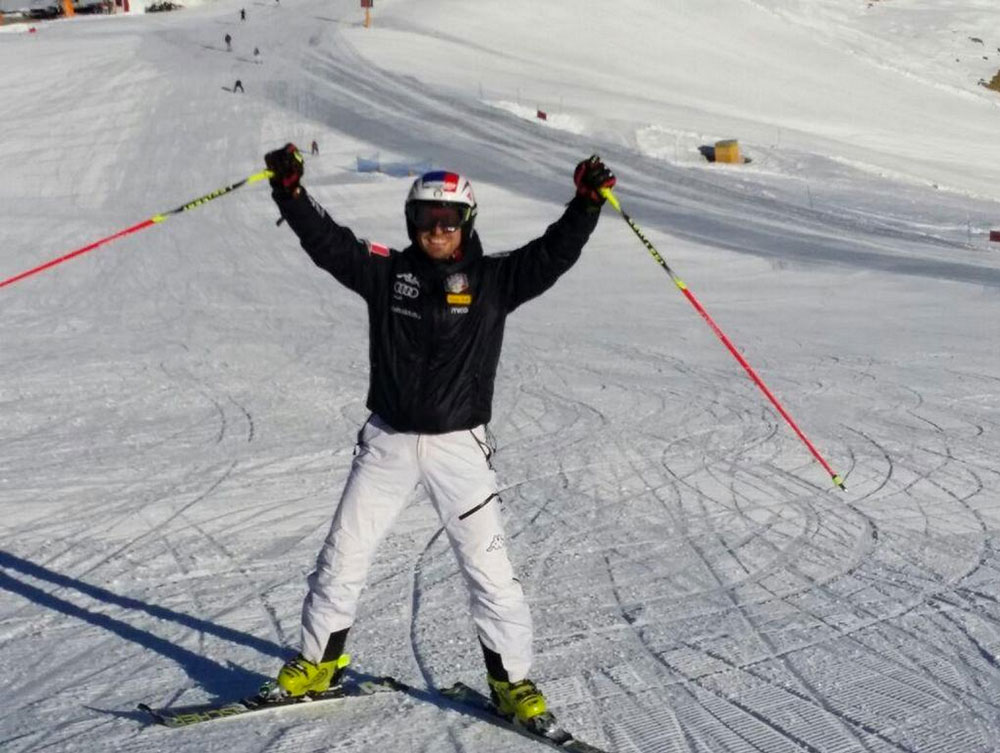 On Nov. 3, Manfred Moelgg tweeted out this photo of his return to skiing two and a half months after tearing his Achilles.
For Nyman, it's been a complete, successful recovery. But that first year back, he acknowledges, it felt like he was skiing on a leg and a half — not because of pain, but because of atrophy-induced weakness.
"I was so tired at the bottom of courses, and I think that could be a big issue for Aksel when he comes back," says Nyman. "Gaining your strength and endurance is the tough part. My first time back on skis, it was one run and I was done. It was scary. I felt like I was compromising other things."
According to Beals, what occurs under the knife is less critical than the immediate process of rehabilitation.
"Many patients are treated both with and without surgery, and end up with an atrophic calf and diminished function," said Beals. "I think often that is due to overstretching the tendon in the initial phases of recovery rather than emphasizing strengthening early. Steven is a world-class athlete with incredible drive who had world-class therapists, and that is why he has recovered. It's awesome to watch performers recover as he has."