Meet Cory Snyder, a 22-year-old senior at the University of New Hampshire and eight-year veteran of the U.S. Telemark Ski Team. "The people are what really brought me in," Snyder tells me over Skype. "Everyone is in it because they love the sport. No one is trying to be famous or trying to make money."
Telemark is the ultimate combination of alpine, jumping, nordic, and skier cross. There are three different disciplines: classic, sprint and parallel. The classic is a full-length giant slalom course that goes right into cross country skiing; typically, winning times are more than three minutes. The sprint is a shorter version that is about half as long. And the parallel is a dual elimination event; after 20 seconds the athletes go into "the toilet bowl," an angled 360 degree turn, together and then a race cross country style sprint to the finish. This video shows the format.
Snyder, a native of Franconia, N.H., grew up skiing and racing at Cannon Mountain — one of his current sponsors — and made the switch to telemark skiing initially because of his uncle Mike. "He told me I wasn't a real skier unless I tried telemarking," recalls Snyder, who took a quick liking to skiing with a free heel and quickly realized it was his calling.
Snyder won his first event at Gunstock in 2007 and was soon traveling and racing the World Cup in Europe. "It was anything but glamorous, but it was pretty awesome," says Snyder. "It's every ski bum's dream to rent a car in Europe and drive around." (I couldn't agree more with him on that one.) FIS regulations are minimal — boots, skis, and bindings must be commercially available and produced by a company that makes more than 100 pairs per year. Apparently, there were a lot of homemade bindings before the rules came into play.
There are a lot of performance rules to remember, however, with penalties doled out in seconds added to the athletes' times. Every racer must not only pass each gate correctly, but also must have "boot space" where the boot is lifted off the ski to make sure no one is making an alpine turn. Telemark racers must also reach a certain distance off each jump, and must execute a telemark landing, not in the back seat.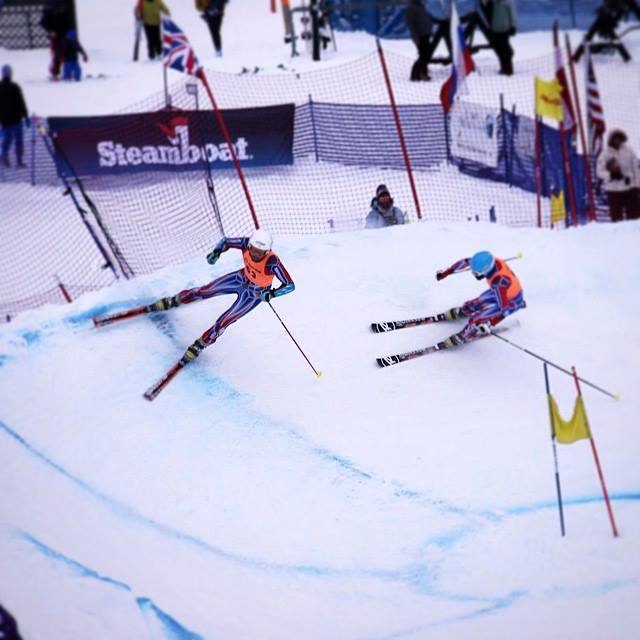 And then there is the cost of racing on the telemark circuit. It's between $10,000 and $15,000 for Snyder, who is also sponsored by Ski NH, and gets equipment discounts from Atomic skis and Crispi boots. But the majority of his yearly racing budget comes from hard work in the warm weather. He spent last summer training every morning, working an office job at the University of New Hampshire from 9 a.m. to 3 p.m., and then waiting tables at Portsmouth Brewery from 5 p.m. to midnight. "I have to live a very frugal life," he says, "and work really hard in the summer."
The tangible rewards of telemark racing range from a few bucks to none at all. Sometimes winners just walk away with a bouquet of flowers and a small medal. "No one is counting on winning prize money," says Snyder. "It's not about that."
Unlike Norway and France, which have feeder programs for telemark racing, and see kids as young as 5 years old competing in the sport, the U.S. has few organized teams. When Snyder's home, he joins the Cannon, Holderness, and Waterville Valley U16 alpine ski teams for training.
The Americans — including a 54-year-old on the roster of the development team — don't have a traveling coach, but they do send video to their head coach, Ty Upson, who is also the Steamboat Springs Telemark Program Director. The Swiss and Norwegians, says Snyder, bring their own gates and share their course with the Americans.
"It is a ridiculously small and poor sport — all the countries really rely on each other to make it," says Snyder, who wouldn't change a thing about his turn toward telemarking. "Right now I am living the dream. I have no intention to stop living the dream."
Follow Cory's blog!