Alpine ski racing is a unique athletic endeavor. If you're a track star standing at the starting line for the 100 meters, you know the course is, well, 100 meters. You get on point, watch for the starting gun's flash and spin your wheels straight to the finish. You don't think about six-inch deep ruts or chunks of ice. You don't worry about the sticky, wet, late-afternoon snow that will suck your skis to a crawl in the finish flats.
No offense to the amazing athletic feats of track stars, or swimmers or other athletes who have well defined courses. If you're an alpine ski racer, you're on edge for every single turn. You may have trained your life for that one race. But when you hit that changing light that takes away your vision in a transition, you're cooked.
As ski racing fans, that's what we love — the unpredictability. In every run, you're not just battling the clock; you're challenging Mother Nature. And if you happened to be one of the 10,000 fans in Red Tail stadium on Friday, Feb. 13, at Beaver Creek, you experienced what was, literally, an electrical moment.
Ted Ligety stepped into the gate for the second run of the men's giant slalom at the FIS Alpine World Ski Championships at Beaver Creek as the defending two-time world champion. No one in history had ever won three straight. Add in his Olympic gold from a year earlier, and the stakes were even higher.
It was Ligety vs. Hirscher, much as it has been for Ted's entire career. Since 2011, no one else has won an Audi FIS Ski World Cup GS title, Olympic or World Championship medal. That morning, Hirscher had taken a 0.24 lead over Ligety. Making it even tougher, three others had snuck in between the two. Ted sat fifth. Yes, he already had one medal — a bronze he had won in alpine combined four days earlier thanks to a stunning run of slalom and some help from that Mother Nature.
The stakes were high. And that's where Ted shines.
"It's an arc-er's show," said Ligety. "You have to be really clean on that edge all the way down."
When you're fifth, you don't really know your target. It's yet to come. It's one thing to ski a World Cup GS on iconic hills like Alta Badia and Adelboden. But it's a whole different ball of wax at an Olympics or World Championships. You can't win with your A game. You have to be A-plus.
No one lays down an arc like Ted Ligety. TV doesn't do it justice. You want to see how one should ski GS? Look at still frames — skiers parallel to the snow, hands a quarter inch off the snow like outriggers — back and forth, edge to edge, all at speeds in excess of 40 to 50 miles per hour. It's on the edge every step of the way.
Ligety was nearly perfect. And he knew it. This was the kind of run he had been missing all year. His last win — and only win of the season — had come two months earlier on that very same course.
One by one, the challengers failed to match Ligety. Then there was Austria's Marcel Hirscher — the thorn in Ted's side time and time again.
Hirscher pushed out of the gate. Across the Atlantic, Austria was up late watching on TV, glued to the stunning HD images on ORF. Hirscher came out charging, expanding his 0.24-lead over Ted to 0.37 at the first intermediate. At the midway, he was still 0.21 ahead, but dropped to a 0.08 margin coming over Golden Eagle and into the final gates to the finish.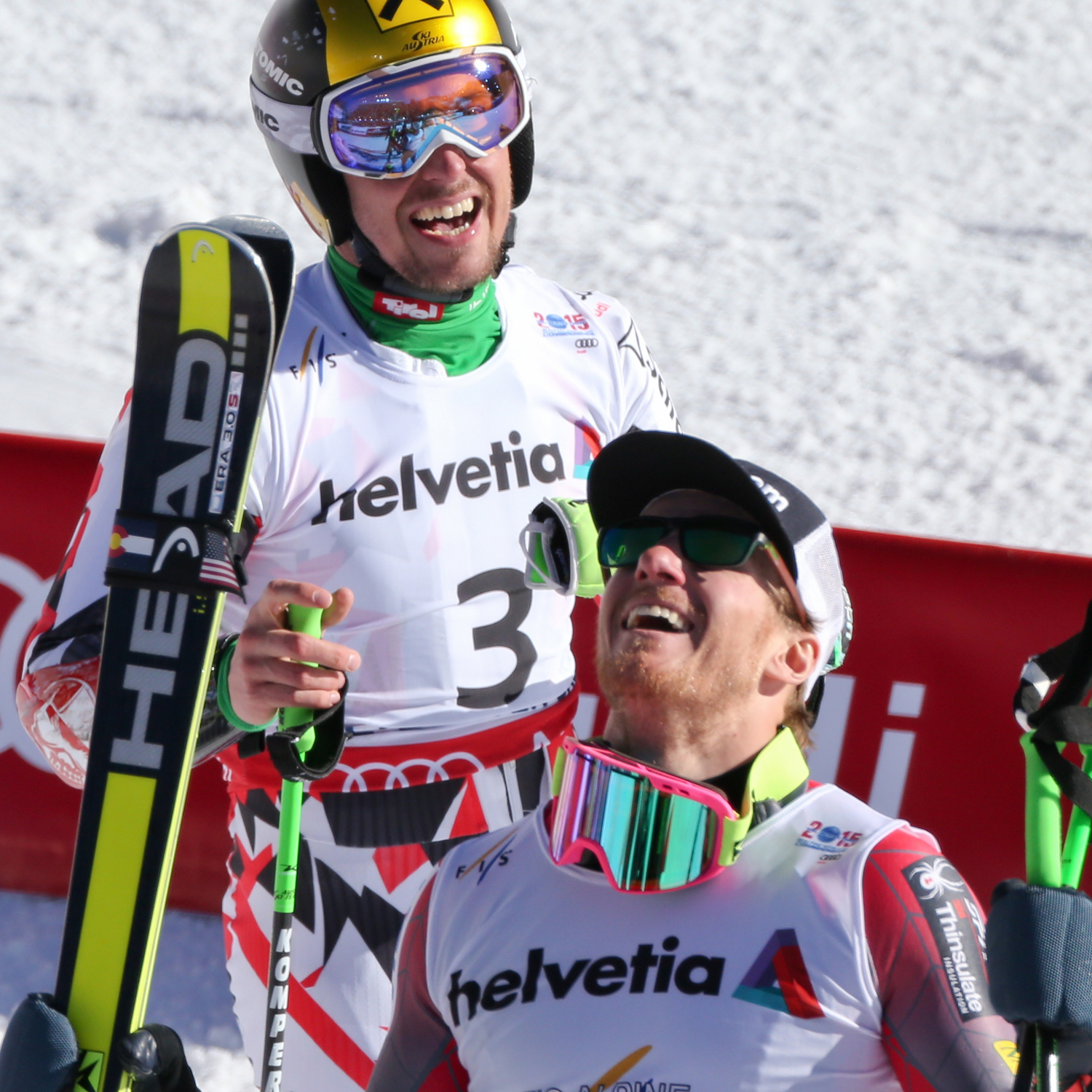 GEPA
This is where the race would be won or lost. Coming off Golden Eagle, you carry speed. But nearing the finish, the course flattens dramatically. One misstep and it's over. This is where Ted had shined.
The final dozen gates were an eternity. Hirscher looked strong as he crossed the finish line.
That's when time went into slow motion. Ligety's eyes remained fixed on the scoreboard. For a second, the whole stadium paused. It seemed like forever for the scoreboard's scrolling wipe to cross the board left to right and post the time. Was it silver for Ted or gold? As Hirscher's time came into view, the words "new leader" failed to appear.
For fans in Red Tail Stadium, the next five seconds were, well, electrical: breathlessness, racing pulses, adrenaline. It was a moment like Ted Ligety had never felt before. This wasn't like 2013 in Schladming or last year in Sochi when he was simply unbeatable. This had been a tough season. He hadn't won since December — his Birds of Prey title the only victory of the season. Now he was world champion again.
It was like a season of pent-up frustration exploded. Ligety lifted his Head skis into the air in exultation. The Red Tail crowd created a din rivaling that of Schladming two years earlier when Hirscher had closed out a rough Championships with a slalom win on closing day.
Today, though, was Ted Ligety's day.