Gear Guide: Global Rescue evacuates member after Swiss ski accident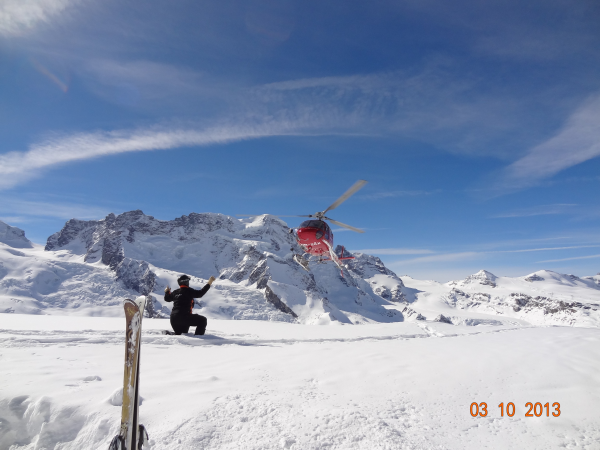 As an experienced skier who has skied in Switzerland for several weeks every year for decades, Global Rescue member Dr. Martin Kosich never imagined he would need to be evacuated from that country in early 2013 due to a freak skiing accident.
"I've been skiing for 30 to 40 years, and then this happened. I've had no incidents at all until this one," said Martin. "My wife and I both bought Global Rescue memberships at the Safari Club International convention a few years ago, never thinking that we'd really need it. We travel to Africa frequently and decided that it was about time. As we get older, the law of averages will catch up with us. The price seemed reasonable, especially the cost for membership including security rescues. We do travel quite frequently to so-called 'dangerous places' that are politically unstable, so I had no real objection to spending money for something that appeared so comprehensive. Little did I know just how comprehensive a Global Rescue membership is."
The accident occurred in Zermatt, Switzerland, when the edge of Martin's ski inadvertently caught on ice. His binding did not release and Martin went down on the ice, hitting his left hip and sustaining a comminuted fracture, with the bone crushed in multiple places. He was in a great deal of pain, more than he had ever experienced in his 73 years. As a retired surgeon, he understood that with a fracture so serious in nature, he could "bleed out" into the hip. His leg was swelling quickly.
"My wife got out her Global Rescue card and immediately called the number on the back.  Without one bit of hesitation, Global Rescue said, 'Ok, we'll send a team to help! We'll be there.' It was like magic. A helicopter arrived and before I knew it, I was landing on the roof of a hospital in the Swiss town of Visp. It was 25 minutes from the accident site, which occurred at 12,000 feet and was a 2 ½ hour non-stop ski run to the nearest town.
"I would not have been able to make that trip in a rescue sled, bumping along down to town then riding a couple of hours to the nearest hospital. I would have 'bled out' by that time and would not be here to tell the story. There are no words to express the angst that was taken off my mind and body by Global Rescue's performance. I was in a strange country thousands of miles from home, unable to communicate and not knowing where to go or what to do."
Martin's fall happened mid-morning and within hours he was in the operating room, where doctors performed surgery.  Global Rescue deployed two critical care paramedics to Martin's hospital bedside.
"It was a great thing. These able-bodied and knowledgeable Global Rescue paramedics came immediately to my room. They introduced themselves, briefly examined me mentally and physically, and went right to work collecting all of the accumulated medical records. They met with the medical staff and reported it all back to me and to Global Rescue's team of doctors for their assessment and development of a plan for my recovery."
Once Martin had gained enough strength — he had lost better than three-quarters of his blood – he was deemed fit to be transported home.
"Because Global Rescue's paramedics had spent a great deal of time with me in the hospital, they learned from our conversations about my love of German food. On my last night in the hospital, the paramedics really surprised me by bringing a warm lamb dinner, my favorite dish, from a local diner. That really gave me the strength I needed."
Global Rescue had coordinated Martin's transportation by ambulance from the hospital to the airport, with Global Rescue's paramedics accompanying him every step of the way.
"My wife felt enough confidence in Global Rescue's paramedics to be able to bring herself to leave with our ski group, at my insistence. Global Rescue kept in constant contact with my wife during this whole episode, keeping her informed of our progress and position.  When we left Lucerne, they told her they'd call from Heathrow in London. My wife appreciated that."
Once the flight arrived in New York, the paramedics successfully drove five hours through a blizzard and delivered the member to the Columbia Hospital in New York, where his admission had been pre-arranged.
"We arrived about midnight and the paramedics placed me on a gurney, took me to my room, placed me in bed then said 'mission complete.' They shook hands and departed."
Martin, who is finally walking without a crutch, expressed his appreciation for the Global Rescue paramedics and everyone at Global Rescue's operations centers who contributed to his successful repatriation.
"It's all because of Global Rescue. It was well worth the money and way beyond it. Global Rescue's performance was terrific. I can't say enough about it. Without Global Rescue, I wouldn't be here today."
Release provided by Global Rescue