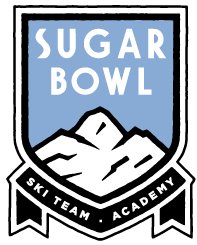 Sugar Bowl Academy
PO Box 68
Norden, CA 95724
P: (530) 426-1844
F:(530) 426-1860
Email Contact:  Director of Admission, Bryce Hubner, at [email protected]
Founded:  1998 by Tricia Hellman Gibbs
Sports Offered: Alpine Racing, Nordic & Freeride
Ages: Full Year Program: Grades 8-12, Winter Term Program: Grades 6-9
Program Length: Full Year, 6 Mo. Winter Term, 4 Mo. Winter Term
Application Period:  May 15 Deadline for tuition discount; after May 15, rolling admission
Staff/Student Ratio:  1:6, average class size is 8
Cost: Full-year boarding, $39,050; full-year day, $21,285; winter-term boarding, $28,825; winter-term day, $15,750
Scholarships:  A large Sugar Bowl Ski Team & Academy community helps provide a substantial need and merit-based aid program for SBA tuition assistance. Approximately 45% of SBA students receive a total of more than $300,000 in financial support annually. Our goal is to make SBA available to families from every financial background.
Head of School: Tracy Keller at [email protected].
Director of Athletic Programs: Bill Hudson at [email protected]
Academic Strengths:
Exceptional college placement.
Comprehensive, rigorous college preparatory curriculum that includes AP classes, lab sciences, foreign languages, and fine arts electives.
Graduation requirements meet or exceed entrance requirements for all selective four-year colleges and universities.
An all-inclusive college-counseling program, which includes standardized test preparation, development of the college list, and a specialized course during Senior Fall for completion of college applications.
One-to-one iPad program and additional technological resources that enhance on-campus instruction and facilitate distance learning while students are traveling for competition and training.
An experiential education program, including a spring trips program wherein students travel throughout the U.S. and abroad for a variety of practical and experience-based curricula.
Faculty members with exceptional academic credentials, most with advanced degrees in their content areas and/or education.
An academic program designed to allow for the highest level of academic and athletic achievement, specifically geared to student-athletes with extensive travel and competition schedules.
Head Coaches:  Head Men's Alpine Coach, Jeff Kai; Head Women's Alpine Coach & Director of Sports Science, Katharina Golik; Head Alpine U16 Coach, Bryce Hubner; Head Nordic Coach, Martin Benes; Director of U14, U12, U10 and Development Programs, Jim Hudson; Head Freeride Coach, Trevor Tanhoff.
Coaching Staff: U21-U14 alpine coaching staff includes Allie Ace, Brandon Craven, Devin Gill, Alixandra Klein, Dan Loman, Gladys Weidt and Quincy Young.  Nordic coaching staff includes Caitlin Curran, Jeff Schloss, and Ambrose Tuscano.  Athletic Trainer, Sarah Gley.  Directors of Athlete Conditioning, Douglas and Candice Brooks.
Training Facilities: Exclusive race arena at Sugar Bowl Resort complete with high speed lift, snowmaking, and a surface-control watering system. Cooperative relationship with Sugar Bowl Corporation, allowing for training on widely varying terrain as well as full-length Super G. Open boundary and terrain park at Sugar Bowl Resort provide numerous opportunities for Freeride skiers. Cooperative relationship between Royal Gorge and Auburn Ski Club provide several Nordic venues within a short distance of campus.
Comments:
Sugar Bowl Academy just completed a $13 million new campus project, which includes:
a new academic building designed for 75+ student-athletes, housing 8 classrooms (with two state-of-the-art science labs)
a co-ed dormitory for 33 student-athletes
a joint-use strength and conditioning center in Sugar Bowl Resorts' new Sporthaus.
Sugar Bowl Academy inspires and empowers passionate, competitive skiers, setting the stage for highly motivated students to seek and celebrate challenge with grit, grace and courage. We are an athlete-centered, community-based program designed to provide the very best athletic and academic opportunities for our students.