Underdogs no longer, Nordic Combined Team continues to work hard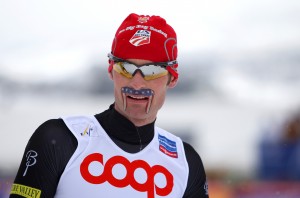 When Bryan Fletcher first made the U.S. Ski Team in 2004, its history was devoid of much success of any sort.
The US Nordic Combined team will arrive at Sochi for this season's Olympics with favored status. In 2004 that would have been joke material. Today, its fact.
It has been a busy summer, understates Fletcher. He has taken no vacation and is completely focused on training and improvement in his sport. As the summer ends, he concludes: "I'm looking forward to getting more serious."
The attitude in the team has changed since 2004 and Bryan has been right in the middle of that transformation.
When he arrived, he said, "It was a perfect dynamic to fit into. We had some very strong players from the get go, but it was perfect for me to step into. There were guys who could give me advice. It was a unique situation and I was lucky. As they took off they pulled us younger guys with them."
Today, he says, there is no shortage of bootstraps for new skiers to hang on to. As the winner of the famed Holmenkollen World Cup and a medalist at last season's World Championships Fletcher now does his fair share of pulling.
"The ability gap has been bridged, the pipeline established. There wasn't much there and now it is big and fully established. Now we have juniors stepping on our heels every day."
That old saw about "getting to the top isn't hard, staying there is," has now struck home. To make waves in Sochi is going to take a special effort, but then that's what these guys have been giving all along.
"We were the underdogs and we're not that anymore."
"We've been training hard and we want it bad," says Fletcher of Olympic medals in 2014…. "but everybody else does, too. I think our team does well under pressure. We have great supporters and a lot of momentum. I think it is possble and that's where we're setting our sites."
The summer training has been, he says "brutal." The team has been taken out of its comfort zone, but the result has been positive. "I think the whole team is in a better place than we were a year ago. It is exciting to know we're already ahead of last year and it's only August," says Fletcher.