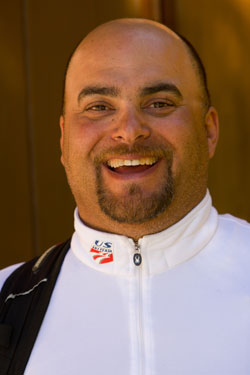 Kitzbuhel is a special week.
There is simply nothing like it anywhere in the world with regard to a ski race. I can talk about it for a year. For the last 8 years, the ski team has always left Wengen and headed for Kitzbuhel. Depending on your individual assignment, you head out of Wengen at different times. The DH boys leave after the first run on the slalom on Sunday and go straight to Kitzbuhel and check in to the Goldener Greif Hotel. The tech guys have normally stayed over in Wengen and left on Monday morning. We have stayed there every year in recent memory and they always welcome us; a home away from home, no doubt. It is in a very old building in the wall of the Alt Stadt in Kitzbuhel. Outside, an oversized American flag hangs to identify our presence and they short-lived allegiance. In the past, we have always raced an FIS GS at Kirchberg, 10 minutes away on Tuesday and Wednesday and then, night slalom at Westendorf, 20 minutes away on Thursday night. This year there is a FIS GS in Kirchberg on Wednesday and then the Westy SL on Thursday night. Kirchberg is really fun. They do a great job with the race and most non downhill world cup guys' race, Westendorf is even better. On Thursday night they have about 15 or 20 of the top 30 World Cup slalom boys and even more ranked below that. If you have 15 FIS points, you are lucky to start in the top 50. They normally inject the hill and put on a big show. They have prize money, a VIP tent, music and big trophies; as well as almost 5000 spectators. It is a lot of fun for everyone. All of the World Cup fun without the World Cup pressure.
Let's go back to last season when I was with the DH team. We drove from Wengen with Kitzbuhel as the target. When we got there and checked in, the town was getting ready. We checked into the hotel and took Monday off. Tuesday we went up to check out the hill and got ready for the training run on Wednesday. I had been on the hill a number of times until then but always as a guest, this time I was looking at it with the helpful eye. My section was Carousel to Steilhang. So I could see the start, The Mausfalle and then my section. Total insanity for the first 20 seconds. Fantastic action to be sure and I saw some amazing things. I saw Ted walk out of his right ski entering carousel and then watched him ride it out on his left foot. He skied it, all on the left foot going 60 or more MPH, again defining that your one -ski skills are important not only to be great, but also to save your body.
I cannot tell you the visual sensation of being at the top of the Hahnenkamm. I cannot express in writing how it feels to be at the top of the most famous downhill in the world. "The Streif," the place that means the most to every ski racer who ever cared enough to try. The sport is difficult, it takes guts. Even slalom takes guts. But when you see this start house, and the left footed fall-away to the right foot to the Mausfalle and you are standing there in the gate, it is terrifying, and exhilarating at the same time. A few years ago I pushed out of the start just to see what it is like and I was not thrilled with my ability to deal with it at all. But regardless, it is cool and there is a lot of action right away. Left foot, right foot, jump the Maus, fly 40 meters, land, compression, roll, right foot (you hope), roll, compression, left foot bank turn called the Carousel with a nasty fall-away exit left foot. It is gnarly. Then the Steilhang (major pitch) turning to the left and then another nasty left foot fall away to exit the Stielhang that requires total precision to carry speed onto the road. You go on the road for about 20 seconds and then break out onto the Alte Schneise where you jump again and land on a right -foot side-hill, then another little jump into the Seidlalm area and into the Larchenschuss which is a little "S" bend through a grove of Larch trees. When you come out of the trees having nailed the tough tempo and turn shape in the Larchenschuss you tuck straight again into a compression in to the Oberhausberg which is a big, wide section with SG type turns. And now, at about 1 minute 30, it's wake up time. The Hausberg Jump is big, and cool. You go under the Red Bull Banner/Arch and jump…seemingly into the town, you land facing almost 2 O'clock on a clock face and have to turn back to about 10. Tough is not really a fair description. Gravity wants to pull you to the right and you need to go left. Gravity wants you to shoot through the A Net and into the valley and you need to go left. You land, hit the right ski and stick to it hard, just as you think you have it nailed, and you notice you are seeing only 2 things, a wall of snow in front of you and the sky. You skip off the wall of snow and land on the biggest right foot side-hill you have ever seen. After you skip you search for the snow with your feet, you have not landed yet and know you need to be as high to the left as possible. Then you start bouncing over huge rolls, the size of small cars, as gravity still pulls you down to the right and you STILL need to go left. Bouncing, skipping, and seeing your skis in your face. It is total adrenaline and even more fun. Then it quickly bends to the right and uses the fall-line you have been fighting for 10 seconds and you accelerate down the Ziel Schuss pushing 140 kmh. Then off the Ziel Sprung, the jump that has seriously injured so many athletes over the years and into the finish. It's an incredible feeling. I hope I did it a little justice. One more reason the race is so cool, when you are a Hahnenkamm Champion, you get your name on a Gondola car…forever. With a little plaque inside with all of your accomplishments on it. I have always waited for Daron's to come around on my first ride in Kitz. I also wait for Bob Cochran's (his name is spelled wrong BTW) and sometimes I even wait for Chuck Ferries. But I try to always wait for an American flag to come around the horn before I get on. Bode already has a gondola for a Kombi, but I want to wait to ride on the Bode gondola when he wins "The Race."
Last year I brought a friend of mine, Keefe Gorman, over to Kitzbuhel along with some of his family. Keefe and I skied together at St.
Lawrence and he was a very accomplished skier. He qualified for NCAA Championships a few times, so he knows what he is doing. I got Keefe a piste-pass so he could come to inspection on race day, and he was totally blown away by the experience. He has always been a fan and an active participant in the sport. He had no idea what it really looked like. It totally blew him away. My only advice is that if you are truly a fan of this sport, you need to go to Kitzbuhel once. And if you can swing it, stay for Schladming night slalom too. Both are crazy. The Austrian press is saying that 72,000 spectators are expected for Kitzbuhel. In the past, 60,000 has been the norm with about 100,000 in town. So another 12,000 should make for an amazing scene. There have been as many as 40,000 people at the prize giving for the Downhill. As I said earlier, I could talk about this race forever. What I have seen, the luminaries who show up, the incredible guts of the athletes. It is simply "The Race."
I would be remiss if I did not mention how proud I am that two (2) Mission Ridge Ski Team athletes have been named to the World Junior Championship Team. Colby Granstrom and Brooke Wales are both on the named team headed to the Mont Blanc Region of France. Colby has been with the USST D Team for a couple of years and Brooke is still skiing out of Mission. We wish them both the best of luck and hope they enjoy themselves as they represent Mission Ridge, Wenatchee, Washington and the United States over the next couple of weeks!
Do I need to make a prediction?
SG: No IDEA!
DH: Miller finally wins the big one! Cuche, Janka
Click here to go to Alpine Race Consu
lting
Greg "Grande" Needell grew up ski racing at Stratton Mountain, Vermont. After graduating from SMS he skied for NCAA Division 1 St. Lawrence University in Canton, NY where he was co-captain in 1986. Greg returned to SMS to coach there for five years serving as the Head Women's Coach as well as the Head J2 Men's Coach. He then moved to Mission Ridge in Wenatchee, Washington in 1992 to become the Program Director and Head Coach of the Mission Ridge Ski Club. In 1997, Greg became the Head Coach at Mammoth Mountain, California.
In 2002 Needell was asked to join the U.S. Ski Team staff as a World Cup SL and GS coach. From 2002 to 2008 Needell helped lead the U.S. Ski Team Men to 43 wins, 105 podiums and 264 top ten finishes. Now at the helm of Alpine Race Consulting, Needell offers his knowledge and experience to clubs nationwide.