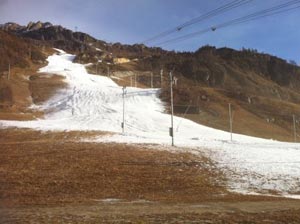 Women's World Cup super combined and super G races scheduled to take place in Val d'Isere, France next week have been canceled due to a lack of snow in the French Alps.
International Ski Federation (FIS) officials were on site today and determined that, despite a tremendous effort to make enough snow, there is not enough time to build a suitable course.
The World Cup men are also scheduled to come to Val d'Isere for tech races Dec. 10-11. A decision has not yet been made if those races will be possible.
The idea to reschedule both the women's and men's events in the United States, since both tours are currently in North America, was explored but FIS officials announced last night that bringing the women's races back to Aspen was logistically impossible. There still exists a possibility that the men's tour will stay put in Beaver Creek, Colo, where they race this weekend, to hold the races planned for Val d'Isere.
Image by A.I.J.S.