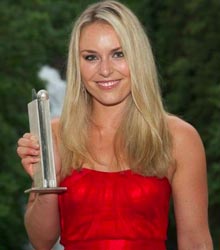 American ski racing star Lindsey Vonn took a break from her intense training in Austria to be honored in Bernese Oberland, Switzerland over the weekend with the 2011 Preis Herbert award, becoming the first woman recipient in the award's 10-year history.
Vonn, a three-time World Cup overall champion and Olympic gold medalist, also became the youngest person to ever receive the award as well as the first non-European.
The award, presented in honor of the late Herbert Gossweiler who was the long-time chief of Gossweiler Media AG, is presented annually to a public figure who has promoted the alps through their work in the media.
A selection jury singled Vonn out for her efforts in promoting her sport at home in the United States and across the world. Fluent in German, Vonn has gained many fans in Europe and has an international Facebook following of more than 300,000 people.
"I feel incredibly honored to have won such a prestigious award," wrote Vonn to her digital fans. "Now back to training in Innsbruck."

Previous recipients of Preis Herbert
2010: Marc Forster, Hollywood Director
2009: Samih Sawiris, Ski resort developer, entrepreneur
2008: Claude Nobs, founder of Montreux Jazz Festival
2007: Franz Beckenbauer, Football legend
2006: Dr. Hanspeter Danuser, Former Director of Tourism St. Moritz
2005: Willy and Sonya Bogner, Fashion designer and Film Director
2004: Stephan Eicher, Swiss Musician
2003: Reinhold Messner, Mountaineer and Author
2002: Prof. Dr. Klaus Schwab, Founder of World Economic Forum
2001: Bernhard Russi, Former Ski racer, TV Commentator