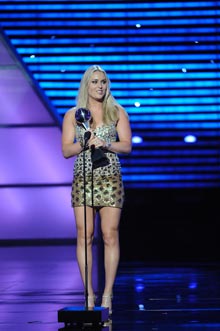 American Olympic and World Champion ski racer Lindsey Vonn captured the Best Female Athlete ESPY for a second straight year Wednesday edging X Games halfpipe champion Kelly Clark and a pair of WNBA stars.
"Wow, thank you so much this means so much to me." said Vonn, who in 2010 became the first skier, male or female, to win a top individual ESPY awarded by the ESPN network. "I want to thank everyone who has helped me along the way – my husband for putting up with me, my coaches, family and fans – thank you so much, you mean the world to me."
Vonn then instantly moved the crowd of athletes and celebrities to laughter as she took the opportunity to up her Facebook fan tally by throwing a shout out to pop star Justin Bieber.
"Oh and Justin Bieber, will you take a picture with me for my Facebook page," she joked.
The award comes after a 2011 season that included three more World Cup discipline titles to bring her career total to 12 – more than any other American skier – male or female. She also boosted her career World Cup win total to 41, another U.S. record, and captured a silver medal in downhill at the 2011 FIS Alpine World Ski Championships.
The honor, presented by NFL star Tim Tebow and supermodel Brooklyn Decker, was given in the name of tennis great and Title IX pioneer Billy Jean King for the strides she made for women in sport.
It was Vonn's career third ESPY and her fourth major 2011 recognition outside of alpine skiing.
Earlier this year, she became the youngest, first woman and first non-European to win the Preis Herbert presented annually to a public figure who has promoted the Alps region through their work in the media. Additionally, she captured the 2011 Laureus World Sport Award and Nickelodeon Kids Choice Award for Favorite Female Athlete.
Next up for Vonn are the 2011 Teen Choice Awards set for August 7 at 8 p.m. ET on FOX. Vonn is nominated in the Female Athlete category. Popular vote determines the winners and fans can vote once per day, everyday at www.teenchoiceawards.com.
Image by ESPN, Inc.