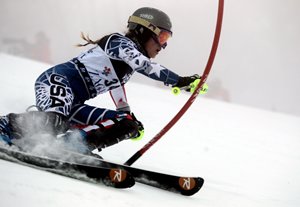 The women of U.S. Ski Team have come off a particularly solid early New Zealand training camp according to head coach Alex Hoedlmoser and he says he feels "excited," and "psyched" for the up coming season.
"We had unbelievable conditions," in New Zealand, said Hoedlmoser. A storm that preceded the women's camp at Cornet peak provided plenty of snow to work with and the staff was able to "inject about half of Cornet Peak with water."
With three separate training hills, all injected to World Cup standards, the team was provided with a large variety of terrain and conditions. "We got in a ton of runs," the coach said.
The camp was based in fundamentals and focused primarily on the technical side of the sport. "We sent the speed girls out a few days to free ski and get the wind in their face a little bit, but the whole camp was technique. We started with a lot of drills and then moved into the gates and by the end of the camp we saw a lot of changes. They were skiing with some really solid positions, which was a goal," Hoedlmoser said.
Although there were a handful of races available, the team shunned them, mostly based on past experience. "Racing wasn't a goal. In the past we found those jumping in those races actually had the camp in their legs and didn't really benefit. In order to have had results we would have had to pace them a bit in camp, and we didn't want to do that."
The women's group won't get long to rest, the speed group is off to Portillo, Chile this coming weekend to start two weeks of super G and downhill training. Then they move to Valle Nevado, Chile where they'll be joined by the rest of the team.
All and all Hoedlmoser is pumped. "We have a really strong speed team right now with a lot of girls coming up. … And they proved already last season they can ski in the top 10. Every single one has a top 10."
The tech side took some media abuse last season for its lack of results, but Hoedlmoser says he thinks the squad will rebound nicely.
"The results weren't there," he freely admits. "We had been training well, but there was always something missing. Little things. We were really close. Sarah (Schleper) was skiing really well, was on the edge of making top three results. I felt like we had to do something, so we made some changes. We have a new training philosophy right now and a very positive team environment."
The coach said the shift in team atmosphere may have come at just the right time. "We have (Mikaela) Shiffrin coming up, a very young and very talented skier. These were her first camps with the big guns and she has been doing very good and is enjoying the group."
He said Schleper had been so close so many times last season he was encouraged she would provide some momentum this season, and added that Resi Stiegler should not be overlooked. "We have to remember Resi hasn't been racing for a couple of years. Last year was a come back season and we couldn't expect too much. This year she is healthy and motivated. She's skiing well and having fun. I'm expecting quite a bit out of her."
A bonus, to the coach's mind, is the re-establishment of a true Europa Cup team. "I'm really excited about that," he said, "The last few years we haven't really had a Europa Cup team. I'm really, really happy that we have that team back and (Europa Cup coach) Trevor (Wagner) is an experienced coach and knows what's needed at the higher levels."
Gepa photo of Resi Stiegler