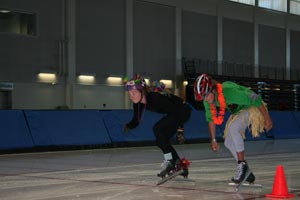 As the hot Utah sun pushed temperatures well into the 90's last week, the women of U.S. Alpine Ski Team hit the ice of the Utah Olympic Oval to cool off in the middle of a five-day physical testing and training block.
The team gathered at U.S. Ski Team headquarters in Park City, Utah last week ahead of on-snow preseason camps in the southern hemisphere. The camp was built around an unconventional, three-day team triathlon competition that put three teams of athletes head-to-head in a trail run, speed skating time trials and a road bike hill climb.
"We are finishing off and endurance block so the conditioning is focused on aerobic methods right now," said U.S. Ski Team strength and conditioning coach Ernie Rimer. "We want to train the athletes so they can train in their fall camps in New Zealand and Chile and Europe, because the volumes there are so high. We want the athletes to be able to recover and survive the heavy training. Because those camps are when the athletes experience the highest density of skiing throughout the year."
Coaches threw an additional twist of fun into the triathlon competition by assigning each team of athletes a state to represent and requiring them to produce homemade uniforms in the theme of their team states. Team Hawaii took to the ice in plastic flower leis and grass skirts. Team Texas went for the rodeo queen look in sashes and evening dresses. Team Louisiana opted for a feathery masked Mardi Gras theme and the coaches did their best Reno 911 impersonation for Team Nevada.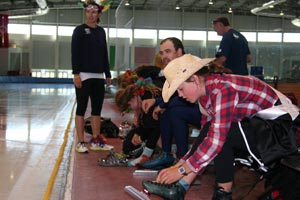 "It's awesome, I've never been on speed skates before," said Wyoming native Resi Stiegler, representing her adopted home on Team Hawaii. "I grew up playing hockey so I'm pretty comfortable on the ice but the long skates make it pretty sketchy, every time you start to feel confident on them you almost crash, but it was fun."
Stiegler, who is taking advantage of her first full summer of training in three years following a chain of injuries, enjoyed the new challenge with her teammates.
"I think stuff like this is really good. I like to ski a lot but it's also good to get away," said Stiegler. "It's good to get your mind thinking differently and work on your hand-eye coordination in new ways. It just makes you a more well-rounded athletes and well-rounded athletes are usually the best. If you look at Bode, he can pretty much dominate in like four sports against other athletes."
Rimer designed the customized triathlon to prepare the women for the rigors of the upcoming on-snow training.
"Every year when we get to our first camp, the loads are so strong it becomes a challenge for the athlete to go day after day and by the end of the camp a lot of them are pretty tired and worn out," said Rimer. "With testing and all of the triathlon events, these athletes are pushing five days in a row and the purpose is for them to calibrate their recovery methods in the afternoons with physios, ice baths nutrition and hydration so that when they show up to New Zealand, it's in their minds and they know what they need to do to get through the entire camp so they have high-quality training the whole time."
Team Texas took the golden globe trophy (a basketball coated in spray paint) with a come-from-behind win in the Big Cotton Wood climb bike race after standing third following the first two events.