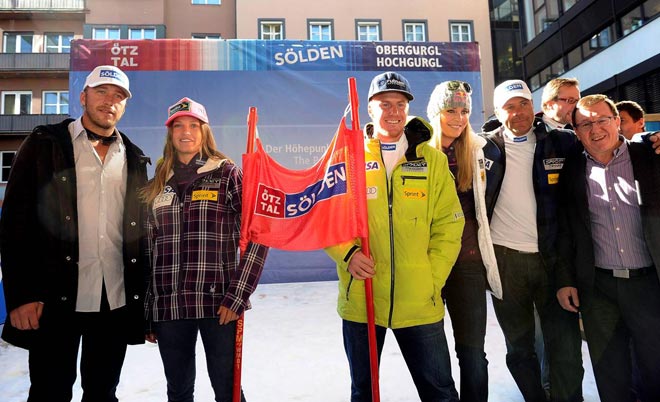 SOELDEN/OBERGURGL-HOCHGURGL, Austria – The Austrian resorts of Soelden and Obergurgl-Hochgurgl were announced as a U.S. Ski Team partner Friday (Oct. 10) afternoon during a special event in downtown Innsbruck that featured Olympic champions Bode Miller, Lindsey Vonn, Ted Ligety and Julia Mancuso.
The three-year agreement – announced one week prior to the Audi FIS Alpine World Cup opener in Soelden – names the resort as the official European Training base for the men's alpine through 2014, including lodging for athletes and athletic staff. It also includes logo placements on Spyder uniform turtlenecks: Soelden for men's and Obergurgl-Hochgurgl for women's alpine athletes.
We caught up with men's coach Sasha Rearick as he drove back to Soelden from the Innsbruck announcement.
"It's our home," said Rearick. "We've got some apartments just outside of Soelden in a quiet little village that we have all winter. They've built some new injection bars that attach to the (snow) cat that they will use on our training hill. It makes it our home. We have no stress with other teams coming in. Yesterday we got on the hill first. Austria, obviously, has good access, but with other teams coming in, we got on the hill and then the rest got on it in the afternoon."
He said the team will use the facility throughout the season and added the athletes were definitely looking forward to doing some exploring. "Normally we come in here in October and you kind of look around and see the amount of skiing available. The guys are super stoked about free skiing it in the winter. It's something we don't normally get to take advantage of."
At the press conference team Alpine Director Patrick Riml, a native of Soelden, said, "Soelden has a successful history of hosting World Cup races and therefore has all the experience necessary to produce high caliber training venues. Those venues will support the U.S. Ski Team's continued World Cup success and aid in preparation for the 2014 Olympic Winter Games in Sochi."
The Oct. 22-23 Audi FIS Alpine World Cup opener will mark the 14th season that Soelden has hosted the fall kick-off. U.S. Ski Team athletes have experienced success during that period with Miller, Ligety and Mancuso owning World Cup podiums from Soelden.
High in the Oetztal valley, Soelden is an hour drive to Innsbruck and conveniently located within close proximity to several Audi FIS Alpine World Cup tour stops across Europe.
"The mentality of Soelden is about being active and having fun and that's a perfect fit for me and for our team," said Miller. "Plus the amount of skiable terrain in Soelden is unbelievable, which equates to any number of quality training opportunities and amazing freeskiing."
The 2012 Audi FIS Alpine World Cup season opens Saturday, Oct. 22 with women's giant slalom followed my men's giant slalom on Oct. 23. Miller, Ligety, Vonn and Mancuso will be among 12 starters for the U.S. Ski Team.
Ted Ligety training at Soelden today. Gepa photo