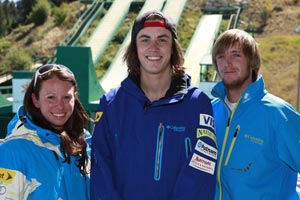 The U.S. Ski and Snowboard Association (USSA) today (Sept. 21) named Columbia Sportswear as the official outerwear provider to the U.S. Freestyle Ski Team in a partnership that will extend through the 2014 Olympic Winter Games in Sochi.
A team of over 40 world class U.S. Freestyle Ski Team athletes, previously in Under Armour outerwear, will switch to Columbia clothing as they put it to use in diverse and challenging competition situations. Columbia plans to gather insight on its products from athletes and coaches, which will it hopes will help develop and hone its winter line.
"We couldn't be more excited to join forces with the U.S. Freestyle Ski Team," said Tim Boyle, Columbia's president and chief executive officer. "The caliber of the athletes and their creativity and innovation on the slopes make this a perfect fit for our brand. Team feedback will also help us build better performing products. It's a win for the USSA and Columbia, and also for our customers."
Under the terms of the partnership, Columbia will be the exclusive official supplier for outerwear, baselayer and hats for moguls and aerials athletes of the U.S. Freestyle Ski Team. The U.S. Freestyle Ski Team has a best in the world legacy, bringing the Columbia brand to International Ski Federation World Cup competitions across a dozen nations from December through March each year.
In addition to outfitting USSA athletes, network broadcast commentators from NBC Sports and Versus (NBC Sports Network) will wear Columbia jackets during national television broadcasts of freestyle events.
Columbia will also be a part of the U.S. Ski Team's consumer merchandising program. As a part of the USSA's "Own the Gear the Athletes Wear" initiative, authentic Team product will be available to fans for the first time ever. The Team's eCommerce platform, powered by TeamFanShop, will launch going into the coming 2011-12 season.
The U.S. Freestyle Ski Team will open its season in early December in Europe. Columbia will be prominently integrated into the Team's primary competitions in America including the Jan. 20-22 Freestyle World Cup in the Olympic village of Lake Placid, NY and the Feb. 2-4 Visa Freestyle International World Cup on the 2002 Olympic venue at Deer Valley Resort in Park City, UT.