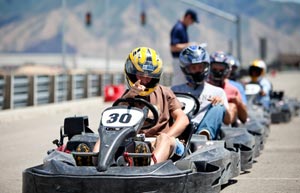 Most of the time, U.S. Ski Team Men's Alpine head coach Sasha Rearick dedicates himself to helping his athletes find the fastest line on a race course. But when it comes to the go kart track, Rearick keeps the best line to himself and guns for his own win.
Rearick, his fellow coaches and about 20 U.S. Alpine Ski Team athletes – gathered this week in Utah for a conditioning camp – ditched the weights and spin bikes Wednesday afternoon and headed to the Miller Motor Sports Park in Tooele, Utah.
After some basic coaching and safety tips, the winter speedsters were let loose on the mile-long, winding track in 4-cycle, compact karts.
"We needed a break between conditioning and fitness testing tomorrow, so we came out for a little driving school and learned about the tactics in a sport that is different but has a very similar approach to ski racing," said Rearick. "It's always good to go and do an exercise that can transfer."
Always on the hunt for ways to shave off a hundredth of a second, the coaches and athletes were quick studies, learning how to read the turns like pro drivers.
"One thing that is very interesting we've learned from Formula One racing is where to look on a turn," said Rearick. "It was amazing after they showed us some examples, I picked my head up and started looking at those places and felt how much easier it was. So hopefully the guys can bring that back into skiing."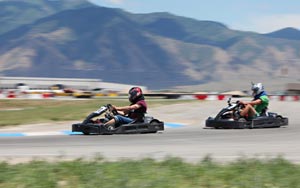 Of course, putting 20 competitive ski racers on any kind of track will lead to some rivalry.
"We came out here last year too but it wasn't as serious as this year, we're out for blood," said downhill specialist Steven Nyman. "It's similar to downhill because you run the same course over and over and see where you can really push it."
Only a few weeks away from the start of their pre-season, on-snow training in New Zealand, the outing also served to unite the team and enjoy some time together before the onset of the intense, stressful season.
"It's always good to get together and have some fun as a team," said Rearick. "We all get to meet some of the new guys and welcome them and start learning things together before the season gets too crazy."
Images by Julie Shipman