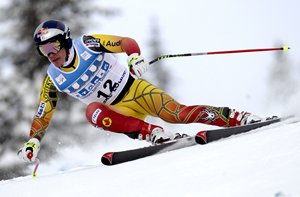 Erik Guay gave the home standing Canadians reason to heighten their always evident optimism by finishing the final training run of the Lake Louise Winterstart downhill Friday (Nov. 25) with the second fastest time, behind only Frenchman Adrien Theaux. Swede Hans Olsson posted the third fastest time.
"The key word," said Guay, "is training."
True enough. Friday's "race" doesn't count for anything, though there were a few skiers looking to ski their way into Saturday's race, the first downhill of the 2012 World Cup season. Asked what he had learned from his run – four and seven tenths seconds out from Theaux's clocking – Ted Ligety cracked a smile and responded, "I learned I'm not racing tomorrow."
Not with the showing from the rest of the U.S. group, helped no doubt by Ligety's course report. Despite some less than ideal start numbers, the group clocked in well. In a bunch start Erik Fisher went from 36th to 20th Marco Sullivan from 38th to 14th and Travis Ganong sparked from 39th to eighth. In addition Wiley Maple started 49th and moved up 11 slots to 38th.
Bode Miller finished 26th. Ryan Cochran-Siegle had a strong run from the 72nd start to tie Maple in 38th and Ace Tarberry, skiing from the 81st position when weather had deteriorated at the top of the hill, finished a creditable 55th.
"It was," said head men's coach Sasha Rearick, "a good step forward. It was better skiing, but we still have work to do."
There was snow falling throughout the race and though the sun did create shadows sporadically during the day it was cold (-8c) and more critical to the outcome, it was windy with gusts that hit some racers head on and pushed others along. By the end of the 83 starters, the top third of the course had socked in with fog and swirling wind.
Guay said he had gotten "a little tailwind," and added "there was a lot of loose snow in the flats. … There was a lot of stuff going on, so as far as a good result on race day, I'm not setting my sites too high."
With the rest of the Canadian group all down the finish order – Robbie Dixon was respectable in 36th
and Ryan Temple climbed from the 73rd start to post the 43rd fastest time – most improving minimally or not at all on their start numbers – Guay was a popular guy in the press corrall. But learning he had a bigger objective than a win Saturday caused some pause.
After his back had reacted poorly to the first training run, he said, he was a touch surprise to find himself so relaxed on course Friday. "My objective is to walk away on Sunday with my back feeling good," he said. "It's a long season."
Erik Guay photo by Gepa
Place
Lake Louise (CAN)
Discipline
Downhill
Date
25.11.2011
Category
Training
Race codex
0254
Gender
M
Valid for FIS Points
NO
TD Name
Van Slyke Paul (USA)

OFFICIAL RESULTS – THIRD TRAINING
Rank
Bib
FIS Code
Name
Year
Nation
Total Time
1
9
192746
THEAUX Adrien
1984
FRA
1:50.25
2
12
102263
GUAY Erik
1981
CAN
1:50.32
3
27
501076
OLSSON Hans
1984
SWE
1:50.67
4
25
51327
PUCHNER Joachim
1987
AUT
1:50.87
5
20
51215
BAUMANN Romed
1986
AUT
1:50.92
6
45
53817
FRANZ Max
1989
AUT
1:50.97
7
10
421328
SVINDAL Aksel Lund
1982
NOR
1:51.01
8
39
530874
GANONG Travis
1988
USA
1:51.06
9
48
50742
REICHELT Hannes
1980
AUT
1:51.11
10
14
511383
FEUZ Beat
1987
SUI
1:51.18
11
40
53837
KRAMER Manuel
1989
AUT
1:51.26
12
47
53981
KROELL Johannes
1991
AUT
1:51.42
13
11
560447
SPORN Andrej
1981
SLO
1:51.45
14
38
533131
SULLIVAN Marco
1980
USA
1:51.61
15
5
201606
KEPPLER Stephan
1983
GER
1:51.62
16
29
292514
HEEL Werner
1982
ITA
1:51.63
17
31
421483
JANSRUD Kjetil
1985
NOR
1:51.64
18
43
200379
SANDER Andreas
1989
GER
1:51.66
19
44
511142
LUEOEND Vitus
1984
SUI
1:51.69
20
35
534939
FISHER Erik
1985
USA
1:51.71
21
6
191740
CLAREY Johan
1981
FRA
1:51.76
22
4
510767
HOFFMANN Ambrosi
1977
SUI
1:51.81
23
1
192932
FAYED Guillermo
1985
FRA
1:51.84
24
8
511313
JANKA Carlo
1986
SUI
1:51.86
25
13
511139
KUENG Patrick
1984
SUI
1:51.97
26
18
50753
KROELL Klaus
1980
AUT
1:51.98
26
15
532431
MILLER Bode
1977
USA
1:51.98
26
7
292455
FILL Peter
1982
ITA
1:51.98
29
26
291459
PARIS Dominik
1989
ITA
1:52.03
30
23
511529
GISIN Marc
1988
SUI
1:52.10
31
65
191964
POISSON David
1982
FRA
1:52.11
32
16
510030
CUCHE Didier
1974
SUI
1:52.33
33
52
561087
MARKIC Gasper
1986
SLO
1:52.42
34
63
294277
KLOTZ Siegmar
1987
ITA
1:52.44
34
34
201811
STECHERT Tobias
1985
GER
1:52.44
36
24
191591
BERTRAND Yannick
1980
FRA
1:52.46
37
36
102961
DIXON Robbie
1985
CAN
1:52.54
38
72
6530319
COCHRAN-SIEGLE Ryan
1992
USA
1:52.58
38
49
930024
MAPLE Wiley
1990
USA
1:52.58
40
62
561216
KLINE Bostjan
1991
SLO
1:52.60
41
68
53902
MAYER Matthias
1990
AUT
1:52.64
42
3
560332
JERMAN Andrej
1978
SLO
1:52.68
43
79
102403
SEMPLE Ryan
1982
CAN
1:52.69
43
17
510890
ZURBRIGGEN Silvan
1981
SUI
1:52.69
45
22
380260
KOSTELIC Ivica
1979
CRO
1:52.78
46
66
510747
GRUENENFELDER Tobias
1977
SUI
1:52.80
47
69
51401
GRAF Bernhard
1988
AUT
1:52.82
48
57
561067
PERKO Rok
1985
SLO
1:52.84
49
51
180570
ROMAR Andreas
1989
FIN
1:52.85
50
19
293006
INNERHOFER Christof
1984
ITA
1:52.96
51
64
103090
HELIE Louis-Pierre
1986
CAN
1:53.00
51
37
530939
WEIBRECHT Andrew
1986
USA
1:53.00
53
42
293550
MARSAGLIA Matteo
1985
ITA
1:53.04
54
61
103656
HALBERT Kelby
1990
CAN
1:53.05
55
81
531156
TARBERRY Ace
1988
USA
1:53.07
56
55
100558
COOK Dustin
1989
CAN
1:53.14
57
30
50858
STREITBERGER Georg
1981
AUT
1:53.20
58
53
380292
ZRNCIC-DIM Natko
1986
CRO
1:53.29
59
46
500150
JAERBYN Patrik
1969
SWE
1:53.32
60
21
510727
DEFAGO Didier
1977
SUI
1:53.36
61
60
54005
STRIEDINGER Otmar
1991
AUT
1:53.37
62
32
50625
RAICH Benjamin
1978
AUT
1:53.40
63
54
202059
FERSTL Josef
1988
GER
1:53.43
64
2
102873
KUCERA John
1984
CAN
1:53.46
65
67
103385
PRIDY Conrad
1988
CAN
1:53.55
66
56
294911
PATSCHEIDER Hagen
1988
ITA
1:53.62
67
78
191746
DE TESSIERES Gauthier
1981
FRA
1:53.67
68
41
510993
ALBRECHT Daniel
1983
SUI
1:53.71
69
58
103271
THOMSEN Benjamin
1987
CAN
1:53.94
70
75
511352
VILETTA Sandro
1986
SUI
1:54.00
71
73
561085
KRIZAJ Andrej
1986
SLO
1:54.02
72
50
990081
CASSE Mattia
1990
ITA
1:54.08
73
77
380298
SIROKI Tin
1987
CRO
1:54.11
74
70
194190
ROGER Brice
1990
FRA
1:54.14
75
84
421650
BJERKESTRAND Iver
1987
NOR
1:54.17
76
59
531452
BIESEMEYER Thomas
1989
USA
1:54.31
77
80
220874
BALDWIN TJ
1990
GBR
1:54.53
78
76
220695
CRAWFORD Douglas
1987
GBR
1:54.58
79
82
531799
FORD Tommy
1989
USA
1:54.79
80
33
534562
LIGETY Ted
1984
USA
1:54.95
81
71
534289
FRANK Chris
1983
USA
1:55.01
82
85
380318
BRIGOVIC Sebastian
1992
CRO
1:57.41
83
83
400016
WANDERS Arjan
1978
NED
1:59.36
Did not start 1st run
74
290998
STAUDACHER Patrick
1980
ITA
28
102271
HUDEC Jan
1981
CAN