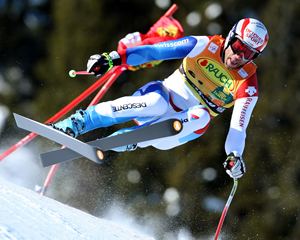 Switzerland's Didier Defago suffered his worst injury today (Sept. 15) as he torn ligaments from his left knee following a nasty crash while training Super-G on the glacier above Zermatt.
Defago, who became the third skier from his country to clinch the Olympic gold medal in downhill last winter at Vancouver, fell badly at high speed during a training run on the famous Swiss glacier visited each summer by dozens of national ski team.
Transported by helicopter to the nearby hospital at Sion, in Valais, for further examinations, Defago was pretty shocked to hear from the doctors that he seriously damaged his ACL as well as the inside ligament. "I'm afraid that the season is already over for Didier, these are serious injuries," explained Swiss Team doctor Hans Spring following a series of MRI exams.
"He will need a long time to recover from the operation and then he will need to spend several months with a hard rehabilitation," added Dr Spring.
Defago will be operated on Friday at Geneva at the La Tour Hospital by a team led by Swiss knee expert Olivier Siegrist.
"It's a great loss for the team, Didier was very focused and determined to excel again this winter," said Swiss Head Coach Martin Rufener. "I saw his crash, he was charging on his way down. He fell in an easy part of the slope after his inside ski got hooked at the end of a right hand turn. He must have hurt himself while tumbling several times before ending the slide.
"He is a fighter and I expect him to be back next year. His last major goal was to attend the 2014 Olympics at Sochi," said Rufener.
Defago was a winner of three World Cup races during his long career including the two major 'Classics' at Wengen and Kitzbuhel in 2009. He had previously injured himself while training at Zermatt a year ago when he broke a thumb. He had to skip the season start at Soelden yet was ready for the start of the speed season in Lake Louise, Alberta.
In February, after a rather average season, he managed to beat all the top favorites at Whistler Mountain, finishing ahead of Norway's Aksel Lund Svindal and USA's Bode Miller while his teammate Didier Cuche, the leader in the downhill World Cup standing, finished a distant sixth.
Even though he has been recording his best results in the speed events during recent seasons, Defago was also aiming to excel in the Overall World Cup standings. The Rossignol champion was aiming to find back his best rhythm in giant slalom, one of his best specialties a few years ago. He finished an excellent third on the treacherous 'Gran Risa' run at Alta Badia in December 2006. The skier from Morgins has also scored good results in combined events.
"I was close to getting a small Crystal globe a few years ago and I strongly hope that I'll get my chance sometime soon," he told the press earlier this spring.
A father of two, Defago scored his first World Cup points in 1996 the same year he captured gold in Super-G at the FIS Junior World Championships. Known as a great talent, he accumulated numerous podium finishes in the following winters prior celebrating his first triumph on the circuit at Val Gardena, Italy, where he won a Super-G in December 2002. He got a total of five 2nd places in that specialty during his career.
Patrick Lang
Defago photos by GEPA