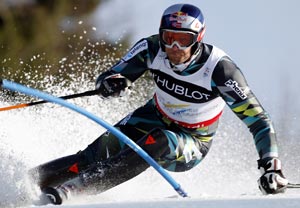 In the end Aksel Lund Svindal made the Italians – silver medal winner Christof Innerhofer and bronze medalist Peter Fill – look like pretenders, claiming the gold medal of the World Championship super combined by an outstanding 1.01 seconds. But the Italians weren't complaining.
It was the second straight combined gold in World Championship competition for Svindal, having also claimed the top prize in 2009, but it was his first medal of these championships in Garmisch-Partenkirchen, Germany and it was well earned.
The Italians were joyful. Fill tossed his ski poles high in air as he recognized his time and Innerhofer held his slalom skis aloft, celebrating his third medal of these championships, an unlikely circumstance from a man with one World Cup win to his credit and the two Italians quickly surrounded Svindal in the finish, anxious to pose for photographers.
The Americans had a rough go.
Tim Jitloff had made a costly mistake in the downhill and pushed gamely from the second start of the slalom to make up a nine second deficit with predictable results. He put up the third fastest slalom run on the day, but wound up tied for 14th, the only U.S. finish.
"I knew I had an opportunity to have a good clean run and I did and I made some points, nothing super exciting but at least it helps me for the next races," said Jitloff.
Ted Ligety had a decent downhill (11th) and was definitely full-out
attack in the slalom, but exited about half way down.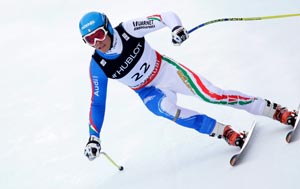 "I just straddled, that's kind of been the story of my life in slalom," said Ligety, adding that had he finished his chances wouldn't have been that good. "I'm pretty surprised by how well Peter and Christof and Aksel skied the slalom portion. When you are three seconds out you have no chance when those guys are skiing that well in the slalom."
Bode Miller showed he can exit a race course with as much flamboyence as anyone, flying past the second gate on the slalom hill horizonal to the ground, his skis above his head.
"Bode didn't have the best downhill run," said coach Sasha Rearick. "He was cutting off the line too much and going too straight forward for what the conditions could allow."
Canada did not have a man entered.
With the downhill leg of the race run an hour earlier than the men's downhill on Saturday – going off at 10am versus 11 – and with a clear night allowing radiant cooling, the Kandahar course was icy and fast. It was a touch smoother than it had been for earlier training runs, but those ragged runs had already had their effect on the combined field. Many skiers had opted out, including Ivica Kostelic, already the World Cup combined champ with three wins in three eveents. The start list for the combined numbered 41 and that dropped to 34 after the downhill.
The slalom leg, across town, started at 2pm and long shadows crossed sections, but by no stretch, all of the steep Gudiberg hill. By the final racers the slalom hill did show rutting, but it held up well.
With much of the field charging trying to make the top three, Svindal, with a large first run lead, was one of few who could afford to take a tactical approach.
"I saw that some took too much risk," he said "and I tried to ski a little tactically, but I knew some were very quick and I knew I would have to have a good race from top to bottom."
The gold medal was his fourth in World Championship competition and fifth total, plus he owns a trio of Olympic medals, one in each color. "You always try your best," he said. I tried my best in the downhill and the super G, too, and it didn't work out. The third time, it did."
For Innerhofer, the silver medal completed the cycle for these championships, combined with gold in the super G and bronze in downhill. He said the slalom course set, by Italian coach Massimo Carca had been to his benefit. "I looked at the course and saw I had a chance. … The course was very well set, fast and when it is fast you have to risk and I am good at risks." Still, he said, "when I saw the results I was surprised. I could hardly believe it."
The medal for Fill was in some ways the most meaningful of any in these championships. With his father struggling to survive in hospital he dedicated the medal to him. "My mom, my sisters and dad love each other very much and when one suffers we all suffer," he said. "This was the last time I was going to compete and I gave it my best shot and tried to grab a medal for my dad. I hope this will make him happier, and better, too."
There were strong efforts put forth by a myriad of racers with solid combined backgrounds. Benjamin Raich, with the hearts of Austrian fans once again heaped on his back, had a good downhill (12th) and a great slalom leg (2nd fastest) but got jammed off the podium by the Italians and Svindal to finish fourth and Czech Ondrej Bank fought hard for his country's first men's medal but finished fifth. -HM
The SCOOP
By Hank McKee
Men's World Championship super combined, Garmisch-Partenkirchen, German, Feb. 14, 2011
Equipment
Skier, skis/boots/bindings
1 Svindal, Head/Head/Head
2 Innerhofer, Rossignol/Rossignol/Rossignol
3 Fill, Atomic/Atomic/Atomic
4 Raich, Atomic/Atomic/Atomic
5 Bank, Elan/Nordica/Elan
6 Pangrazzi, Rossignol/Lange/Rossignol
7 Myhre, Rossignol/Rossignol/Rossignol
8 Zrncic-Dim, Atomic/Atomic/Atomic
9 Romar, Atomic/Atomic/Atomic
10 Jansrud, Head/Head/Head
Men's World Championship super-combined, Garmisch-Partenkirchen, Germany, Feb. 14, 2011. … It is the sixth of 11 events scheduled during the 41st World Ski Championships and the third of five men's competitions. … It is the 71st combined in World Championship competition.
It is the sixth World Championship medal for Aksel Lund Svindal. … He won gold in downhill and GS at Are 2007 and combined at Val d'Isere (2009) and here. … He won silver in combined at Bormio (2005) and bronze in super G at Val d'Isere. … He also owns one Olympic medal of each color: gold in super G, silver downhill and bronze GS at Whistler (2010). … He has 14 World Cup victories, just one in combined at Beaver Creek 2006.
It is the third medal in three events at these World Championships for Christof Innerhofer. … He won gold in super G and bronze in downhill. … His best World Cup result in combined is third at Sestriere Feb. 22, 2009.
It is the second career World Championship medal for Peter Fill who won silver in super G at Val d'Isere (2009). … He has never won a World Cup combined, but placed second at Wengen in 2009 and third at Wengen in 2006.
It is a career best of four World Championship results for Tim Jitloff. … He has just a single World Cup combined result, a 24th from Wengen this season.
Medal Count
Austria 4 (3 gold, 1 silver)
Italy 4 (1 gold, 1 silver, 2 bronze)
Canada 1 (1 gold)
Norway 1 (1 gold)
USA 2 (2 silver)
Slovenia 1 (1 silver)
Switzerland 2 (2 bronze)
Germany 2 (2 bronze)
Croatia 1 (1 bronze)
Sweden 1 (1 bronze)
Rank
Bib
FIS Code
Name
Year
Nation
Run 1
Run 2
Total Time
FIS Points
1
21
421328
SVINDAL Aksel Lund
1982
NOR
1:59.49
55.02
2:54.51
0.00
2
22
293006
INNERHOFER Christof
1984
ITA
2:00.67
54.85
2:55.52
6.54
3
15
292455
FILL Peter
1982
ITA
2:00.83
55.58
2:56.41
12.30
4
17
50625
RAICH Benjamin
1978
AUT
2:02.50
54.18
2:56.68
14.05
5
7
150398
BANK Ondrej
1980
CZE
2:01.00
55.90
2:56.90
15.48
6
10
294904
PANGRAZZI Paolo
1988
ITA
2:02.66
54.69
2:57.35
18.39
7
2
421400
MYHRE Lars Elton
1984
NOR
2:03.39
54.11
2:57.50
19.36
8
13
380292
ZRNCIC-DIM Natko
1986
CRO
2:03.25
54.46
2:57.71
20.72
9
26
180570
ROMAR Andreas
1989
FIN
2:01.19
56.86
2:58.05
22.92
10
16
421483
JANSRUD Kjetil
1985
NOR
2:02.56
55.86
2:58.42
25.32
11
6
90131
GEORGIEV Georgi
1987
BUL
2:02.74
56.12
2:58.86
28.17
12
12
51327
PUCHNER Joachim
1987
AUT
2:03.26
55.70
2:58.96
28.81
13
28
53853
SIEBER Bjoern
1989
AUT
2:03.49
55.95
2:59.44
31.92
14
39
910004
DEFLORIAN Mirko
1980
MDA
2:04.00
56.29
3:00.29
37.43
14
1
534959
JITLOFF Tim
1985
USA
2:06.02
54.27
3:00.29
37.43
16
3
491129
TERRA Ferran
1987
SPA
2:03.70
57.31
3:01.01
42.09
17
4
150495
VRABLIK Martin
1982
CZE
2:05.97
55.51
3:01.48
45.13
18
30
380298
SIROKI Tin
1987
CRO
2:04.74
56.78
3:01.52
45.39
19
34
700724
BABUSIAK Jaroslav
1984
SVK
2:05.93
56.37
3:02.30
50.44
20
33
660021
DANILOCHKIN Yuri
1991
BLR
2:04.63
57.74
3:02.37
50.90
21
5
20267
ESTEVE RIGAIL Kevin
1989
AND
2:01.81
1:00.72
3:02.53
51.93
22
31
92534
CHONGAROV Nikola
1989
BUL
2:03.79
59.15
3:02.94
54.59
23
36
710320
LAIKERT Igor
1991
BIH
2:09.43
58.35
3:07.78
85.93
24
32
700868
FALAT Matej
1993
SVK
2:10.63
59.20
3:09.83
99.20
25
40
690086
FESHCHUK Rostyslav
1990
UKR
2:09.86
1:01.36
3:11.22
108.20
26
41
670029
PIMENOV Taras
1984
KAZ
2:11.40
1:02.86
3:14.26
127.89
27
35
430472
KLUSAK Michal
1990
POL
2:05.58
1:14.54
3:20.12
165.83
28
23
20174
VIDOSA Roger
1984
AND
2:04.89
1:20.36
3:25.25
199.05
Did not finish 2nd run
38
670058
KOSHKIN Dmitriy
1986
KAZ
19
532431
MILLER Bode
1977
USA
18
510890
ZURBRIGGEN Silvan
1981
SUI
11
511383
FEUZ Beat
1987
SUI
9
291459
PARIS Dominik
1989
ITA
8
534562
LIGETY Ted
1984
USA
Did not finish 1st run
37
550022
RODE Roberts
1987
LAT
29
220874
BALDWIN TJ
1990
GBR
27
380290
SAMSAL Dalibor
1985
CRO
25
30149
SIMARI BIRKNER Cristian Javier
1980
ARG
24
430429
BYDLINSKI Maciej
1988
POL
20
51215
BAUMANN Romed
1986
AUT
14
501076
OLSSON Hans
1984
SWE