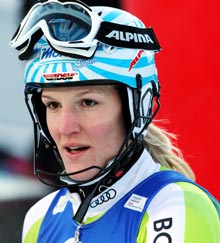 German World Cup ski racer Susanne Riesch will be forced to sit out the 2011-2012 racing season after sustaining a leg injury in hard fall during a downhill training run in Chile last Wednesday.
Back home in Germany on Saturday, Riesch underwent a two-hour surgery to repair a fracture of the left tibia, a tear of the anterior cruciate ligament (ACL) and a meniscus injury. Doctors expect her recovery to take around six months.
"The surgery went well and was absolutely necessary, because the meniscus was trapped in the fracture," Dr. Ernst-Otto Muench said after the surgery. "Given the overall situation of the cruciate ligament is replaced in a few weeks. Provided a favorable healing process, training on snow is possible in about six months."
The 24-year-old slalom specialist and younger sister of reigning World Cup overall champion Maria Hoefl-Riesch, has two career German national titles and seven World Cup top-five finishes.
"I knew immediately that I was seriously hurt," said Susanne Riesch of the crash. "The first surgery is done. Now I am recovering, and then it is time for the cruciate ligament. Then I'll focus on the rehabilitation to be able to attack in the World Cup full again."