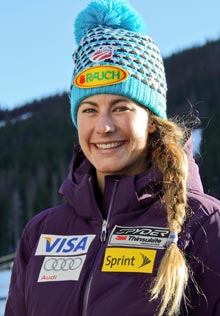 The field was filled with World Cup regulars in today's (Nov. 17) U.S. Ski Team FIS women's slalom at Copper Mt.. American skier Resi Stiegler, who after finishing third in the first run, returned to take the lead overall with a combined time of 1:24:14.
Also on the podium was fellow American Mikaela Shiffrin who took the lead in the first run but overall ended in second with a time of 1:24:82. Just behind Shiffrin was France's Anne-Sophie Barthet who snagged the third spot on the podium with an overall time of 1:24:87.
Also in contention for the podium was Barthet's teammate, Laurie Moegel who was in second after the first run, .47 behind Shiffrin. Moegel fell back to fourth after the second run, .84 off Stiegler, the leader.
World Cup standouts, in the area ahead of World Cup races next weekend in Aspen, Tessa Worley of France and Federica Brignone or Italy finished seventh and 17th, respectively.
Copper will host two men's FIS super G races tomorrow.
Rank
Bib
FIS Code
Name
Year
Nation
Run 1
Run 2
Total Time
FIS Points
1
18
537772
STIEGLER Resi
1985
USA
43.39
40.75
1:24.14
9.00
2
3
6535237
SHIFFRIN Mikaela
1995
USA
42.72
42.10
1:24.82
13.93
3
14
196726
BARTHET Anne-Sophie
1988
FRA
43.72
41.15
1:24.87
14.29
4
17
196803
MOUGEL Laurie
1988
FRA
43.19
41.79
1:24.98
15.09
5
6
155415
ZAHROBSKA Sarka
1985
CZE
43.44
41.89
1:25.33
17.63
6
2
296509
CURTONI Irene
1985
ITA
43.58
41.77
1:25.35
17.77
7
15
196928
WORLEY Tessa
1989
FRA
44.15
41.50
1:25.65
19.95
8
13
295435
GIUS Nicole
1980
ITA
44.01
41.70
1:25.71
20.38
9
16
296354
COSTAZZA Chiara
1984
ITA
44.37
41.39
1:25.76
20.74
10
1
516280
HOLDENER Wendy
1993
SUI
43.95
42.05
1:26.00
22.48
11
9
515997
FEIERABEND Denise
1989
SUI
44.38
41.64
1:26.02
22.63
12
20
196179
BERTRAND Marion
1984
FRA
44.38
41.66
1:26.04
22.77
13
5
296259
MOELGG Manuela
1983
ITA
43.75
42.35
1:26.10
23.21
14
27
537792
DUKE Hailey
1985
USA
44.03
42.27
1:26.30
24.66
15
4
196725
BARIOZ Taina
1988
FRA
43.59
42.84
1:26.43
25.60
16
23
538284
MCJAMES Megan
1987
USA
45.27
41.47
1:26.74
27.85
17
19
297601
BRIGNONE Federica
1990
ITA
44.48
42.30
1:26.78
28.14
18
22
516109
VOGEL Nadja
1990
SUI
45.56
41.47
1:27.03
29.95
19
11
196016
DAUTHERIVES Claire
1982
FRA
45.06
42.06
1:27.12
30.60
20
35
516319
SUTER Corinne
1994
SUI
45.01
42.26
1:27.27
31.69
21
10
305944
KIYOSAWA Emiko
1983
JPN
44.78
42.53
1:27.31
31.98
22
7
306096
HOSHI Mizue
1985
JPN
44.80
42.54
1:27.34
32.20
23
31
155699
PAULATHOVA Katerina
1993
CZE
45.43
42.01
1:27.44
32.92
24
21
535585
STAPLES Kiley
1989
USA
45.23
42.38
1:27.61
34.16
25
26
705394
KANTOROVA Barbara
1992
SVK
46.05
42.14
1:28.19
38.36
26
24
385041
NOVOSELIC Sofija
1990
CRO
46.51
42.93
1:29.44
47.42
27
29
538573
ROSS Laurenne
1988
USA
46.69
42.95
1:29.64
48.87
28
28
539379
KISTLER Lizzie
1992
USA
46.14
43.56
1:29.70
49.31
29
34
539909
MOLTZAN Paula
1994
USA
47.20
43.31
1:30.51
55.18
30
38
538496
GHENT Erika
1988
USA
46.85
43.67
1:30.52
55.25
31
36
298084
AGERER Lisa Magdalena
1991
ITA
47.09
43.49
1:30.58
55.69
32
41
539678
PETERSON Foreste
1993
USA
47.38
43.43
1:30.81
57.36
33
25
425849
GASMANN-BROTT Rikke
1991
NOR
47.61
43.29
1:30.90
58.01
34
43
539927
LAPANJA Lila
1994
USA
47.32
44.61
1:31.93
65.48
35
44
539363
GHENT Abby
1992
USA
47.77
44.74
1:32.51
69.68
36
48
539685
RYAN Katherine
1993
USA
48.62
44.34
1:32.96
72.94
37
40
539944
HASKELL Mardene
1994
USA
47.49
45.49
1:32.98
73.09
38
42
538975
WALES Brooke
1990
USA
48.69
45.66
1:34.35
83.02
39
33
539656
IDE Maisie
1993
USA
48.26
46.25
1:34.51
84.18
40
37
539660
KIKUT Sara
1993
USA
48.25
46.42
1:34.67
85.34
41
47
105281
IRWIN Mackenzie
1989
CAN
49.77
45.50
1:35.27
89.69
42
39
539661
KIKUT Anna
1993
USA
49.43
47.18
1:36.61
99.41
43
45
45327
CHEVALIER Joelle
1991
AUS
51.92
47.50
1:39.42
119.78
44
50
275029
BELL Florence
1996
IRE
56.16
54.15
1:50.31
198.73
Did not finish 2nd run
32
155728
DUBOVSKA Martina
1992
CZE
12
195972
AUBERT Sandrine
1982
FRA
8
355040
NIGG Marina
1984
LIE
Did not finish 1st run
49
6535086
GIBSON Libby
1994
USA
46
6535204
LATHROP Brittany
1995
USA
30
538855
FORD Julia
1990
USA