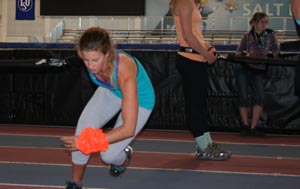 For slalom specialist Resi Stiegler, this summer's training camp in New Zealand is special. Though she was able to complete last season, she has not been snow ready during the summer months in three years with a string of injuries.
"It's amazing, I don't think I realized how amazing it was going to feel," said Stiegler. "The last couple weeks I realized how awesome it is that I'm not doing one-legged bunggee squats and I'm actually doing power lifts."
The 25-year-old, Jackson Hole, Wyoming native's troubles with injuries started in 2007 when she fractured her left arm and tore ligaments in her right knee. Her latest setback, a badly broken leg suffered in November of 2009, took her out of racing until December of 2010.
Refusing to quit, Stiegler has been in the gym all summer working to balance the strength of her legs. "My legs are now within one centimeter of each other, which is a huge deal for me. It also means that I can progress into GS, which is my goal for the year," she said.
Stiegler is happy to jump back on snow at her favorite training site."This is my first trip to New Zealand in a long time," said Stiegler. "It's my favorite camp, I really enjoy the fact that you can go down there and play and train and there is a really good vibe down there.
I can do all of the camp games and. I feel like I am making improvements and I'm competing against my teammates. I'm doing well, which is great because it give me more confidence," continued Stiegler.
For part of her all-around athletic rehab, Stiegler has continued to hone her skills in her new hobby of wind surfing.
"I've been really training hard in wind surfing," said Stiegler whose boy friend Kevin Pritchard is a professional wind surfer. "It's really difficult. It's probably one of the hardest sports I've ever tried to pick up. I was very determined to get better at it. It's fun, every day I'm learning things."
An injecting of some young skiing talent added to the women's tech team has given Stiegler another reason to be optimistic about the upcoming season. "I think we'll have a really good team this year with some new blood," said Steigler. "We will get to see Mikaela [Shiffrin] get let off the leash a little more so it will be awesome."