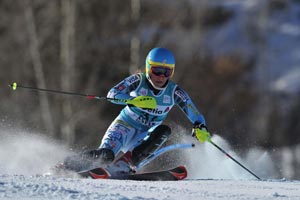 Austrian slalom ace Marlies Schild is once again friends with the Aspen World Cup course.
A year after missing the first gate in the Aspen slalom, Schild returned this season with revenge in mind. The reigning slalom World Cup titleholder and world champion wasted no time on the sunny Aspen course today (Nov. 27), taking a .78-second lead in the morning first run, then building a 1.19-second advantage in the shady, afternoon run to handily take her 31st career World Cup victory.
"That's a thing that happens once and never again," said Schild of last year's mistake on the hill. "I've had good times here and bad times, I only remember the good. I always like the slope, it's really difficult, you have to push from start to the finish and that's fun."
Last year's winner on this hill, Sweden's Maria Pietilae-Holmner, finished second.77 seconds ahead of third-place finisher Maria Hoefl-Riesch of Germany.
American 16-year-old and 2011 Ski Racing Junior of the Year, Mikaela Shiffrin lived up to the hype that has surrounded her for the last two years with an eighth-place result from the 37th starting position in only her fourth World Cup start. It was the first time she made it to a World Cup second run.
"I feel good, I'm really excited, all I can say is it's unreal," said Shiffrin, who gained a U.S. Team nomination after claiming last season's national slalom title. "That first run was hard to handle but the second run was a lot better. From the flush down, I was really trying to let it go and ski loosely again, maybe a little above where I did [first] run."
"I'll have more confidence coming into Corcheval and the Europa cups we're going to do pretty soon," continued Shiffrin. "I'll for sure be excited for the next five months but it's also going to take me probably five years to realize I'm here."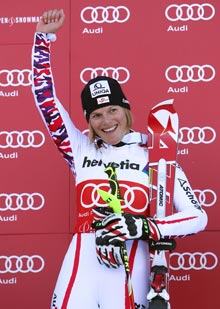 Shiffrin was the only American to make the 30-woman second run after Julia Mancuso, who finished third in yesterday's GS, just missed the cut off in 31st place in the first run. Both Resi Stiegler and Sarah Schleper skied off course.
"Slalom's been a tough race for me and I just got a little out of rhythm halfway down, it's just tough to recover so jI ust gotta always keep fighting," said Mancuso. "I don't put a lot of pressure on myself, I just want to go out and do the best I can and see what happens and it just didn't happen for me today."
Lindsey Vonn, who after yesterday's GS told reporters that she hadn't felt like herself since tweaking her back while training on the same hill last Friday, decided to rest the tender back in preparations for the opening of the World Cup speed season next weekend.
Hoefl-Riesch, Vonn's friend and rival, was relieved to get on the podium for the first time as a defending overall World Cup champion. "I'm really happy with my result today after two bad raced in GS, I'll try to build on that going into the speed races in Lake Louise," said Hoefl-Riesch. "It was really important to trust in myself which was not so easy after my fall in the GS yesterday."
Fellow German, Viktoria Rebensburg currently holds the lead in the overall World Cup points race with 180 points, ahead of Austrian Elisabeth Goergl in second with 140 points. Vonn is currently in fifth place with 122 points.
Schild led five Austrian women into scoring results as Michaela Kirchgasser also made the top-10 in ninth place.
It was a solid day for the Canadian team, who put two racers into the second run lead by Marie-Michele Gangnon, who finished 11th after standing 21st in the first run. Anna Goodman, who had the eight-fastest first run time despite starting 44th, finished 20th.
"I like the slope, it's technical. The conditions are always pretty good and hard and I think I did especially second run good skiing," said Pietilae-Holmner. "It was nice to see so many high numbers qualifying to the second run. I think that's a good sign of well prepared snow."
The women's World Cup tour now moves to Lake Louise, AB for the kick off of the speed season next weekend. – By Eric Williams with reporting from Susan Theis
Images of Shiffrin by Zoom, image of Schild by Gepa
The SCOOP
by Hank McKee
Women's World Cup Slalom
Aspen, USA
Nov. 27, 2011
Equipment
Skier, skis/boots/bindings
1 Schild, Atomic/Atomic/Atomic
2 Pietilae-Holmner, Rossignol/Rossignol/Rossignol
3 Hoefl-Riesch, Head/Lange/Head
4 Poutiainen, Fischer/Fischer/Fischer
5 Zettel, Atomic/Atomic/Atomic
6 Zuzulova, Salomon/Salomon/Salomon
7 Moelgg, Rossignol/Lange/Rossignol
8 Shiffrin, Atomic/Atomic/Atomic
9 Kirchgasser, Atomic/Atomic/Atomic
10 Hansdotter, Rossignol/Rossignol/Rossignol
Women's World Cup slalom, Aspen, USA, Nov. 27, 2011. … It is the third race of the women's 40 race 2011-12 World Cup schedule. … The first of 10 scheduled slaloms to be held (the first slalom at Levi was bumped to Dec. 20). … It is the 68th Cup race hosted at Aspen. … the 19th slalom.
It is the 30th career World Cup victory for Marlies Schild. … 28th in slalom. … That ranks her second all time among women behind only Vreni Schneider's 33. … It is her second win at Aspen, the first since November of 2006.
It is the fourth career World Cup podium for Maria Pietilae-Holmner. … her second at Aspen having won last season's slalom.
It is the 59th career World Cup podium for Maria Hoefl-Riesch. … her 20th in slalom. … It is her second podium at Aspen, the only other a second in this race last season.
It is the first career World Cup scoring result for Mikaela Shiffrin. … It is the fifth best career Cup result for Marie-Michele Gagnon. … her third best in slalom. … It is the eighth best career result for Anna Goodman.
Viktoria Rebensburg leads the World Cup overall standings 180-140 over Elisabeth Goergl. … Pietilae-Holmner is third with 125pts. … Lindsey Vonn is the top US racer on the list in fifth with 122pts. … Gagnon the top Canadian in 26th with 30pts. … Austria leads the women's Nations Cup 584-350 over Germany. … USA is third with 240, Canada ranks 10th with 48pts.
Rank
Bib
FIS Code
Name
Year
Nation
Run 1
Run 2
Total Time
FIS Points
1
6
55590
SCHILD Marlies
1981
AUT
51.24
52.48
1:43.72
0.00
2
4
505760
PIETILAE-HOLMNER Maria
1986
SWE
52.07
52.84
1:44.91
7.00
3
3
206001
HOEFL-RIESCH Maria
1984
GER
52.27
53.41
1:45.68
11.53
4
1
185140
POUTIAINEN Tanja
1980
FIN
52.02
53.76
1:45.78
12.12
5
2
55838
ZETTEL Kathrin
1986
AUT
52.60
53.70
1:46.30
15.17
6
5
705287
ZUZULOVA Veronika
1984
SVK
53.04
53.33
1:46.37
15.59
7
10
296259
MOELGG Manuela
1983
ITA
53.81
52.78
1:46.59
16.88
8
37
6535237
SHIFFRIN Mikaela
1995
USA
53.81
53.22
1:47.03
19.47
9
11
55759
KIRCHGASSER Michaela
1985
AUT
54.38
52.86
1:47.24
20.70
10
14
505679
HANSDOTTER Frida
1985
SWE
53.61
53.74
1:47.35
21.35
11
21
105269
GAGNON Marie-Michele
1989
CAN
53.57
53.89
1:47.46
22.00
12
7
565243
MAZE Tina
1983
SLO
53.40
54.16
1:47.56
22.58
13
15
206035
CHMELAR Fanny
1985
GER
54.12
53.53
1:47.65
23.11
13
12
155415
ZAHROBSKA Sarka
1985
CZE
54.13
53.52
1:47.65
23.11
15
23
196726
BARTHET Anne-Sophie
1988
FRA
54.69
52.97
1:47.66
23.17
16
51
506146
SWENN-LARSSON Anna
1991
SWE
54.18
53.50
1:47.68
23.29
17
17
206279
GEIGER Christina
1990
GER
53.85
54.08
1:47.93
24.76
18
19
296509
CURTONI Irene
1985
ITA
53.62
54.38
1:48.00
25.17
19
34
516280
HOLDENER Wendy
1993
SUI
54.23
53.78
1:48.01
25.23
20
44
106633
GOODMAN Anna
1986
CAN
53.33
54.95
1:48.28
26.82
21
42
296354
COSTAZZA Chiara
1984
ITA
54.81
53.65
1:48.46
27.88
22
26
196928
WORLEY Tessa
1989
FRA
54.89
53.71
1:48.60
28.70
23
36
55977
THALMANN Carmen
1989
AUT
54.11
54.74
1:48.85
30.17
24
38
55807
DAUM Alexandra
1986
AUT
54.41
54.72
1:49.13
31.82
25
28
355040
NIGG Marina
1984
LIE
54.68
54.71
1:49.39
33.35
26
18
56032
SCHILD Bernadette
1990
AUT
55.31
54.09
1:49.40
33.41
27
9
205168
DUERR Katharina
1989
GER
55.33
54.45
1:49.78
35.64
28
35
196016
DAUTHERIVES Claire
1982
FRA
54.81
55.08
1:49.89
36.29
29
29
506341
WIKSTROEM Emelie
1992
SWE
55.37
54.85
1:50.22
38.23
Disqualified 1st run
39
306096
HOSHI Mizue
1985
JPN
Did not start 1st run
56
425880
SEJERSTED Lotte Smiseth
1991
NOR
33
56059
DEPAULI Jessica
1991
AUT
16
537544
VONN Lindsey
1984
USA
Did not qualify 1st run
69
298084
AGERER Lisa Magdalena
1991
ITA
66
537792
DUKE Hailey
1985
USA
65
506399
HECTOR Sara
1992
SWE
63
705394
KANTOROVA Barbara
1992
SVK
62
385041
NOVOSELIC Sofija
1990
CRO
61
485570
SOROKINA Anna
1990
RUS
53
565320
FERK Marusa
1988
SLO
52
297601
BRIGNONE Federica
1990
ITA
50
205239
WIRTH Barbara
1989
GER
49
206174
STABER Veronika
1987
GER
47
55898
BREM Eva-Maria
1988
AUT
40
196725
BARIOZ Taina
1988
FRA
31
537545
MANCUSO Julia
1984
USA
30
106961
MIELZYNSKI Erin
1990
CAN
27
536481
SCHLEPER Sarah
1979
USA
24
515997
FEIERABEND Denise
1989
SUI
Did not finish 2nd run
13
55690
HOSP Nicole
1983
AUT
Did not finish 1st run
68
516319
SUTER Corinne
1994
SUI
67
155699
PAULATHOVA Katerina
1993
CZE
64
565333
BRODNIK Vanja
1989
SLO
60
435142
KARASINSKA Katarzyna
1982
POL
59
516109
VOGEL Nadja
1990
SUI
58
105615
ROUTHIER Eve
1988
CAN
57
535585
STAPLES Kiley
1989
USA
55
196179
BERTRAND Marion
1984
FRA
54
206355
DUERR Lena
1991
GER
48
206444
HOESL Simona
1992
GER
46
537772
STIEGLER Resi
1985
USA
45
106183
TERWIEL Elli
1989
CAN
43
196803
MOUGEL Laurie
1988
FRA
41
305944
KIYOSAWA Emiko
1983
JPN
32
516138
GUT Lara
1991
SUI
25
206099
PERNER Nina
1986
GER
22
295435
GIUS Nicole
1980
ITA
20
195972
AUBERT Sandrine
1982
FRA
8
505610
BORSSEN Therese
1984
SWE