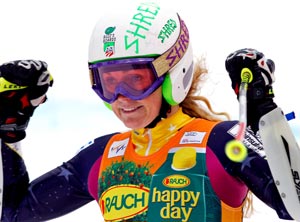 U.S. ski racer Sarah Schleper recently made an appearance at Pierce Skate&Ski in Bloomington, Minnesota, during the store's annual Oktoberfest celebration and sale. The five-time national champion spent Sunday (Oct. 2) afternoon signing autographs and chatting with a constant stream of fans, local skiers and customers.
"It was great having Sarah in the store, she's been great to work with at Erich Sailer's camps throughout the past fourteen years," said Bart Pierce, the store owner. "She's really just an awesome spokesperson for the sport, I believe it's really important that when people reach the pinnacle of success in their sport, that they share that passion with the next generation."
Schleper spent this past June helping Buckhill coach Erich Sailer with his ski camp at Mt. Hood, Ore. before heading to New Zealand to train with the U.S. Ski Team. The 15-year World Cup veteran shares her passion with younger athletes each summer while coaching and training alongside them at Sailer's summer camps, and has formed special connections with many racers.
Sarah also spoke of the connections she has made with other racers on the U.S. Ski Team, saying,"I think it's a lot of fun to be traveling with my friends, we push each other and we're also competitive…it's the best experience you could do."
On Oct. 4, Schleper headed to Europe to start preparing for the World Cup season-opening race, a giant slalom in Soelden, Austria scheduled for Oct. 22. When asked about the upcoming race Schleper, who has been working with new U.S Ski Team tech coach, Roland Pfeifer to prepare for upcoming season, responded, "I'm really looking forward to the opener, Soelden is one of my favorite races all winter long, because of the technicality of the slope."
Story by Susan Theis