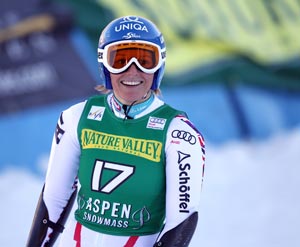 Slalom queen Marlies Shild of Austria is well on her way to proving last year's first gate exit at Aspen was a fluke. The reigning slalom world champion was the sixth racer on the first-run course and set a pace that was almost a full second faster than any other woman.
"I think the whole run was really good," said Schild. "I want to do the same as the first run and see what happens then, I think the shape is good, everything's fine, and the skis are fine, so I can ski and have fun."
Finn Tanja Poutiainen stands second, .78 seconds behind Schild. Sweden's Maria Pietilae-Holmner, last year's winner here, stands third .83 seconds behind the leader.
The home team got some good news and some bad news this morning. Lindsey Vonn did not start, deciding to rest her sore back for coming speed races in Canada. The good news came from 16-year-old Mikaela Shiffrin who made her fourth World Cup start and reached her first second run with a run that was good for a tie in 13th place. She is the only American to make the 30-woman second run, Julia Mancuso just missed the cut in 31st and both Resi Stiegler and Sarah Schleper skied off course.
"I was nervous today, I don't know why," said Shiffrin. "Down here, I think that was some of the best skiing I've had all year, so far. It was really comforting, I'm just going to try and take that into the second run and see what happens."
Canada also got some good news from both Anna Goodman, who jumped all the way from the 44th starting position to an eight-place finish, and Marie-Michele Gangnon, who stands 10th.
The second run starts at 1:00 PM MST. Click here to watch the results come in on our Live Timing Page.
UNOFFICIAL RESULTS
| | | | | | | | | |
| --- | --- | --- | --- | --- | --- | --- | --- | --- |
| Rank | Bib | FIS Code | Name | Year | Nation | Run 1 | Run 2 | Total Time |
| 1 | 6 | 55590 | SCHILD Marlies | 1981 | AUT | 51.24 | | 51.24 |
| 2 | 1 | 185140 | POUTIAINEN Tanja | 1980 | FIN | 52.02 | | 52.02 |
| 3 | 4 | 505760 | PIETILAE-HOLMNER Maria | 1986 | SWE | 52.07 | | 52.07 |
| 4 | 3 | 206001 | HOEFL-RIESCH Maria | 1984 | GER | 52.27 | | 52.27 |
| 5 | 2 | 55838 | ZETTEL Kathrin | 1986 | AUT | 52.60 | | 52.60 |
| 6 | 13 | 55690 | HOSP Nicole | 1983 | AUT | 52.90 | | 52.90 |
| 7 | 5 | 705287 | ZUZULOVA Veronika | 1984 | SVK | 53.04 | | 53.04 |
| 8 | 44 | 106633 | GOODMAN Anna | 1986 | CAN | 53.33 | | 53.33 |
| 9 | 7 | 565243 | MAZE Tina | 1983 | SLO | 53.40 | | 53.40 |
| 10 | 21 | 105269 | GAGNON Marie-Michele | 1989 | CAN | 53.57 | | 53.57 |
| 11 | 14 | 505679 | HANSDOTTER Frida | 1985 | SWE | 53.61 | | 53.61 |
| 12 | 19 | 296509 | CURTONI Irene | 1985 | ITA | 53.62 | | 53.62 |
| 13 | 37 | 6535237 | SHIFFRIN Mikaela | 1995 | USA | 53.81 | | 53.81 |
| 13 | 10 | 296259 | MOELGG Manuela | 1983 | ITA | 53.81 | | 53.81 |
| 15 | 17 | 206279 | GEIGER Christina | 1990 | GER | 53.85 | | 53.85 |
| 16 | 36 | 55977 | THALMANN Carmen | 1989 | AUT | 54.11 | | 54.11 |
| 17 | 15 | 206035 | CHMELAR Fanny | 1985 | GER | 54.12 | | 54.12 |
| 18 | 12 | 155415 | ZAHROBSKA Sarka | 1985 | CZE | 54.13 | | 54.13 |
| 19 | 51 | 506146 | SWENN-LARSSON Anna | 1991 | SWE | 54.18 | | 54.18 |
| 20 | 34 | 516280 | HOLDENER Wendy | 1993 | SUI | 54.23 | | 54.23 |
| 21 | 11 | 55759 | KIRCHGASSER Michaela | 1985 | AUT | 54.38 | | 54.38 |
| 22 | 38 | 55807 | DAUM Alexandra | 1986 | AUT | 54.41 | | 54.41 |
| 23 | 28 | 355040 | NIGG Marina | 1984 | LIE | 54.68 | | 54.68 |
| 24 | 23 | 196726 | BARTHET Anne-Sophie | 1988 | FRA | 54.69 | | 54.69 |
| 25 | 42 | 296354 | COSTAZZA Chiara | 1984 | ITA | 54.81 | | 54.81 |
| 25 | 35 | 196016 | DAUTHERIVES Claire | 1982 | FRA | 54.81 | | 54.81 |
| 27 | 26 | 196928 | WORLEY Tessa | 1989 | FRA | 54.89 | | 54.89 |
| 28 | 18 | 56032 | SCHILD Bernadette | 1990 | AUT | 55.31 | | 55.31 |
| 29 | 9 | 205168 | DUERR Katharina | 1989 | GER | 55.33 | | 55.33 |
| 30 | 29 | 506341 | WIKSTROEM Emelie | 1992 | SWE | 55.37 | | 55.37 |
| 31 | 30 | 106961 | MIELZYNSKI Erin | 1990 | CAN | 55.41 | | 55.41 |
| 32 | 31 | 537545 | MANCUSO Julia | 1984 | USA | 55.54 | | 55.54 |
| 33 | 40 | 196725 | BARIOZ Taina | 1988 | FRA | 55.56 | | 55.56 |
| 34 | 53 | 565320 | FERK Marusa | 1988 | SLO | 55.89 | | 55.89 |
| 34 | 24 | 515997 | FEIERABEND Denise | 1989 | SUI | 55.89 | | 55.89 |
| 36 | 50 | 205239 | WIRTH Barbara | 1989 | GER | 56.05 | | 56.05 |
| 37 | 49 | 206174 | STABER Veronika | 1987 | GER | 56.08 | | 56.08 |
| 38 | 66 | 537792 | DUKE Hailey | 1985 | USA | 56.19 | | 56.19 |
| 39 | 52 | 297601 | BRIGNONE Federica | 1990 | ITA | 56.32 | | 56.32 |
| 40 | 47 | 55898 | BREM Eva-Maria | 1988 | AUT | 56.43 | | 56.43 |
| 41 | 65 | 506399 | HECTOR Sara | 1992 | SWE | 56.50 | | 56.50 |
| 42 | 61 | 485570 | SOROKINA Anna | 1990 | RUS | 56.51 | | 56.51 |
| 43 | 62 | 385041 | NOVOSELIC Sofija | 1990 | CRO | 57.14 | | 57.14 |
| 44 | 63 | 705394 | KANTOROVA Barbara | 1992 | SVK | 57.27 | | 57.27 |
| 45 | 69 | 298084 | AGERER Lisa Magdalena | 1991 | ITA | 58.70 | | 58.70 |
| 46 | 27 | 536481 | SCHLEPER Sarah | 1979 | USA | 1:00.68 | | 1:00.68 |