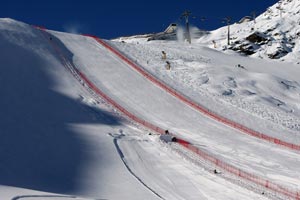 SOELDEN, Ausria — Skies are clear and temperatures are cold for today's opening World Cup race, a women's giant slalom on the Rettenbach glacier in Soelden, Austria.
First out of the gate will be defending downhill and super G world champion, Austian Elisabeth Goergl, followed by teammate Kathrin Zettel and defending World Cup GS titleholder, German Viktoria Rebensburg.
Lindsey Vonn in the eight bib will lead a three-member U.S. force, followed by Julia Mancuso starting number 12 and Sarah Schleper, who, despite a sore lower back will start in the 22nd position.
A total of 63 women from 18 nations are set to kick out of the start house.
The first run begins at 9:45 local time (3:45 EST), the second run is scheduled for 12:45 (6:45 EST).
The men will begin their season on the same course at the same times tomorrow.
Image by Gepa
START LIST FIRST RUN
| | | | | | |
| --- | --- | --- | --- | --- | --- |
| Bib | FIS Code | Name | Year | Nation | Skis |
| 1 | 55576 | GOERGL Elisabeth | 1981 | AUT | Head |
| 2 | 55838 | ZETTEL Kathrin | 1986 | AUT | Atomic |
| 3 | 205218 | REBENSBURG Viktoria | 1989 | GER | Nordica |
| 4 | 297601 | BRIGNONE Federica | 1990 | ITA | Rossignol |
| 5 | 185140 | POUTIAINEN Tanja | 1980 | FIN | Fischer |
| 6 | 196928 | WORLEY Tessa | 1989 | FRA | Rossignol |
| 7 | 565243 | MAZE Tina | 1983 | SLO | Stoeckli |
| 8 | 537544 | VONN Lindsey | 1984 | USA | Head |
| 9 | 206001 | HOEFL-RIESCH Maria | 1984 | GER | Head |
| 10 | 196725 | BARIOZ Taina | 1988 | FRA | Rossignol |
| 11 | 295445 | KARBON Denise | 1980 | ITA | Fischer |
| 12 | 537545 | MANCUSO Julia | 1984 | USA | Voelkl |
| 13 | 296259 | MOELGG Manuela | 1983 | ITA | Rossignol |
| 14 | 196793 | MARMOTTAN Anemone | 1988 | FRA | Rossignol |
| 15 | 55750 | FISCHBACHER Andrea | 1985 | AUT | Atomic |
| 16 | 505483 | PAERSON Anja | 1981 | SWE | Head |
| 17 | 505760 | PIETILAE-HOLMNER Maria | 1986 | SWE | Rossignol |
| 18 | 516138 | GUT Lara | 1991 | SUI | Rossignol |
| 19 | 105269 | GAGNON Marie-Michele | 1989 | CAN | Rossignol |
| 20 | 55759 | KIRCHGASSER Michaela | 1985 | AUT | Atomic |
| 21 | 296379 | GIANESINI Giulia | 1984 | ITA | Head |
| 22 | 536481 | SCHLEPER Sarah | 1979 | USA | Rossignol |
| 23 | 55818 | KOEHLE Stefanie | 1986 | AUT | Voelkl |
| 24 | 206355 | DUERR Lena | 1991 | GER | Fischer |
| 25 | 505632 | LINDELL-VIKARBY Jessica | 1984 | SWE | Rossignol |
| 26 | 296509 | CURTONI Irene | 1985 | ITA | Rossignol |
| 27 | 106825 | PREFONTAINE Marie-Pier | 1988 | CAN | Rossignol |
| 28 | 196179 | BERTRAND Marion | 1984 | FRA | Fischer |
| 29 | 55690 | HOSP Nicole | 1983 | AUT | |
| 30 | 515766 | SUTER Fabienne | 1985 | SUI | Stoeckli |
| 31 | 55947 | FENNINGER Anna | 1989 | AUT | Head |
| 32 | 515747 | GISIN Dominique | 1985 | SUI | Dynastar |
| 33 | 506399 | HECTOR Sara | 1992 | SWE | Atomic |
| 34 | 55898 | BREM Eva-Maria | 1988 | AUT | Atomic |
| 35 | 56059 | DEPAULI Jessica | 1991 | AUT | Fischer |
| 36 | 298084 | AGERER Lisa Magdalena | 1991 | ITA | Atomic |
| 37 | 206367 | HRONEK Veronique | 1991 | GER | Fischer |
| 38 | 206444 | HOESL Simona | 1992 | GER | Fischer |
| 39 | 565315 | ROBNIK Mateja | 1987 | SLO | Fischer |
| 40 | 565268 | DREV Ana | 1985 | SLO | Elan |
| 41 | 705287 | ZUZULOVA Veronika | 1984 | SVK | Salomon |
| 42 | 196726 | BARTHET Anne-Sophie | 1988 | FRA | Head |
| 43 | 297910 | CURTONI Elena | 1991 | ITA | Atomic |
| 44 | 355050 | WEIRATHER Tina | 1989 | LIE | Atomic |
| 45 | 505908 | SMEDH Veronica | 1988 | SWE | Voelkl |
| 46 | 297195 | HOFER Anna | 1988 | ITA | Atomic |
| 47 | 425880 | SEJERSTED Lotte Smiseth | 1991 | NOR | Atomic |
| 48 | 505886 | KLING Kajsa | 1988 | SWE | Head |
| 49 | 197319 | BAUD Adeline | 1992 | FRA | Rossignol |
| 50 | 205239 | WIRTH Barbara | 1989 | GER | Fischer |
| 51 | 297702 | MARSAGLIA Francesca | 1990 | ITA | Rossignol |
| 52 | 296476 | ALFIERI Camilla | 1985 | ITA | Head |
| 53 | 56032 | SCHILD Bernadette | 1990 | AUT | Atomic |
| 54 | 435210 | GASIENICA DANIEL Agnieszka | 1987 | POL | Rossignol |
| 55 | 495318 | RUIZ CASTILLO Carolina | 1981 | SPA | Salomon |
| 56 | 306096 | HOSHI Mizue | 1985 | JPN | Salomon |
| 57 | 306493 | KANEKO Misato | 1988 | JPN | |
| 58 | 197295 | PIOT Jennifer | 1992 | FRA | Rossignol |
| 59 | 705394 | KANTOROVA Barbara | 1992 | SVK | Rossignol |
| 60 | 385041 | NOVOSELIC Sofija | 1990 | CRO | Salomon |
| 61 | 155699 | PAULATHOVA Katerina | 1993 | CZE | |
| 62 | 515573 | AUFDENBLATTEN Fraenzi | 1981 | SUI | Rossignol |
| 63 | 155728 | DUBOVSKA Martina | 1992 | CZE | Elan |