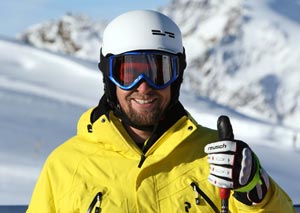 BEAVER CREEK, Colorado — Beaver Creek's Birds of Prey racecourse holds special significance for former World Cup ski racer Marco Buechel of Liechtenstein. After all, the 40-year-old started racing Super-G, and eventually Downhill, at Birds of Prey in 2000…on a bet.

"I can't even remember what the bet was for," Buechel reminisced several years ago. "It was probably for beer. However, I do remember that I won that bet. It was that I couldn't finish in the top 30 and I was 23rd."

Retired following the 2010 Olympic Winter Games in Vancouver, Buechel has been filling his winter months still following the White Circus of the World Cup, this time around as a television field commentator for Germany's ZDF.

However, for the upcoming Audi Birds of Prey World Cup races December 2-4, Buechel will watch the competition from a different vantage point, trading his race skis and microphone for a shovel as a member of the Talon Crew, the volunteer racecourse team for Birds of Prey.

It seems that Aaron Humphrey, the Chief Gate Judge for the Beaver Creek races, spends his spare time volunteering at other major international ski events around the globe. Through this "hobby", he became friends with Buechel and invited him to join the Talon Crew this season.

"We'll have BBQ going at the start, so bring your stomach," wrote Humphrey in an email to Buechel.

"I wouldn't mind to help you guys out at the Talon Turn on Wednesday (November 30)," Buechel wrote back, "with a shovel in the hand. Might be an interesting experience for me. BBQ at the start sounds very good."

The Liechtensteiner, who was actually born in Switzerland, first burst onto the Vail Valley scene during the 1999 World Alpine Ski Championships when he captured the silver medal in Giant Slalom. The master of the moment, he would subsequently hang up on the Prince of Liechtenstein during a congratulatory cell phone call before telling the assembled media during his press conference that if he had been on the Austrian team and waited so long to win a medal, "he would have been renting beach chairs by now."

But his local exploits would not end there. Just three years following his Beaver Creek bet, Buechel found himself at the bottom of the Birds of Prey racecourse with the lead in the World Cup Super-G. Out came the cell phone again and he provided play-by-play for his wife in Florida as skier after skier was unable to better his time. Finally, Switzerland's Didier Cuche knocked Buechel into the runner-up position to the dismay of everyone in the stadium.

During the course of his 14-year World Cup career, Buechel participated in a record-tying six Olympic Winter Games and set the record as the oldest winner of a World Cup race in 2008 with a Super-G victory in Kitzbuhel, Austria at the age of 36 years, 75 days.

Ironically, Cuche would bump him from the top step of the podium once again, claiming a World Cup Downhill win in 2011, also in Kitzbuhel, at the age of 36 years, 159 days. He extended that record even further last weekend with his Downhill victory in Lake Louise.

Buechel retired from the World Cup following the Super-G competition at the World Cup Finals in Garmisch-Partenkirchen, Germany in March of 2010, celebrating his final race by wearing a tuxedo jacket with black Bermuda shorts. As he made his final trip down a World Cup racecourse, he made numerous stops to high-five various coaches and trainers.
The 2011 Audi Birds of Prey World Cup Race Week is a project of the Vail Valley Foundation. For additional information on Birds of Prey, visit www.bcworldcup.com. For more information on the Vail Valley Foundation, check out www.vvf.org.
By John Dakin
Image by Gepa