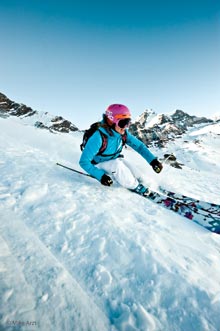 The legendary skiing filmmakers at Warren Miller Entertainment's latest flick – Like There's No Tomorrow – is set to debut this fall featuring a hefty contribution from both current and former World Cup ski racers.
Skiers and boarders all over the country will get pumped for the upcoming season by watching U.S. Ski Teamers Julia Mancuso and Steven Nyman rip it up outside the gates during a special shoot in Portillo, Chile last fall. Retired racing greats Daron Rahlves and Tommy Moe were also on hand in Chile to be a part of Warren Miller Entertainment's 62nd annual winter sports film, narrated by Olympic gold medalist moguls skier Jonny Moseley.
"To say the least, the segment [is] awesome, I cant wait to see the whole film," wrote Nyman on his blog. "Watching a Warren Miller film brings me back to when I was a kid and that was what got you super stoked for the winter!"
Of course, the racing stars are joined in the film by a slue of freeskiing talents including: Mike Wilson, Chris Davenport and Bobby Brown just to name a few. Snowboard cross gold medalist Seth Wescott also has apart in the film.
Like There's No Tomorrow's was filmed across five continents covering some of North America's favorite powder stashes and then heading across the globe with stops in the Himalayas in Gulmarg, India, New Zealand and Norway.
The film is slated to debut in Salt Lake City, Oct. 14 before screenings spread throughout the country, into Canada and across Europe.
Click here to find a showtime near you.
Image: Julia Mancuso carves up Portillo, Chile. By Warren Miller Entertainment