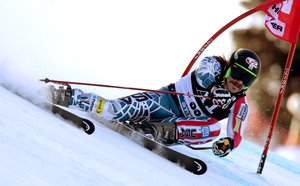 Much as he did last season Warner Nickerson has turned an August New Zealand ski race into a low point opportunity as he collected the win in the opening salvo of the NZ Winter Games in a GS at Cornet Peak with Colby Granstrom on the podium in third and five Americans packed into the top 10 finishers. Those results pleased coach Peter Korfiatis no end considering where the guys were starting.
"This is a Continental Cup," said Korfiatis, "so anyone without Continental Cup points starts outside of the first seed. While our buys have essentially better FIS and world ranking, they were starting in the 28, 38, 48 range and that makes it difficult to hammer in there and stay close to that leader."
The leader, as it turned out, was Nickerson who started 11th. "I was pleased with the first run but the second was difficult," he said. "The snow didn't hold up super-well and I just had to keep fighting it the whole was down. I did that and here I am in the winning spot."
For Granstrom, in third behind Austrian Marcel Mathis, the race and result helped put a capper on a productive camp. Starting 27th Granstrom said, "It feels awesome to performed well in a Europa Cup caliber field. It was also really cool to accept the bronze medal in downtown Queenstown. It was a great honor and a little bit of a surprise. I am still along away from my goals this season, so the hunger is still there, but it does relieve a little stress to have success this early in the year."
Ryan Cochran-Siegle and Will Gregorak tied for seventh the former from the 40th start. Dave Chodounsky was ninth. David Donaldson again led the Canadians, but was in 11th.
The U.S. group is nearing the end of their camp and both coaches and athletes seem pleased with the work accomplished.
Koriatis said, "Camp itself has been very productive for sure. The weather cooperated, all the hills we worked on were in great shape. It's been a great mixture, we're right on pace with volume… huge amount of runs and we're not seeing effects of fatigue. Better yet, we'll know what to do next year."
Granstrom added, "The training has been spectacular, I came into this camp with a back injury but was able to get a lot done and get substantially faster. We have had really nice injection the entire camp and it has been extremely productive."
Nickerson file photo by Gepa.
Place
Coronet
Peak (NZL)
Discipline
Giant Slalom
Date
22.08.2011
Category
Australian New Zealand Cup
Race codex
0050
Gender
M
Valid for FIS Points
YES
TD Name
Barrette Germain (CAN)
Rank
Bib
FIS Code
Name
Year
Nation
Run 1
Run 2
Total Time
FIS Points
1
11
534038
NICKERSON Warner
1981
USA
50.07
56.13
1:46.20
6.96
2
13
53985
MATHIS Marcel
1991
AUT
51.35
54.94
1:46.29
7.70
3
27
930105
GRANSTROM Colby
1990
USA
51.24
55.60
1:46.84
12.20
4
33
421860
NORDBOTTEN Jonathan
1989
NOR
51.58
55.27
1:46.85
12.28
5
24
481006
ZUEV Stepan
1988
RUS
50.63
56.23
1:46.86
12.37
6
8
421859
NILSEN Markus
1989
NOR
50.25
56.65
1:46.90
12.69
7
40
6530319
COCHRAN-SIEGLE Ryan
1992
USA
51.54
55.41
1:46.95
13.10
7
14
930107
GREGORAK Will
1990
USA
50.45
56.50
1:46.95
13.10
9
25
534508
CHODOUNSKY David
1984
USA
51.14
55.84
1:46.98
13.35
9
23
54031
LEITINGER Roland
1991
AUT
51.11
55.87
1:46.98
13.35
11
38
103078
DONALDSON David
1986
CAN
51.52
55.50
1:47.02
13.68
12
34
480736
KHOROSHILOV Alexander
1984
RUS
51.09
55.94
1:47.03
13.76
13
21
500933
OLSSON Jon
1982
SWE
50.57
56.53
1:47.10
14.33
13
20
101895
ROY Jean-Philippe
1979
CAN
50.68
56.42
1:47.10
14.33
15
37
103676
BROWN Philip
1991
CAN
51.21
55.99
1:47.20
15.15
16
28
531452
BIESEMEYER Thomas
1989
USA
51.23
56.00
1:47.23
15.40
17
63
530837
KELLEY Tim
1986
USA
51.51
55.81
1:47.32
16.14
18
15
201702
NEUREUTHER Felix
1984
GER
50.42
56.98
1:47.40
16.79
19
19
53980
KRIECHMAYR Vincent
1991
AUT
51.43
56.04
1:47.47
17.36
20
3
501384
LINDGREN Tim
1989
SWE
50.21
57.27
1:47.48
17.45
21
45
934518
DANIELS Nick
1991
USA
51.42
56.07
1:47.49
17.53
21
26
202437
LUITZ Stefan
1992
GER
51.04
56.45
1:47.49
17.53
23
69
103646
ZAITSOFF Sasha
1990
CAN
51.36
56.19
1:47.55
18.02
24
17
410266
GRIFFIN Benjamin
1986
NZL
51.03
56.61
1:47.64
18.76
25
2
934566
ROBERTS Hig
1991
USA
50.12
57.89
1:48.01
21.79
26
6
501392
OESTER Carl-Filip
1989
SWE
51.23
56.81
1:48.04
22.03
27
10
421946
KRISTIANSEN Emil Bjoertomt
1990
NOR
50.98
57.11
1:48.09
22.44
28
39
103729
READ Erik
1991
CAN
51.16
56.96
1:48.12
22.69
29
7
193481
FAVRE Arnaud
1987
FRA
51.66
56.66
1:48.32
24.33
30
22
53969
BISCHOF Martin
1991
AUT
52.05
56.30
1:48.35
24.57
31
1
531392
JAMPOLSKY Grant
1989
USA
50.62
57.74
1:48.36
24.65
32
49
102456
BIGGS Patrick
1982
CAN
51.83
56.71
1:48.54
26.13
33
42
700830
ZAMPA Adam
1990
SVK
51.80
56.81
1:48.61
26.70
34
16
501255
OEHAGEN Johan
1987
SWE
51.72
57.09
1:48.81
28.34
35
41
501439
HEDIN Doglas
1990
SWE
51.98
57.27
1:49.25
31.95
36
47
103528
DRURY Kevin
1988
CAN
52.12
57.18
1:49.30
32.36
37
62
303097
ISHII Tomoya
1989
JPN
52.08
57.42
1:49.50
33.99
38
30
531156
TARBERRY Ace
1988
USA
52.45
57.23
1:49.68
35.47
39
74
410365
BARWOOD Adam
1992
NZL
52.47
57.24
1:49.71
35.71
40
81
53897
KNAUSS Andreas
1990
AUT
52.39
57.37
1:49.76
36.12
41
54
302982
OHKOSHI Ryunosuke
1988
JPN
52.11
57.66
1:49.77
36.21
42
73
930023
COFFEY Sam
1990
USA
52.26
57.72
1:49.98
37.93
43
61
930133
HIGGINS Sean
1990
USA
52.26
57.73
1:49.99
38.01
44
64
501230
ERICSSON Daniel
1987
SWE
52.61
57.44
1:50.05
38.50
45
57
934643
GOLDBERG Jared
1991
USA
52.91
57.30
1:50.21
39.81
46
56
934524
FARRELL Bobby
1991
USA
52.78
57.47
1:50.25
40.14
47
36
501401
SAXVALL Per
1989
SWE
52.73
57.72
1:50.45
41.78
48
50
422001
BRATH Joergen
1991
NOR
52.38
58.43
1:50.81
44.73
48
46
481103
ANDRIENKO Aleksander
1990
RUS
52.51
58.30
1:50.81
44.73
50
29
421849
JOHANSEN Truls
1989
NOR
52.76
58.22
1:50.98
46.12
51
71
304242
NARITA Hideyuki
1993
JPN
53.09
57.93
1:51.02
46.45
52
60
103612
PRIDY Morgan
1990
CAN
52.75
58.41
1:51.16
47.59
53
72
532837
SHPALL Bryan
1989
USA
52.69
58.89
1:51.58
51.03
54
59
103752
TROW Andy
1991
CAN
52.78
59.06
1:51.84
53.16
55
44
530758
COHEE Nick
1988
USA
52.37
1:00.12
1:52.49
58.49
Did not start 2nd run
67
301709
YUASA Naoki
1983
JPN
55
102435
JANYK Michael
1982
CAN
Did not start 1st run
53
501458
LINDH Calle
1990
SWE
52
501557
PIETILAE HOLMNER Johan
1991
SWE
32
534507
CHRISTIANSON Charles
1984
USA
Did not qualify 2nd run
102
410404
NICHOLSON Matthew
1996
NZL
101
410403
GARRICK Hamish
1996
NZL
100
491958
RAVENTOS Ignasi
1995
SPA
99
6290815
GHILARDI Marco
1993
ITA
98
410387
PASCOE Nick
1994
NZL
97
410379
COOTE Wilbur
1994
NZL
96
410395
IZARD-PRICE Harry
1995
NZL
95
220978
MORRISON Jo
1992
GBR
94
220908
GEYER Jai
1990
GBR
93
410371
NEESON Finlay
1993
NZL
92
220984
STANG Alastair
1992
GBR
91
370031
ALESSANDRIA Arnaud
1993
MON
90
221045
THOMPSON Matthew
1993
GBR
89
511978
LIESCH Gian Luca
1993
SUI
88
561303
TASIC Jan
1994
SLO
87
104311
GRASIC Martin
1995
CAN
86
220951
MORGAN Bradley
1991
GBR
85
410364
FEASEY Willis
1992
NZL
84
220847
BULLEN Robert
1989
GBR
83
700879
ZAMPA Andreas
1993
SVK
82
410334
PREBBLE Jamie
1991
NZL
80
410302
WYLIE Andrew
1989
NZL
79
410372
PREBBLE Nick
1993
NZL
78
422082
SOLEVAAG Sebastian-Foss
1991
NOR
77
421791
STAURSET Bjoern Tore
1988
NOR
76
320290
KIM Hyeon-Tae
1990
KOR
70
410270
CAFE Tim
1987
NZL
68
320293
KYUNG Sung-Hyun
1990
KOR
66
510550
EMMENEGGER Sven
1989
SUI
58
421828
BUDAL Martin
1989
NOR
43
422184
WINQUIST Even
1992
NOR
18
421750
HAUG Kristian
1988
NOR
12
60015
MOLLIN Bart
1981
BEL
9
930123
HARRIS Reilly
1990
USA
4
40349
RISHWORTH Mike
1987
AUS
Did not finish 2nd run
51
370022
JENOT Olivier
1988
MON
35
421943
KIRKEFJORD Goeran
1990
NOR
5
500909
ANDERSSON Oscar
1982
SWE
Did not finish 1st run
75
561269
BREZNIK Jan
1993
SLO
65
320244
KIM Woo-Sung
1986
KOR
48
930160
KELLEY Robby
1990
USA
31
320266
JUNG Dong-Hyun
1988
KOR