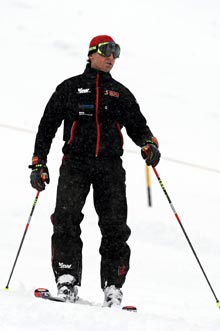 Recently named U.S. Alpine Ski Team women's tech coach, Roland Pfeifer has his work cut out for him.
The Austria native is charged with bringing the program "up to speed" after last season saw the team pull in a meager 10 top-10 results and just one podium. Though he hasn't met most of his new stable of athletes, he's already formulating plans for the season and anxious to hit the southern hemisphere snow later this summer.
Pfeifer comes to the U.S. Team with a wealth of experience as both an athlete on the World Cup and U.S. Pro Tour as well as a coach at Ski Austria feeder program, Vorarlberg Ski Team. After his daughter turned 18 in January, he made the decision to hit the road and step up to the sport's top level.
Pfeifer will focus most of his efforts on working with gate racers Sarah Schleper, Resi Stiegler, Hailey Duke, Megan McJames and Mikaela Shiffrin, while occasionally providing support to all-around skiers Lindsey Vonn and Julia Mancuso.
His recipe for success calls for fun, communication and lots of work. "We need to make them ski relaxed. We need to bring some fresh motivation and fun into the team," said Pfeifer. "We need to convince them of what we are doing and we need to talk a lot, and train a lot."
"I haven't met them yet but I know Schleper and Stiegler are top competitors and can get to the top-10 many times this season and some podiums as well," continued Pfeifer. "Duke and McJames' goals will be to consistently make the top 30 and progress up from there."
Pfeifer's first exposure to his new squad came last week at an on-snow camp in Mammoth with reigning slalom national champion, 16-year-old phenom Mikaela Shiffrin.
"I've got this unbelievably talented and gifted Shiffrin. She is skiing like a grownup already," said Pfeifer after spending several days on snow Shiffrin. "I'm not putting too much pressure on Mikaela because she is 16 years old, I'm not going to set any goals for results, just to qualify top-30."
While Pfeifer isn't setting result expectations for Shiffrin, he is confident she is ready to compete with the world's best. "She shows really good skiing, I like the way she skis and I like her," said Pfeifer. "I've never met a 16-year-old that knows so much about skiing and she loves it. There is no reason to hold her back, I see her absolutely competing on the World Cup circuit, no doubt about it."

Image by Gepa