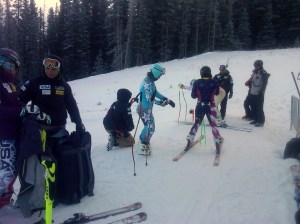 One week down! We have been in Copper, Colorado for about a week now and I have had four days of speed training; it has been AWESOME. I am so excited to be running full length again, as much fun as I was having doing drills and sectioning seven super G gates at a time running full length feels pretty cool… I'll admit I was a little nervous first day of DH training, we are training on a pretty flat hill right now but it still got me kinda worked up which is one of the things I love about DH, nothing like freaking yourself out in the start but still getting out there on course and pushing yourself to go faster!
Jumping back into gates has been slightly more challenging than I thought it would be, apparently I seemed to have forgotten how to flex my ankles in the past eleven months since I ran gates. As every skier knows skiing in the back seat is kinda hard… but after a few days I feel like I am almost there and it shouldn't be an issue for much longer.
Aside from working on flexing my ankles I have been really into one arm tucking lately and I love it. I think it is super cool and I actually had a conversation with 80's downhiller and Universal Sports commentator Doug Lewis about one arm tucking, and from what I have heard he had quite the one arm tuck.
I think the one-arm tuck is good for those times when you really want to tuck (all the time basically) but can't quite hold it together, it ends up being a good compromise and you still look cool. So it's a win-win really. We have another eight days of training in Copper and then we are headed up to Lake Louise after Thanksgiving. If everything goes well for the rest of this camp and I am skiing fast I plan to be racing in Lake Louise. So all I really need to do is flex my ankles and I will be ripping!
My leg has felt really good this camp, it seems to bother me the least when I am skiing. I am really excited about this, my leg has been a bit sore working out in the gym but it seems that skiing (knock on wood) is the best therapy I can have!
Aside from skiing the coolest thing I have done lately is cook a pre-thanksgiving turkey. I think it was the best turkey I have ever cooked, I had some help from Ski Cross racers Pat Duran and Joey Swensson who did an excellent job asking every twenty minutes when it would be ready…just kidding, they actually were a huge help and Tony the Turkey was delicious.
On a sad note I am really bummed that my teammate Steve Nyman will be out for the season. Not only is he a phenomenal skier but he is a really great guy. We all know injuries happen but it always comes as a shock when then do. Wishing you the best Steven!
Alice McKennis is a member of the U.S. Alpine Ski Team from Glenwood Springs, Colo. She was named to the 2010 U.S. Olympic Team and, at 21, has become a regular on the World Cup Tour with five top-15 finishes to her name. McKennis was also the 2009 NorAm Cup downhill and super G overall champion.